Owners of flickering 27-inch iMacs claim 15% refund from Apple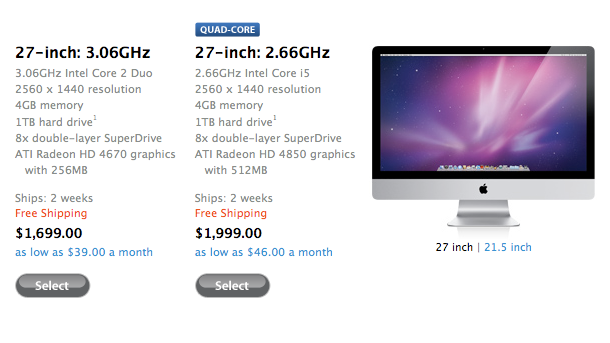 AppleInsider may earn an affiliate commission on purchases made through links on our site.
Some users who have been plagued by screen flickering issues with the new 27-inch iMac have reportedly been given a 15 percent refund on their purchase price.
Citing reports from customers in the U.S. and the U.K., Gizmodo reported Thursday that Apple is paying out cash to some who have been frustrated by a defective big-screen iMac. For a $2,000 machine, the refund would amount to $300.
"From the handful of reader anecdotes we've received thus far, it sounds like you need to be a repeat iMac returner who's dealt with multiple 27-inch iMacs that have been busted in some way (but they may accommodate first time buyers as well, we don't know)," the report said. "One reader had multiple yellow screens, then received another new model with broken Bluetooth. He took the 15% and just returned it."
On Monday evening, the Mac maker released a second potential software fix for the flickering issues that have affected some owners of the newly redesigned late 2009 model iMac. The update, entitled "27-inch iMac Display Firmware Update 1.0," was preceded by first intended fix in December, entitled "27-inch iMac Graphics Firmware Update 1.0."
Before the second update was released, a rumor surfaced that Apple had temporarily suspended production of its 27-inch iMac desktop machines. But Apple later officially denied those claims, stating that machines were still being produced and sold.
Starting in late January, new iMac purchases were hit with a three-week wait time. This week, however, the shipment times improved to two weeks.
Supply of the new, big-screen iMac has been constrained for months, and Apple even apologized for delays in December. However, the company has chalked the supply constraints up to the new desktop being a "huge hit," rather than any hardware or production issues.