Apple adopts more thorough iPod water damage review policy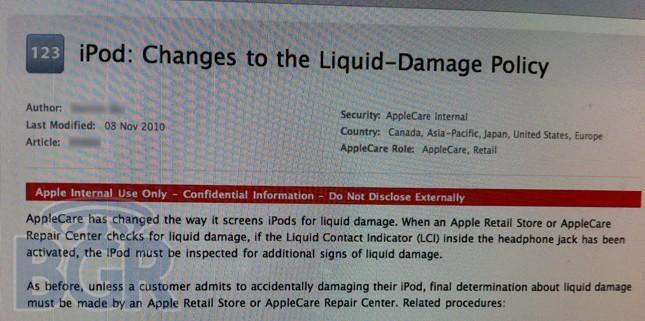 Apple this week revised its internal support policy on iPod water damage, requiring that employees look for signs of damage beyond an activated liquid contact indicator.
The confidential internal document, obtained by Boy Genius Report, shows that on Monday, Apple officially changed the way it screens iPods for liquid damage. The change would seem to benefit those who may have had the internal liquid contact indicator triggered inappropriately.
"When an Apple Retail Store or AppleCare Repair Center checks for liquid damage, if the Liquid Contact Indicator (LCI) inside the headphone jack has been activated, the iPod must be inspected for additional signs of liquid damage," the document reads.
The policy makes no mention of the iPhone, but it's possible that Apple has modified its stance for its smartphones as well. Apple's portable devices include LCIs to determine if a returned item was broken by being accidentally submerged in liquids.
In April, Apple was sued by a San Francisco, Calif., resident who said the company unfairly declines warranty coverage for its products based solely on triggered moisture sensors. That lawsuit attempted to prove that the sensors are unreliable, and do not necessarily serve as evidence of abuse.
Apple began equipping its notebooks and iPhones with LCIs in 2008. In iPhones and iPods, they are located at the bottom of the headphone jack. iPhones also have an indicator near the 30-pin dock connector.
"These indicators will be activated when they come in direct contact with water or liquid containing water," Apple's support documentation reads. "They are not designed to be triggered by humidity and temperature changes that are within the product's environmental requirements described by Apple."
Users can check if their LCI has been triggered by looking directly down into a headphone jack. Normally, the indicator is white or silver, but if it has been exposed to water it will turn red or pink.