CES: Microsoft keynote underwhelms with few surprises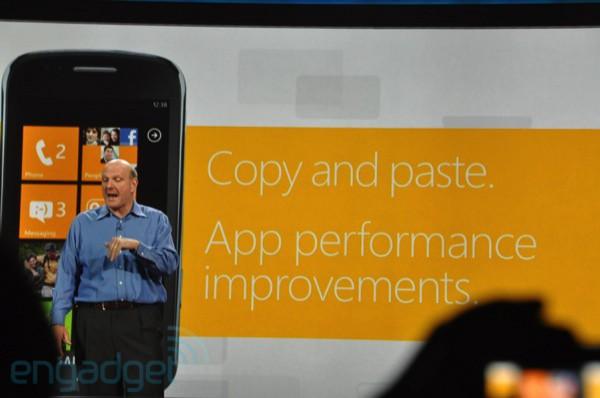 Microsoft kicked off the Consumer Electronics Show Wednesday evening with a relatively subdued keynote that highlighted an upcoming update to Windows Phone 7 and demoed Windows on ARM's system-on-a-chip architecture.
Microsoft CEO Steve Ballmer took the stage late Wednesday in a keynote that, according to MSNBC, had "less ambition than expected." Prior to the event, rumors had surfaced that the Redmond, Wash., Windows maker would reveal details about its next major Windows upgrade or possibly a Windows TV set top box platform, but Ballmer instead focused on incremental feature upgrades to its Xbox, Windows Phone 7, and Windows PC products.
The software giant did, however, make news earlier in the day when it revealed that it was readying a version of Windows that would run on ARM's low-power system-on-a-chip (SoC) architecture, though attendees were disappointed to learn that demos of the next version of Windows on an Arm SoC used the Windows 7 interface.
"We have a chip called A4," Steve Jobs said when he unveiled the iPad, "which is our most advanced chip we've ever done that powers the iPad. It's got the processor, the graphics, the I/O, the memory controller — everything in this one chip, and it screams."
Microsoft's move to SoC platforms, both x86- and ARM-based, is part of a broad-reaching goal to compete in markets ranging in size from smaller mobile devices to larger servers.
"Whatever device you use... Windows will be there," said Ballmer during Wednesday's keynote, Engadget reports. "Windows PCs will continue to adapt and evolve. Windows will be everywhere on every device without compromise."
Ballmer announced several new features for the Xbox platform. Hulu Plus is coming to Xbox, and Kinect motion controls to Netflix and Hulu Plus. Additionally, a new Avatar Kinect chat service will use the Kinect motion camera for an animated chat service.
According to Ballmer, the rapid success of the Kinect was a surprise for Microsoft. Microsoft had predicted sales of 5 million Kinect sensors this holiday season, but worldwide sales have already topped 8 million.
Windows Phone 7 is soon to get an update, which will add the much-missed copy and paste feature and improve speed. Also, WP7 phones will be coming to Verizon and Sprint in the first half of this year.
Ballmer also took the time to highlight his company's focus on leveraging its Xbox successes on the Windows Phone 7 platform. "Fable," a flagship game for the Xbox, will make its way onto Windows Phone 7 soon, said Ballmer.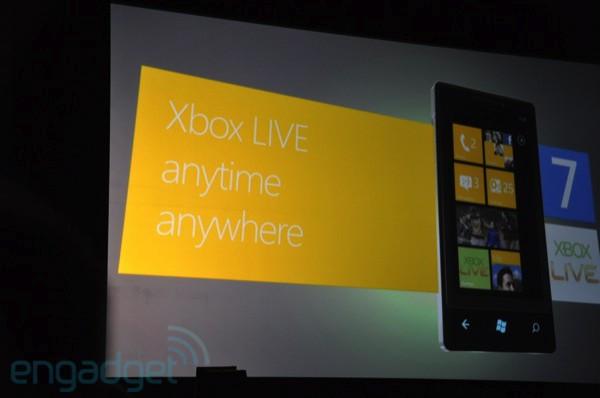 Windows Phone 7 got off to a rocky start. Initial reviews of WP7 found it to be several years behind Apple's iOS and Google's Android OS. Microsoft VP Joe Belfiore admitted that Microsoft may need at least two years to catch up to its competitors. The company recently announced it had shipped 1.5 million WP7 phones into retail channel inventories, though it declined to say how many it had sold.
As expected, Microsoft demoed new PCs running Intel's latest Sandy Bridge processors, including several slate and tablet PCs from various manufacturers. In a better showing than last year's HP Slate debacle, all of the devices demoed are "up for order right now," according to Microsoft's Mike Angiulo.
In an attempt to catch up Apple's impressive lead in the tablet market with the iPad, a number of competitors have unveiled tablet devices at this year's CES. On Tuesday, Taiwanese PC maker Asus revealed plans for three families of tablet-style products, while Chinese computer giant Lenovo took the wraps off its LePad tablet.
Earlier Wednesday, Motorola showed off its Xoom tablet, the first tablet to run Google Android 3.0 Honeycomb. Not to be outdone, Research in Motion has the BlackBerry PlayBook tablet on display at CES.
According to Forrester Research, tablet sales will more than double this year to 24 million units, with Apple's iPad making up the "lion's share" of sales.