Best Buy preps for Verizon iPhone launch, white iPhone 4 arrival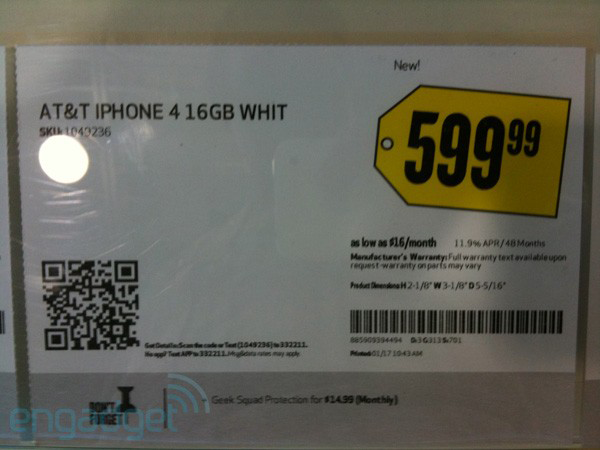 Best Buy retail stores are expected to have dozens of handsets available for this week's launch of the Verizon iPhone 4, while the retailer has also begun to plan shelf space for the anticipated arrival of Apple's white iPhone 4 model.
Best Buy Verizon iPhone orders revealed
Ahead of this week's launch of the Verizon iPhone 4, a picture of the expected availability of the device on the first day is beginning to take shape. One person from a Pennsylvania Best Buy store contacted AppleInsider to reveal that the location is expected to receive 80 iPhones for sale on the Verizon launch day.
Other stores reportedly expect to have many more phones in stock for the launch set for this Thursday, though the amount available will vary based on location. The handset will also be available at Apple's retail stores and more than 2,000 Verizon stores across the U.S.
Some who were among the first to order online have already begun to receive their phones today, with shipping information showing a number of packages on track to deliver three days before launch.
White iPhone 4 shelf tags spotted
Adding to the evidence that the long-delayed white iPhone 4 will finally launch, a new picture revealed this week by Engadget shows a Best Buy in Houston with a price tag for the 16GB model. The white iPhone 4, listed as the GSM AT&T-compatible model, is shown with an off-contract price of $599.99, the same as its black counterpart.
In addition, another listing at Canadian retailer The Source shows both the 16GB and 32GB capacities of the white iPhone 4 selling for $159.95 and $269.95, respectively, through carrier Bell.
Last month, AppleInsider reported that an improved paint mix has apparently helped to resolve some of the issues Apple has experienced in attempting to build the white iPhone 4. People close to Apple's partners in the Far East said that an unnamed Japanese company crafted a new paint material that allows for greater control and precision in determining the thickness of the paint.
An internal stock listing from Best Buy also suggested that the white iPhone 4 could go on sale on Feb. 27, while carrier AT&T's computer systems showed the device on track for a spring launch. Apple has delayed the white iPhone 4 numerous times, with the most recent setback announced last October, when the company revealed the white iPhone 4 would launch in Spring 2011.