Toys R Us may be next in US to sell Apple's iPad 2 starting in May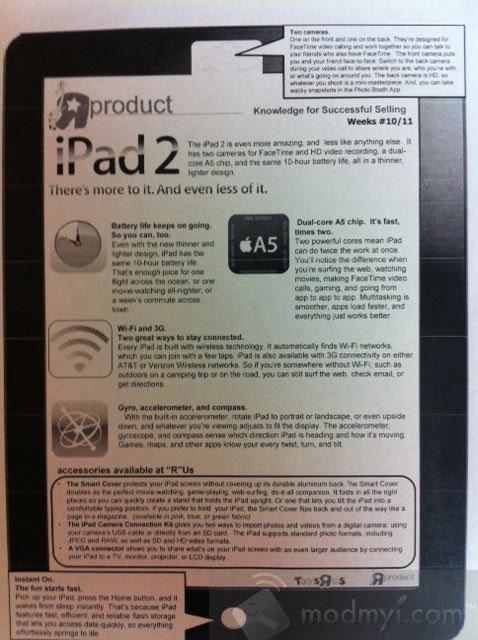 AppleInsider may earn an affiliate commission on purchases made through links on our site.
New evidence points toward the iPad 2 becoming available at U.S. retailer Toys R Us in May, as Apple continues to expand the brick-and-mortar presence of its popular touchscreen tablet.
According to a scoop from ModMyi, U.S.-based retailer Toys R Us is expected to begin selling the iPad 2 next month. It would be the first time that the device is available from Toys R Us, as the first-generation model was not sold at the company's stores.
Support for the rumor includes a Toys R Us-branded product sheet for the iPad 2, intended to make employees familiar with the features and specifications of Apple's device. The product sheet also indicates that the official Smart Cover, Camera Connection Kit and VGA Connector will be available for sale.
While Toys R Us has not sold the iPad before, it has for years sold various versions of Apple's iPod lineup, including the iPod touch. It also sells a number of accessories that connect to the standard 30-pin dock found on iPod, iPhone and iPad devices.
If the rumor is true, Toys R Us would become the next in a growing list of retailers that sell the iPad 2. Despite continued limited availability of the just-launched device, Apple late last month began selling the iPad 2 at 500 RadioShack locations in the U.S.
The iPad 2 arrived at RadioShack only days after Apple launched the second-generation device around the world in 25 new countries. The iPad 2 first went on sale in the U.S. in early March, and was available at Apple's retail stores, as well as Best Buy, Target and Walmart.
Apple's launch strategy for the iPad 2 has been significantly more aggressive than the debut of the first-generation device in 2010. For the initial launch, the iPad was only available from Apple and select Best Buy locations, although other retailers were added as the year went on.
Expanded retail availability of the iPad, along with crushing demand for the second-generation model, has led to high expectations in terms of sales. Analyst Charlie Wolf with Needham & Company has predicted that Apple will sell 30 million iPads in all of 2011, a total that would double the 15 million sum reached from April to December of 2010.