Verizon iPhone 4 accounts for 32% of all US iPhone 4 traffic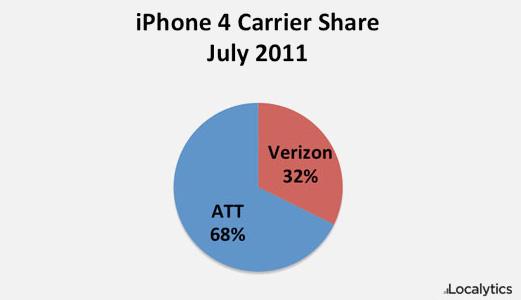 After just four months on the market, the iPhone 4 on Verizon makes up nearly a third of the U.S. iPhone 4 market, according to one analytics firm.
Mobile analytics firm Localytics published a report on on Thursday charting the growth of the Verizon iPhone 4 since it launched in February, as noted by Brad Reed of Network World. The report compiles data from app usage during the last week of the month to reflect each carrier's market share.
As of July 1, Verizon's share of all U.S. iPhone 4 traffic stands at 32 percent, compared to AT&T's 68 percent share. According to the report, the carrier's presence quickly jumped to a 20 percent share shortly after launch before slowing down to modest gains in the spring. Then, in May and June, Verizon's share of U.S. iPhone 4 app usage experienced a spike in growth, growing from 25.9 percent to 32.3 percent.
The firm speculated that adoption on Verizon may have ramped up ahead of the carrier's July 7 transition away from unlimited data plans. The wireless operator had previously warned that unlimited iPhone plans would only be available for a limited time. A leak last month correctly predicted the July 7 change.
Rival carrier AT&T did away with its unlimited data plans last June, though some subscribers reported having been offered an unlimited plan from the company earlier this year as the Verizon iPhone launch loomed.
Verizon announced in April that it had activated 2.2 million iPhone 4 units less than two months after the device's launch, making it the most successful handset launch in the company's history. By way of comparison, AT&T activated 3.6 million iPhones in the first quarter of this year, though that figure also includes a portion of iPhone 3GS models sold. All told, Apple sold 18.65 million iPhones during that period.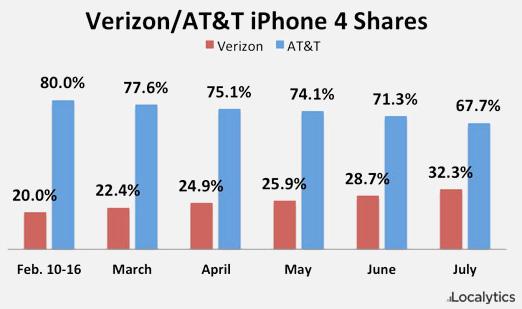 Apple is expected to simultaneously launch the iPhone 5 on both Verizon and AT&T. Various reports have suggested that the next-generation handset will be a dual-mode GSM-CDMA device.
Rumors of the iPhone 5 have picked up steam as of late ahead of an expected fall release. On Wednesday, The Wall Street Journal reported that the next-generation device will be thinner and lighter with an 8-megapixel camera.