Samsung hedges Android bet with 3 new Bada smartphones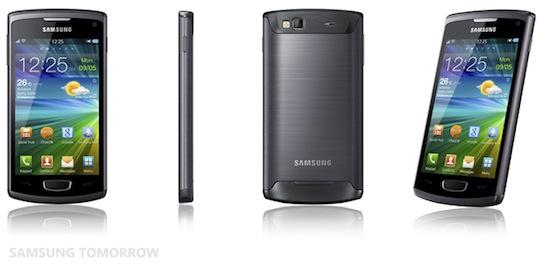 AppleInsider may earn an affiliate commission on purchases made through links on our site.
Samsung on Tuesday took the wraps off of three smartphones running its proprietary Bada mobile operating system in a move to reduce its dependence on Google's Android platform.
As noted by Reuters, the South Korean electronics giant unveiled the Wave 3, Wave M and Wave Y smartphones. The Wave 3 sports a 4-inch Super AMOLED screen, a 5-megapixel camera and a "full metal" body. The Wave M features an 832MHz processor and 3.65-inch screen, while Wave Y, which will go on sale in October, is an entry-level device with a 3.2-inch display.
All three of the smartphones will run the Bada 2.0 operating system, which includes new features such as NFC, voice recognition and direct Wi-Fi sharing. Samsung recently opened up the SDK for Bada 2.0 in hopes of attracting more developers to expand the platform's limited app selection, which numbers just 13,000 applications.
Bada, the Korean word for "ocean," was unveiled in late 2009. The first phones on the platform, which is built on top of Linux, arrived in early 2010.
Samsung's Wave 3 smartphone (via This is my next)
Shortly after Google announced its intention to purchase rival handset maker Motorola Mobility for $12.5 billion earlier this month, reports emerged that Samsung would "strengthen Bada" in order to remain competitive. Though Google has pledged that it will continue to work with its Android partners, industry watchers expect companies like Samsung and HTC to diversify their product portfolios as a defensive maneuver.
The company is also reportedly investigating possible opportunities for mergers and acquisitions in order to make up for lost time. One recent rumor has suggested that Samsung may be interested in buying webOS from Hewlett-Packard.

Samsung rose to become the second largest smartphone maker in the second quarter, behind only Apple. The company's popular line of Galaxy phones helped it grow shipments from 3.1 million in the second quarter of 2010 to 19.2 million in the same period of this year.
A heightening legal battle between Apple and Samsung may also be driving the company's push toward Bada. Samsung's Galaxy Tab 10.1 tablet is facing injunctions in Australia and Europe. The company's Galaxy smartphones also saw an injunction in Europe last week.
Apple is accusing Samsung of "slavish" copying of its products, while Samsung alleges it's merely competing with, not copying the iPhone and iPad maker.