Amazon to build 12M 'Tequila' and 'Whitney' Kindles, 3M 7-inch 'Hollywood' tablets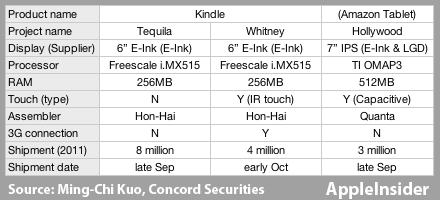 Amazon is set to release two new Kindle black-and-white e-ink models in addition to an aggressively-priced 7-inch tablet with a color LCD screen on Wednesday, with the company considering expanding to larger 10.1-inch and 8.9-inch tablets next year to compete with Apple's iPad.
Concord Securities analyst Ming-Chi Kuo has detailed three new products expected to be announced at Amazon's media event on Wednesday.
Kuo notes that the most anticipated device, a 7-inch media tablet codenamed "Hollywood," will run on the older OMAP 3 processor from Texas Instruments and feature 512MB of RAM. While a recent report from TechCrunch that claims the device will launch as the "Kindle Fire" in the second week of November, he expects the device to begin shipping in late September with estimated shipments of 3 million units by the end of the year. The analyst also corroborated a recent report that Quanta has been contracted to produce the device.
Amazon appears to be betting heavily on marketing the device as an affordable tablet meant to take advantage of its digital media ecosystem, including magazines, music, video and apps. The device is expected to be fairly spartan, as it will reportedly not include a camera, GPS, cover glass or 3G data functionality. Kuo also noted that the tablet will run an older version of Google's Android mobile operating system.
According to a channel check by Kuo, the bill-of-materials for the device is expected to be $180. Amazon may choose to price the device at an aggressive $199, Kuo said. That's cheaper than the $250 price that an earlier report had suggested.
The analyst doesn't see Amazon's forthcoming 7-inch tablet as aimed at the iPad. Instead, Kuo believes the "Hollywood" project is meant to test the waters for future tablet releases primed for release in 2012. According to him, the retailer is working on a 10.1-inch device, codenamed "Coyote," that will directly compete with Apple's iPad when it arrives in early 2012. The company is also reportedly preparing an 8.9-inch tablet with an "amazing form factor" for release in the second half of 2012, though suppliers are said to be having a tough time meeting Amazon's requirements for the device.
Reports that Amazon was preparing a tablet emerged earlier this year. Some industry watchers have predicted that the device could be the first credible challenge to Apple's iPad ecosystem, which is supported by iTunes, the App Store and the iBookstore.
But, industry insiders recently cast doubt on the upcoming Amazon media tablet, questioning whether the 7-inch form factor is a wise choice. Supply chain sources also doubted whether the company would be able to reach its rumored internal shipment goal of 4 million units in 2011.
In addition to its much-anticipated media tablet, Amazon will also release two new versions of its popular Kindle e-reader, Kuo noted. The low-end version, codenamed Tequila, may cost as little as $99 and will feature a Freescale i.MX515 processor with an integrated controller that should provide "better system design and lower cost."
The high-end Kindle, which is codenamed Whitney, will sport the same processor, while also including features missing on the Tequila, such as touch controls, 3G connectivity and a speaker. According to Kuo, the Whitney will not arrive until early October because of a "more complicated design and assembly."
By the end of 2011, Amazon is expected to ship 8 million of the upcoming low-end Kindles and 4 million Whitney models. Kuo projects total e-book reader shipments will reach 28 million units this year, with Kindle maintaining a dominant 68 percent market share.
The numbers offered by Kuo offer a glimpse into Kindle build plans and projected sales that Amazon itself does not reveal. The online retailer has never disclosed any actual sales figures for its popular line of Kindle e-readers, instead only saying that the e-ink devices are the company's best-selling product across its entire expansive online storefront.