Amazon signs magazine publishers, Fox ahead of tablet launch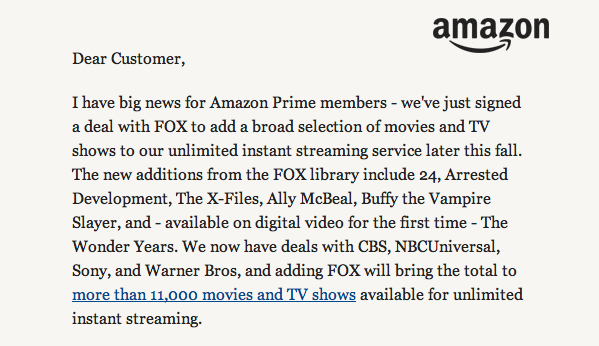 Amazon has reached agreements with three large publishing houses to provide digital magazine content for the company's upcoming iPad competitor, according to a new report, while also adding Fox movies and TV shows to its Amazon Prime streaming video service.
Hearst, Conde Nast and Meredith have all signed deals to sell digital versions of their magazines on the highly-anticipated Amazon tablet, Peter Kafka of All Things D reported. Amazon has invited members of the press to a media event on Wednesday, with strong evidence pointing to a launch event for new Kindle e-readers and a media tablet.
All three of the publishers currently have subscription distribution deals with Apple, and Amazon's terms are said to be very similar. According to the report, publishers will receive roughly 70 percent of the revenue from all sales and Amazon will share some customer data with them. However, unlike Apple's iTunes terms, Amazon may at times take a bigger, or smaller, revenue cut, depending on the title and the offer.
However, a key player missing in the Amazon deal is Time, Inc. The publisher has shown some reticence to the digital subscription model, as it only sells individual titles on Apple's App Store and has yet to strike a subscription-based plan with Apple. Kafka's sources expect a deal with Amazon to come through "hopefully by the end of the year."
For the publishers, the Amazon partnership makes sense, given that the retailer already offers a large market for their print titles. Hearst announced earlier this month that Amazon would be the No. 1 third-party reseller of its print media via digital channels. The three publishers have already begun to format some of their titles for Amazon's 7-inch Android-based device, the report noted.
"You've got beauty and design with Apple, which we love," one publisher with an Amazon deal told Kafka. "But with Amazon you have marketing, and ease of use. We're very optimistic."
In addition to the publishing deals that Amazon is said to have reached, the retailer announced on Monday that it had reached an agreement with Twentieth Century Fox to offer a selection of its movies and TV shows via its Amazon Prime instant video service. With the addition of Fox, the company will have 11,000 movies and TV shows available on its service later this fall through deals with studios including CBS, NBCUniversal, Sony and Warner Bros.
Amazon touted contemporary movies such as "Speed," "Mrs. Doubtfire," "Doctor Dolittle," "Last of the Mohicans" and "Office Space," as well as classics such as "The Longest Day," "All About Eve," "9 to 5" and "Butch Cassidy and the Sundance Kid." TV shows available through the service will include "24," "The X-Files," "NYPD Blue," "Arrested Development," "Buffy the Vampire Slayer," "Ally McBeal" and "The Wonder Years."
The $79 a year Amazon Prime service is expected to play a significant role in the company's looming tablet strategy. Some analysts have suggested that the retailer will sacrifice profit margins on the device in hopes of making money by providing content to consumers. Given Amazon's streaming video deal with Fox and other content owners, the company could have a leg up on Apple's iTunes model, which relies on video purchases.
For its part, Apple is rumored to have expressed interest in purchasing the streaming video service Hulu. A deal with Hulu could help Apple take on Netflix and Amazon in the digital streaming market.
Multiple reports suggested on Monday that the new Amazon tablet, rumored to be named the Kindle Fire, will closely resemble the BlackBerry PlayBook (pictured below) because it is being built by the same Original Design Manufacturer, Quanta. Analyst Ming-Chi Kuo told AppleInsider late Monday, however, that the device will be powered by the Texas Instruments i.MX515 processor, a slower chip than the PlayBook's 1GHz dual-core processor.