Foxconn may produce Amazon 10.1" tablet after having passed on Kindle Fire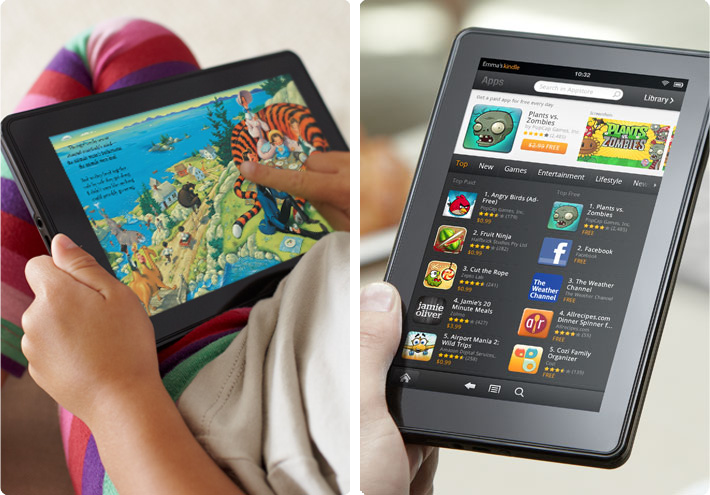 After passing on orders for the new Kindle Fire from Amazon, Foxconn Electronics is believed to have won the contract to produce the Internet retailer's rumored 10.1-inch tablet and could begin shipping the device from factories by the end of the year, according to a new report.
Taiwan industry publication DigiTimes reported on Friday that industry sources claim Amazon will continue its long-term relationship with Foxconn by outsourcing production of its 10.1-inch tablets to the manufacturer. Amazon has historically hired Foxconn to build its Kindle e-readers, but the retailer went with Quanta for its new Kindle Fire touchscreen tablet, set to ship on Nov. 15.
Unveiled on Wednesday, the 7-inch Fire sells for $199 and is a "souped-up version" of the Kindle that is meant for media consumption through Amazon's ecosystem. Amazon Prime members can enjoy movie and TV show streaming on the tablet and users can purchase apps via Amazon Appstore. The Fire runs an older version of Google's Android operating system with a "fresh and easy-to-use interface" painted over Android's "rough surfaces."
According to the report, sources said Foxconn "decided not to take" orders for the Fire because it had been busy producing Apple's iPad. That's consistent with rumors that emerged in June that said the success of the iPad could place production constraints on Amazon.
Amazon instead turned to Quanta, which had produced Research in Motion's PlayBook tablet earlier in the year. The Fire bears a strikingly close resemblance to the PlayBook.
AppleInsider reported on Monday that, according to analyst Ming-Chi Kuo, the Kindle Fire is a transitional device meant to 'test the waters' ahead of Amazon's true tablet efforts that have been pushed back to next year. The 10.1-inch tablet is reportedly codenamed "Coyote" and is expected to arrive in early 2012. Amazon is also said to be readying an 8.9-inch tablet with an "amazing form factor" for the second half of next year.
Initial response to the Fire has been mixed. Analyst Gene Munster of Piper Jaffray said the device is "not a true competitor, but more competitive than expected," while noting that Amazon is expected to lose about $50 per unit it sells. J.P. Morgan's Mark Moskowitz was unimpressed with the Fire, calling it "noise" and a stepping stone at best. Others, however, have hailed the device as an "iPad killer" that will undercut Apple's tablet on price.
Kuo estimates that Amazon will build 3 million Fires by the end of the year, but some industry watchers have expressed concerns that supply of the device will be tight this holiday season.
"When [Amazon CEO Jeff Bezos] quipped that people should get their pre-orders in quick, that wasn't just a sales pitch," Reuters reported Wedge Partners analyst Brian Blair as saying "That was him warning this will sell out."
Amazon will benefit from using older technology and more readily available 7-inch screens, but may have trouble expanding its production and distribution capabilities. Rival Apple has leveraged its sophisticated operations to give it "a competitive advantage over Amazon, which may find it difficult to produce more than a few million Kindle Fires for the holiday season," Munster said on Wednesday.
In addition to the Fire, Amazon unveiled a $79 low-end Kindle without a keyboard and a Kindle Touch with multi-touch capability. Both devices continue to use e-ink displays and will be sold alongside the previous model, which has been renamed the Kindle Keyboard.