Apple most desirable PC brand in China as 21% of buyers look to Mac as next purchase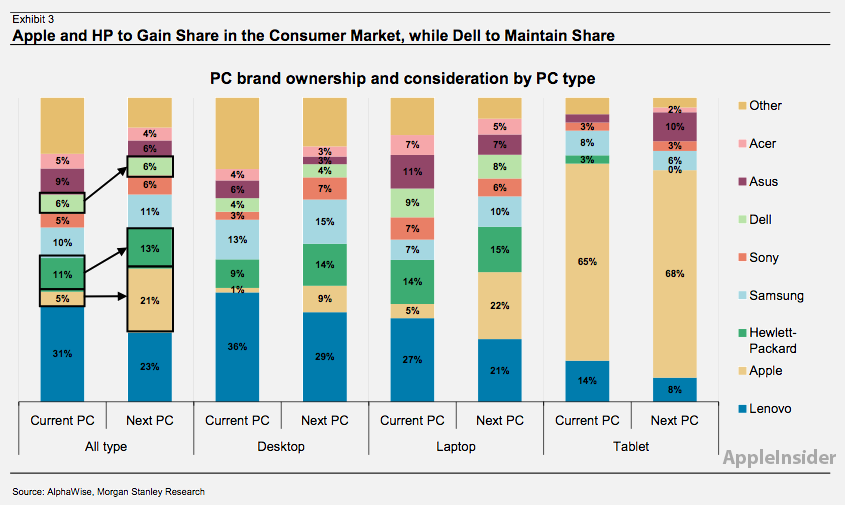 Apple is poised to see substantial growth of its line of Mac computers in China, as a recent survey found that the company is considered the most desirable PC brand in the country with 21 percent of respondents considering a Mac as their next PC purchase.
That's according to an AlphaWise survey from investment bank Morgan Stanley that polled 1,553 Chinese consumers across 16 cities this summer. According to the survey, a significant gap exists between the number of customers who currently own a Mac and those who are considering one for their next purchase.
Just 5 percent of respondents noted Apple as the maker of their current PC, but 21 percent indicated that they were considering the company for their next purchase. That would push the Mac maker into second place in the region behind only China's own Lenovo.
The bulk of Apple's market share growth would come in the form of laptops. The firm's survey found that the company currently has a 5 percent share of notebooks, but 22 percent said they would purchase a Mac portable as their next PC. As for desktops, Apple maintains just a 1 percent share among those surveyed, while 9 percent indicated interest in a Mac desktop as their next purchase.
Apple appears set to continue to dominate the tablet market. The company currently holds a 65 percent share in China with its iPad. As a future purchase, Apple's share climbs to 68 percent.
Chinese consumers also rated Apple as the most desirable PC brand, trailed by Asus, Sony and Lenovo. Respondents indicated the importance of attributes for selecting PCs and scored each brand by those attributes. Apple's weighted score was 66 percent, while Asus came in as a close second with 65 percent.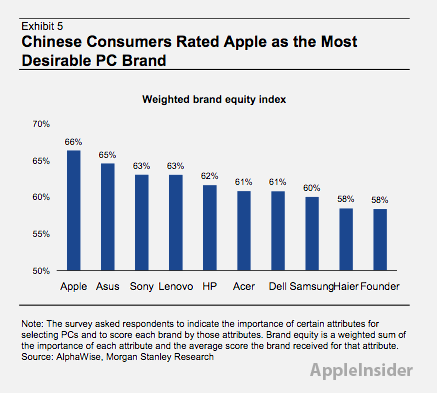 However, affordability could pose a serious obstacle to Apple's PC growth in China. According to the survey, just 7 percent of Chinese consumers are willing to pay $1,100 or more for their next PC. Although, the average price paid for a PC in China ($700) does match up with the average price in the U.S. In general, consumers indicated they were willing to spend 6 percent more on their next PCs, with half of them planning to upgrade to a new machine in the next two years.
It's not immediately clear from the survey to what extent the iPad could help in terms of affordability. But, given the PC-free design of iOS 5, it's possible that the touchscreen tablet could cannibalize low-end PC sales in the country.
Continued strong growth of the country's middle class will also play a part in mitigating the cost issue. CEO Tim Cook noted during an earnings call in October that he had "never seen a country with as many people rising into the middle class and aspiring to buy products Apple makes," highlighting China as an "area of enormous opportunity" for the company.
Greater China became Apple's second-largest market last quarter with record sales of $4.5 billion. As the company's fastest-growing region, revenue for the fiscal year reached $15 billion, roughly five times as much as last year's total of $3 billion.
An earlier survey from Morgan Stanley also found that Apple has become the leading smartphone brand in China. The iPhone maker gained six points from the first half of 2011 to the second half to overtake Nokia. Nearly 40 percent of respondents indicated plans to purchase the iPhone as their next handset, more than 4.5 times the company's current share.