Teardown of Amazon's Kindle Fire reveals Texas Instruments OMAP 4430 chip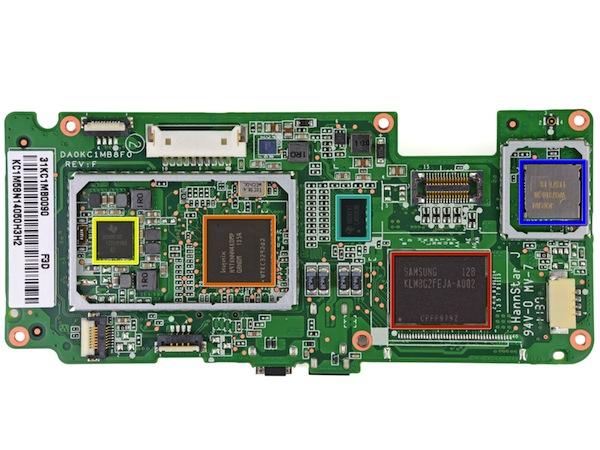 AppleInsider may earn an affiliate commission on purchases made through links on our site.
A teardown of Amazon's new Kindle Fire showed that the online retailer went with the 1GHz Texas Instruments OMAP 4430 processor for its entry into the media tablet market.
iFixit took apart the device, undertaking in the process the publication's first in-house chip unmasking. The Kindle Fire proved to be relatively easy to tear down and earned a score of 8 out of 10 for repairability. By comparison, Apple's iPad 2 received a 4 out of 10 during its teardown.
In addition to the TI OMAP 4430 chip, the teardown of the Fire found 8GB of Samsung Flash memory, 512MB of Hynix RAM and several other Texas Instruments chips on-board the Fire.
Earlier reports had suggested that Amazon would go with the same chip as Research in Motion's PlayBook tablet in order to keep costs down and move the project along. The PlayBook does, in fact, also use the TI OMAP 4430 chip.
The teardown also noted that the tablet's only button is a power button, a fact that has drawn some criticism from reviewers. Reviews for the device have been generally positive, with most noting that the Fire is a good deal but no "iPad killer."
According to the report, the capacity of the 3.7 volt battery stands at 16.28 Watt-hours, significantly less than the iPad 2's 25 Watt-hours. iFixit also pointed out that charging the Fire over a computer USB port will take longer than the advertised four-hour charge time for when the device is plugged into an outlet.
A recent survey of more than 2,000 developers found growing interest in the Kindle Fire, with 49 percent of those surveyed indicating they were "very interested" in developing for the device. Meanwhile, Apple maintained a dominant share with 88 percent of respondents interested in developing for the iPad.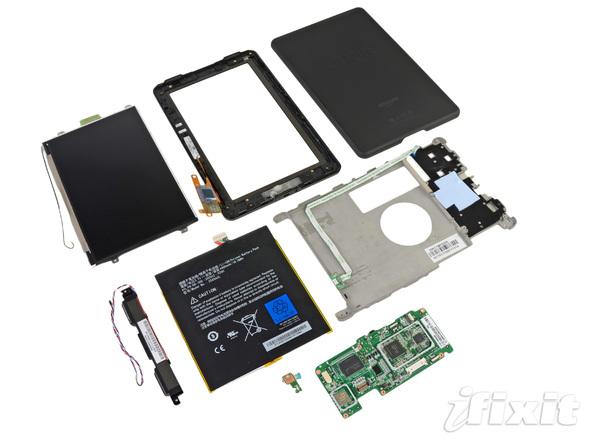 As for consumers, 26 percent of Kindle Fire buyers say they delayed or put on hold an iPad purchase, according to a survey by ChangeWave and RBC Capital Markets.
Amazon revealed last month that it is building millions more Kindle Fires than originally planned. One recent report claimed the company is looking to build 5 million units by the end of the year.
But, Apple has said it is not worried about the Fire affecting iPad sales. Company executives recently indicated that they believe Amazon's tablet will further fragment the market because it is a fork off Android. Apple reportedly believes the more fragmentation the better, as it will drive customers toward its stable iPad platform.