iPhone, Android dominate U.S. smartphone market with combined 82% share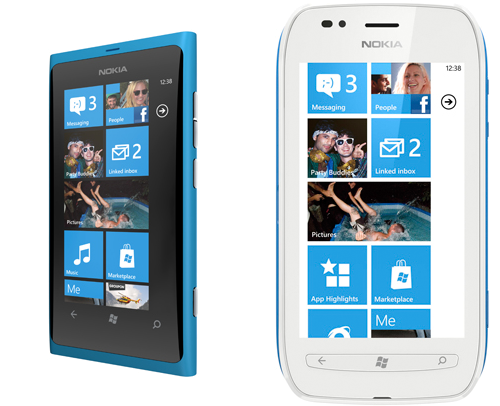 AppleInsider is supported by its audience and may earn commission as an Amazon Associate and affiliate partner on qualifying purchases. These affiliate partnerships do not influence our editorial content.
Sales of Android and iOS handsets in the U.S. eclipsed other smartphone platforms in the first three quarters of 2011, holding a combined 82% of the market, while rival Research In Motion suffered a continued decline during the same period.
According to data released on Tuesday by market research firm The NPD Group, the growth seen by Google's Android and Apple's iOS platforms in 2011 came at the cost of one-time smartphone heavyweight RIM.
Android-based smartphones owned over half the market with a 53 percent share by the end of October, followed by Apple's iPhone with 29 percent. RIM's BlackBerry managed to hold onto an 11% share.
"The competitive landscape for smartphones, which has been reshaped by Apple and Google, has ultimately forced every major handset provider through a major transition," said Ross Rubin, executive director, Connected Intelligence for The NPD Group. "For many of them, 2012 will be a critical year in assessing how effective their responses have been."
iOS and Android's lead in the segment is significant as nearly half of all mobile users in the U.S. now own a smartphone, with the number expected to continue to grow in 2012.
The Apple/Google duopoly has caused major shifts within the mobile industry as RIM desperately tries to regain a foothold in the marketplace it helped create and Microsoft continues to push the Window Phone 7 platform toward relevance.
BlackBerry devices comprised half of all smartphone sales in Q2 2006, but have since seen a steep decline, ending the third quarter of 2011 with just 8 percent market share.
"Few companies have felt the impact of the shift to touch user interfaces and larger screen sizes as negatively as RIM, but the company is beginning anew with a strong technical foundation and many paths to the platform," NPD executive director of Connected Intelligence Ross Rubin said.
RIM's smartphone woes have been further exacerbated this year by multiple service issues in the EMEIA region (Europe, Middle East, India and Africa) and poor sales of its PlayBook tablet. Faced with rapidly evaporating cash reserves, the beleaguered company has been forced to cut its workforce.
Nokia and Windows Phone 7
Rubin viewed Nokia's agreement with Microsoft to use Windows Phone 7 on its smartphone devices as one of the biggest news stories of the year. After dropping the Symbian OS in February, Nokia focused on launching its new Windows Phone-based Lumia handsets by the end of the year.
Nokia's new Lumia 800 (left) and Lumia 710 are its first Windows Phones.
"Nokia and Microsoft must build from almost nothing to carve out success between the consistency of the iPhone and the flexibility of Android," Rubin said.
A recent report cast doubt on the Microsoft-Nokia partnership, saying that the Lumia line of phones failed to innovate and would see only high-end user adoption.
Rubin compared the now defunct Windows Mobile's peak smartphone market share of 50 percent in Q2 2007 with that of Windows Phone 7, which has not surpassed 2 percent since launching late last year. Microsoft recently revealed that it making some leadership changes in order to take better advantage of Windows Phone 7's potential.
While Nokia remains the top handset vendor in the world, it has suffered a major blow in smartphone sales during the transition from Symbian to Windows Phone, seeing a decline from a 33 percent share in 2010 to 14 percent in 2011.
Android continues to dominate
Google's Android platform has seen remarkable growth in 2011, enjoying a 53 percent share of the market between January and October.
Rubin pointed out that Google's acquisition of Motorola Mobility in September not only helped save the phone maker's ailing business, but also granted the internet search giant access to useful telecom patents.
Motorola's presence in the smartphone arena sunk as low as 1 percent in the third quarter of 2009, but rose to 16 percent in the fourth quarter of 2010 after the company adopted Google's mobile OS. Currently, the Droid RAZR manufacturer holds a 12 percent share of the market.
"Android has helped Motorola climb back into the smartphone market; now, though, Google will seek to use Motorola's patent pool to help protect other Android licensees," Rubin said.
Android and iOS appear to be leading the way in smartphone design and usability, leaving competing OEMs to either join up with Google or try to fight the two megaliths for marketshare, as RIM and Microsoft are attempting.
During the three months ending in September, Apple held its title as America's top smartphone maker with a 28.3 percent share followed by HTC and RIM with 20.3 percent and 17.8 percent, respectively, according to Nielsen. Android phones as a whole dominated the market, however, garnering a 42.8 percent share.
But, Apple does enjoy the lion's share of the industry's profits. Canaccord Genuity estimates that the company took in more than half of the handset industry's operating profits last quarter with just 4 percent global market share. That's a stark contrast from 2007 when Nokia took in 67 percent of operating profits from the industry and Apple had just 4 percent.