Debug photos rumored to come from quad-core Apple iPad 3 with global LTE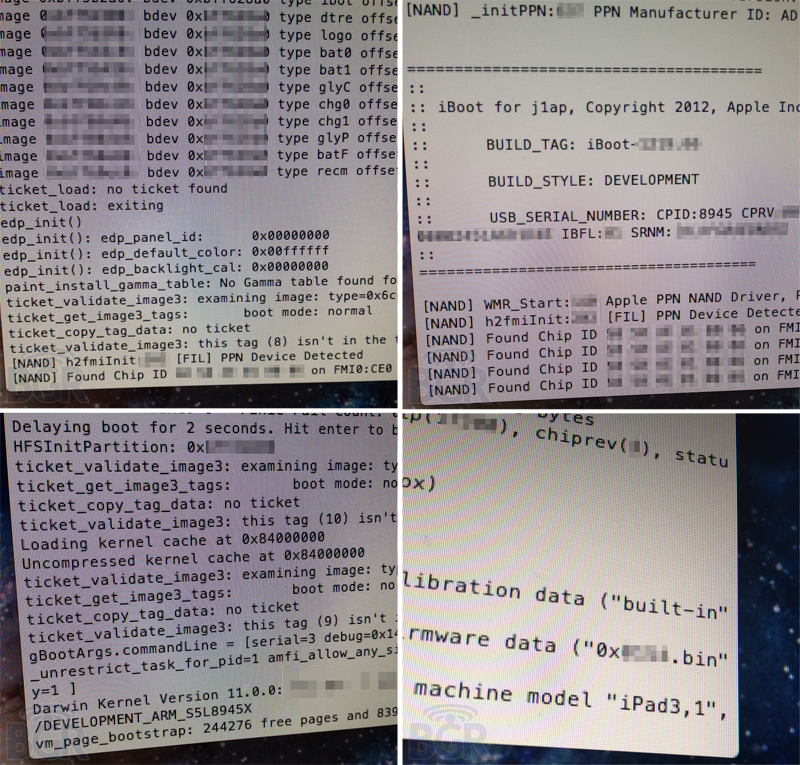 AppleInsider is supported by its audience and may earn commission as an Amazon Associate and affiliate partner on qualifying purchases. These affiliate partnerships do not influence our editorial content.
A series of largely unverified photos published Wednesday claim to provide evidence that Apple's third-generation iPad will sport a quad-core processor and global 4G LTE connectivity options.
The photos published by BGR are said to show debug data from a development tool called iBoot taken by "a source claiming to be in possession of an iPad 3 prototype." The publication provided no further information on the source or the source's credibility.
Nevertheless, the debug info in the photos make reference to the same J1 and J2 (iPad3,1 and iPad3,2) code-names for the new iPad first reported by DigiTimes in November. However, the latest report claims these models are distinguished only by their wireless capabilities, with one sporting just WiFi and the other adding "embedded GSM/CDMA/LTE" for all global carriers.
DigiTimes had originally reported that the two code-names were references to two completely distinct iPads of different sizes and including different technologies.
Separately, the debug photos also make reference to a so-called A6 processor with quad-cores carrying model number S5L8945X. Apple's existing iPad 2 includes a dual-core A5 processor model S5L8940X while the original model included a single-core A4 chip with model number S5L8930X.
While BGR has a respectable track record predicting announcements tied to Apple's retail stores and iPhone carrier partners, the site's future looking Apple hardware predictions from alleged Apple sources have often fallen short of the mark.
Those reports followed a mid-2010 claim from the publication that Apple was preparing for the imminent launch of its iTunes cloud service, which didn't actually materialize until well over a year later.