Alleged 'iPad 3' photos showcase larger camera, tapered case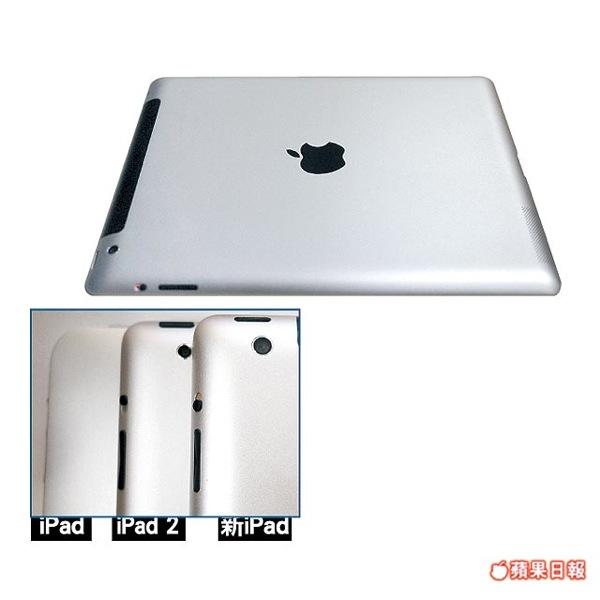 High quality photos received through "special channels" by a Chinese publication allegedly show that the next generation iPad will sport a larger rear-facing camera than the current iPad 2, and will use a slightly redesigned case as compared to previous models.
The purported "iPad 3" photos clearly show (machine translation) the the rear-facing camera is larger than the iPad 2's, and the Taiwanese publication Apple Daily that published the pictures on Saturday claims that the change was made to accommodate an 8 megapixel sensor.
This would be a significant jump in resolution for the tablet, though a much-welcomed upgrade from the harshly-reviewed 1MP camera found on the iPad 2.
Previously leaked photos of an alleged "iPad 3" prototype case showed that the size of the camera hole was similar to that of the iPad 2, but it was noted that there was a change in how the sensor would be mounted.
In comparison, the iPhone 3G, 3GS and iPhone 4 all have higher resolution imagers at 2MP, 3.2MP and 5MP, respectively. The newest iPhone 4S has one of the best on-phone cameras in the world, boasting redesigned optics and a backside illuminated 8MP sensor capable of shooting 1080p videos.
Along with the change in lens size, the case of the alleged next generation iPad looks to be more beveled than its predecessor. This slight change in design is consistent with previously-published images of the back case, and is supposedly meant to afford more space for a larger battery.

Purported 'iPad 3' case and comparison photos. | Source: Apple Daily
The new photos are added to the pile of rumors and speculation that has slowly grown over the past month as the one-year anniversary of the iPad 2's launch grows near.
Rumors claim that Apple will announce the anticipated next generation tablet on March 7, almost exactly one year since the iPad 2 was introduced in 2011.