DoJ reportedly planning antitrust suit against Apple, publishers over e-books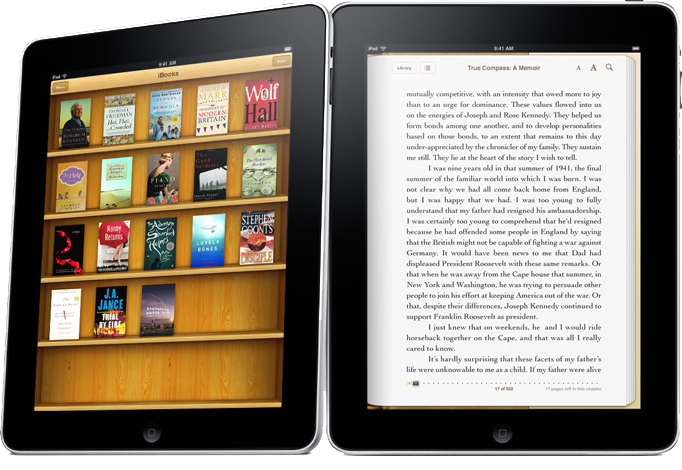 The U.S. Department of Justice is readying a lawsuit against Apple and five major publishers over alleged price fixing of e-books, according to a new report.
The Wall Street Journal claimed on Monday that the DoJ has warned Apple and the publishers of its plans to sue them.
One of the issues under investigation is Apple's alleged role in convincing e-book publishers to switch to an agency model from the wholesale model that Amazon had implemented with its Kindle store. Under the old system, publishers would sell their books at wholesale and let the bookseller set its own prices. Amazon had consistently upset publishers by selling titles at a loss.
As Apple readied its iBooks digital bookstore ahead of the release of the original iPad in early 2010, Apple CEO Steve Jobs offered to implement the agency model for its store. The company agreed to let publishers set prices in exchange for a 30 percent cut and an agreement that prevented other retailers from undercutting them. The publishers then used their deal with Apple as leverage to pressure Amazon to switch to the agency model.
Simon & Schuster, Hachette, Penguin, Macmillan and HarperCollins are the publishers that could face legal action from the federal agency. Random House, the only other Big Six publisher, is not included in the investigation because it initially rejected the agency model.
Insiders claimed that the Justice Department suspects Apple and the publishers of violating federal antitrust laws by colluding to raise prices. For their part, the publishers argue that they were trying to enhance competition with the shift to agency pricing. Some of the publishers are also being investigated over agreements to delay e-book releases to allow hardcover editions a window of exclusivity.
People familiar with the matter told the Journal that several of the parties involved in the probe have entered talks to settle the case in an effort to avoid going to court. However, sources said only some of the publishers are in settlement discussions.
One publishing executive told the publication that negotiations with the DoJ have "taken many turns." Another executive said that a settlement was still a ways off.
The Justice Department lawsuit would come on the heels of a class-action lawsuit filed last year. A group of consumers have accused Apple and the publishers of engaging in an e-book "price-fixing conspiracy" that resulted in price hikes. The complaint draws upon comments made by Jobs to his biographer about the move to the agency model for iBooks as evidence of the alleged collusion.
Apple redoubled its e-book efforts in January with the release of iBooks 2. The company is looking to tap the education market by providing low-cost interactive digital textbooks as alternatives to traditional textbooks. The iPad maker also released iBooks Author, a free tool for creating e-books for the iBookstore,.