RIM stock falls to lowest level in eight years on bearish trading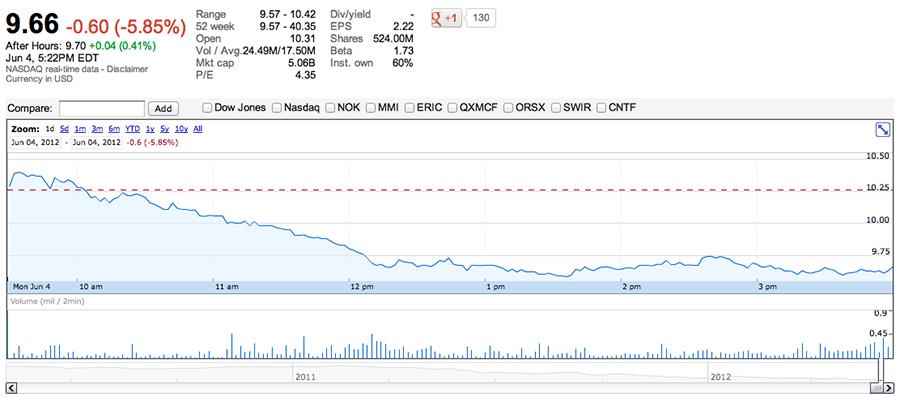 AppleInsider is supported by its audience and may earn commission as an Amazon Associate and affiliate partner on qualifying purchases. These affiliate partnerships do not influence our editorial content.
Embattled Canadian smartphone maker RIM saw its stock dip into single-digits on Monday to end trading down 5.85 percent at $9.66, a price not seen since December 2003.
Shares of the Waterloo, Ontario company dropped below the $10 mark on a flurry of bearish options trading and the announcement that competing smartphone maker Samsung would launch its anticipated Galaxy S III on America's four largest wireless networks later this month.
The BlackBerry maker may continue to hemorrhage value when trading resumes on Tuesday as active put buying and call selling of weekly options signal a further slide downward, reports Forbes. During the first half of Monday's trading session, RIMM saw 1,250 puts at the $10 strike set for Jun. 8 yielding an average premium of $0.23 each. This places put buyers ing the position to see profits as long as the stock stays below the $9.77 breakeven price when the options expire later this week.
Upside call sellers also stand to profit from a continuation of poor trading performance as 6,200 calls traded at the $10 strike against open interest of 648 positions. Over 2,100 calls were sold at the Jun. $10 strike at an average premium of $0.28 each.
Monday's bets against the company come on the heels of chief executive Thorsten Heins' May announcement of plans to cut some 40 percent of RIM's workforce by early 2013. Further compounding the company's troubles are a number of high-profile resignations including former co-CEOs Mike Lazaridis and Jim Balsillie, with the latest departure being RIM's Chief Legal Officer Karima Bawa.
RIM stock fell into single-digits on Monday for the first time since 2003. | Source: Google Finance
The once-dominant BlackBerry platform experienced a brisk decline following the introduction of Apple's iPhone and handsets running Google's Android mobile operating system. The latest IDC data shows that BlackBerry only accounts for 6.4 percent of the global market while Apple's iOS and Android took 82 percent combined.
It was reported in May that the company's inability to sell BlackBerrys and PlayBooks inflated the value of unsold inventory to over $1 billion at the end of the last quarter.
RIM is looking to its next-generation BlackBerry 10 OS to salvage the company, though some analysts see the delayed platform is too little, too late.