'iPad mini' build cost estimated to start at $200, may retail for $299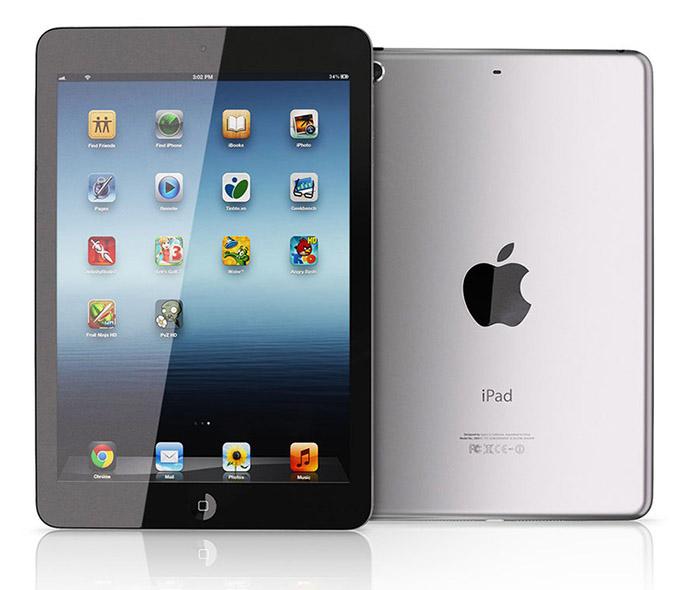 AppleInsider may earn an affiliate commission on purchases made through links on our site.
A preliminary breakdown of expected component and manufacturing costs finds that Apple is likely to spend $195 to $254 in building the various models of its rumored 7.85-inch iPad, and is projected to sell the tablets at lower-than-usual margin rates
Analyst Ming-Chi Kuo of KGI Securities said in a research note to investors that the estimated bill of materials (BOM) plus manufacturing costs for Apple's iPad mini will range from $195 for the 16GB Wi-Fi model, to $254.50 for the top-of-the-line 64GB 4G LTE version. Comparing these numbers with allegedly leaked retail prices from the UK, Apple will be seeing gross profit margins of 35 percent to 58 percent, much lower than its other iDevice offerings.
The third-generation iPad, which is also considered a low profit margin product for Apple, grabs a 37 percent to 51 percent margin rate. In contrast, the iPhone 5 is estimated to bring in huge margins of 68 percent to 72 percent.
While mere speculation at this point, the iPad mini's aggressive pricing structure could stymie competitors' attempts to encroach on Apple's industry-leading mobile device marketshare. As noted in a report earlier on Saturday, rival manufacturers are taking advantage of an emerging market for 5- to 9-inch devices, a gap positioned directly between the iPhone and 9.7-inch iPad that Apple has yet to fill.
As for parts cost, Kuo sees the iPad mini's screen as being the single most expensive component at $56.50, which covers the display, touch sensor, cover glass and other hardware. The assembly is said to employ a new technology called GF DITO, or "GF2," allowing the device to be 18 percent thinner than the full-sized iPad.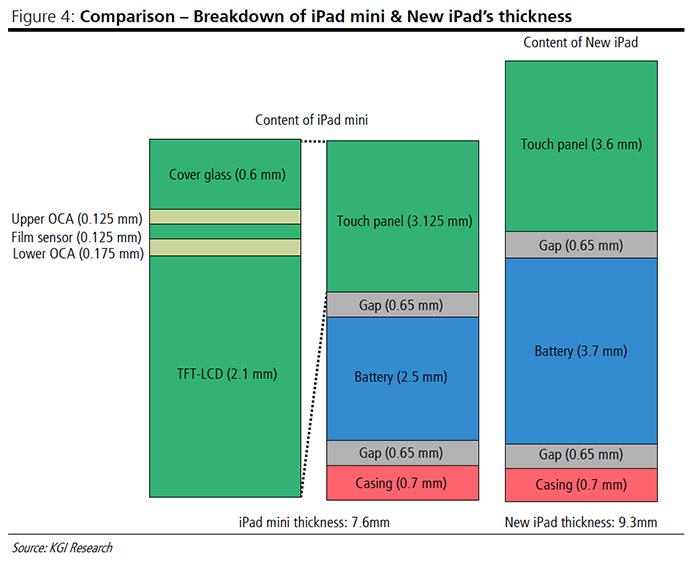 Coming in second is the total cost of the mini's logic board, which is estimated to cost $54 for the Wi-Fi only version and $80 for the 4G LTE-compatible model. As in the iPhone 5, Kuo expects Apple to use Qualcomm's MDM9615M baseband chip, a $24 item.
Also of note is the inclusion of what the analyst calls a "tweaked version" of Apple's A5X SoC that powers the third-generation iPad, though the mini's chip will be built using the 32nm process and will access 512MB of RAM. The original A5X was built on Samsung's 45nm architecture and leveraged 1GB of physical memory.
Rounding out the component checklist are the $33 casing, $16.50 5-megapixel rear-facing camera, $12 battery, and $7 in labor costs.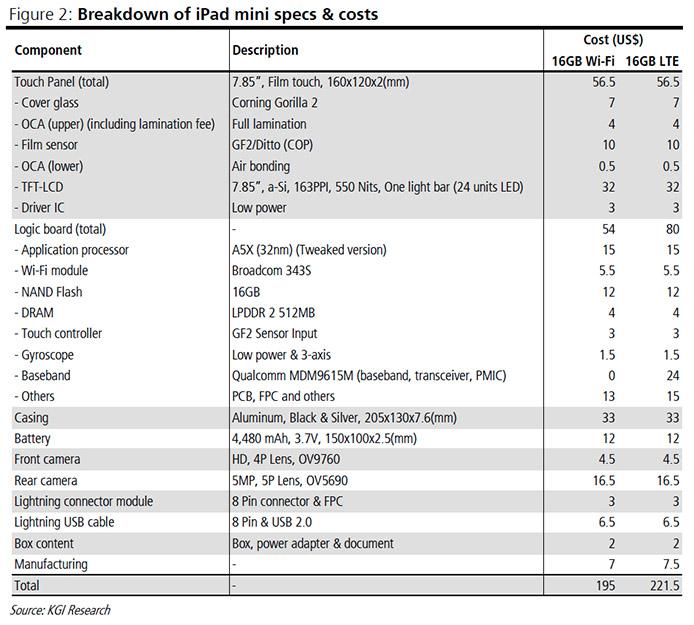 Apple is widely expected to unveil the iPad mini at a special media event on Tuesday, with rumors suggesting the company may also debut a 13-inch MacBook Pro with Retina display.