iPhone 5 showing 'In Stock' status in international Online Apple Stores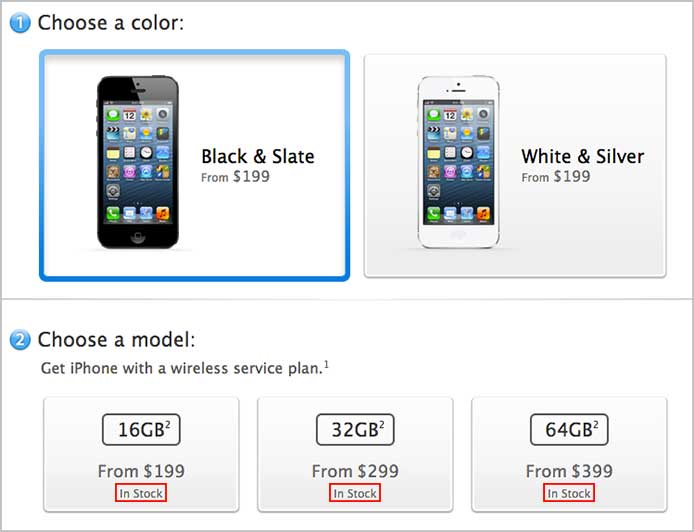 In time for the lucrative holiday shopping season, a number of international Online Apple Stores, including the U.S. and Canada, are showing immediate availability of the company's newest iPhone 5.
After weeks delayed shipment times due to severe supply constraints, some Online Apple Stores are now listing the iPhone 5 as being "In Stock," suggesting supply is finally catching up to demand.
The most recent update in shipment times, first spotted by MacRumors, is the first time Apple's handset has been in stock since launching in September. Demand for the new iPhone was so high that sales topped five million units over the device's first weekend of availability, exhausting the company's initial supply.
"Demand for iPhone 5 has been incredible and we are working hard to get an iPhone 5 into the hands of every customer who wants one as quickly as possible," Apple CEO Tim Cook said at the time.
Ship-by times have been slowly improving over the past month as Apple's online storefront quoted two to three week delivery times in mid-November, which improved to two weeks by the end of the month.
Apple is scheduled to start iPhone 5 sales in China next week and demand looks to be strong as the nation's second-largest carrier recorded over 100,000 reservations just hours after the device went up for preorder on Dec. 4.
Friday's news comes about a week after most U.S. brick-and-mortar Apple Stores were reported to have all versions of the handset on hand.