Average analyst target for Apple drops to $740 among capital gains, fiscal cliff worries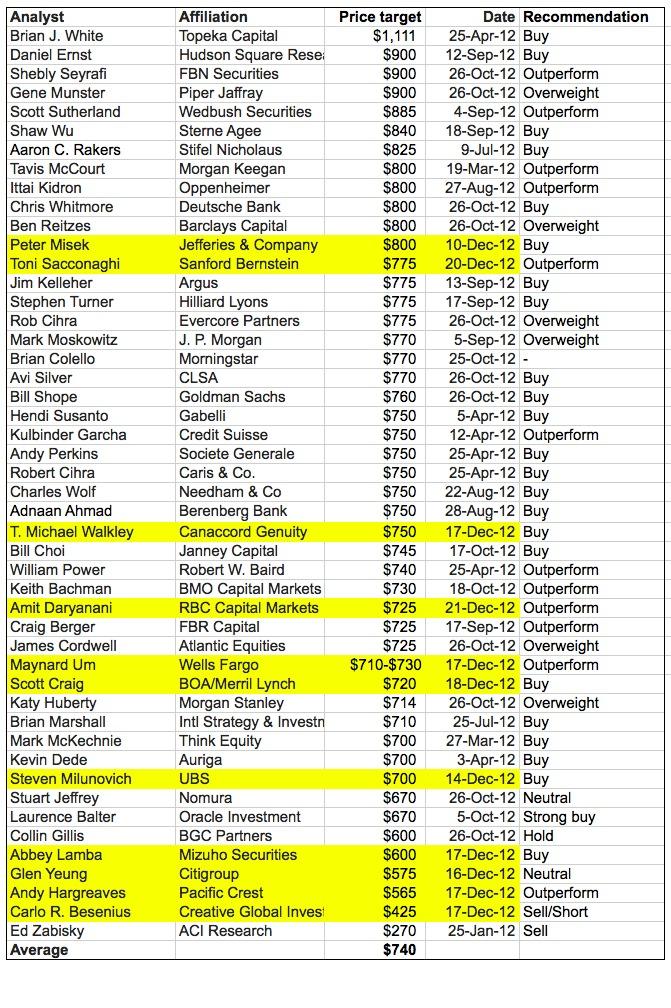 With Apple's stock price falling ahead of an increase in capital gains tax and investors worried about the so-called "fiscal cliff," the average analyst price target for AAPL stock has fallen to $740.
A total of 11 analysts surveyed by Philip Elmer-DeWitt of Fortune 2.0 have reduced their price target in recent weeks. Even with those drops, the average $740 target for AAPL is $225, or 44 percent, above the company's actual price as of market close on Thursday.
One noteworthy holdout who has refused to reduce his price target for Apple is Brian White of Topeka Capital Markets. His latest note, which AppleInsider covered last week, reiterated his target price of $1,111.
But others, such as Peter Misek of Jefferies, have decided to lower their targets in light of recent losses. Misek said in a note to investors earlier this month that he believes average selling prices for smartphones have peaked, while the future for Apple's iPhone — and the rest of the industry — is in developing markets. His price target for AAPL was cut to $800.
Average analyst price targets compiled by Apple 2.0. Recent reductions highlighted.
Michael Walkley of Canaccord Genuity also trimmed his price target from $800 to $750 this month. But he, like most others, has maintained a "buy" rating for Apple, forecasting it to be a wise choice for investors.
Among the most bullish high-profile analysts are Gene Munster of Piper Jaffray ($900 price target), Shaw Wu of Sterne Agee ($840) and Ben Reitzes of Barclays Capital ($800). Those below the average price target are Amit Daryanani of RBC Capital Markets ($725), Maynard Um of Wells Fargo ($710-$730), and Brian Marshall of ISI Group ($710), and Katy Huberty of Morgan Stanley ($714). Citi Research initiated coverage of AAPL in November with a price target of $675.
Recent drops in Apple's stock price have left many investors and analyst grasping at potential answers. Blame has been placed on a higher capital gains tax that will kick in with the start of the new year, as well as worries about the U.S. government's "fiscal cliff" negotiations.
As for Apple specifically, some have suggested there are general concerns about iPhone sales and build orders, while some investors have expressed concerns over the company's gross margins, which are expected to shrink in the face of a massive product lineup refresh.