EA making more money through Apple's iOS App Store than its own Origin service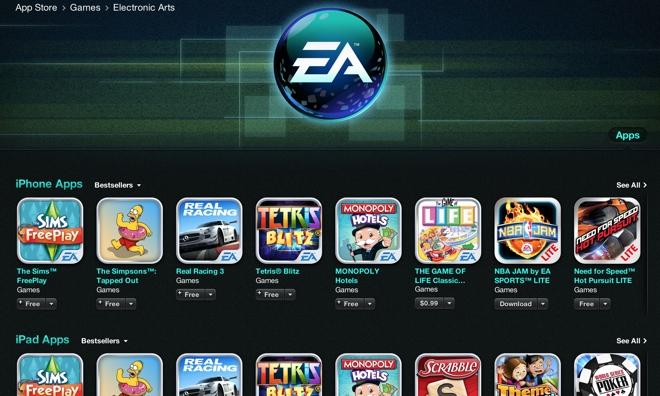 Major games publisher Electronic Arts revealed this week that it makes more money from Apple's iOS App Store than any retail distributor, including Best Buy, GameStop, or even its own Origin digital download service.
In all, EA made $90 million from games available for smartphones and tablets. The company did not break down how much of that came from the iOS App Store, and how much was through Android or other platforms.
The company's Origin service offers digital downloads of games for both Mac and PC. It competes with Valve's Steam, as well as Apple's own Mac App Store.
The company also unveiled its new Frostbite Go game engine in May of this year, which it plans to use to bring enhanced graphics to Apple's iOS. Frostbite Go is a mobile version of EA's powerful game engine that's behind blockbuster series such as "Battlefield" and "Need for Speed."
EA's mobile success came as Apple itself saw its revenue from iTunes, the App Store and other services surge by 25 percent in the June quarter. Total revenue from Apple's iTunes Software and Services division was $3.9 billion.
Apple's success in the June quarter was so great that it nearly caught the record $4.1 billion brought in by iTunes in the preceding three-month period. Developers are also reaping the benefits, with $11 billion paid out since the inception of the App Store — half of that over the last four months alone.
This month marks the fifth anniversary of the iOS App Store, as it debuted for the iPhone in 2008, and has since spread to include the iPad. There are currently more than 900,000 applications available on the App Store, 375,000 of which have been specifically designed for the larger iPad display.
A recent study found that the top applications on iOS earn 4.6 times more than their counterparts on Google Play, the official storefront for Android devices. Another recent survey found iPhone users pay an average of 19 cents per app, iPad owners pay 50 cents per app, and Android users pay just 6 cents per downloaded app.