Supposed 'iPhone Lite' shows up with FCC & other legal notices in new picture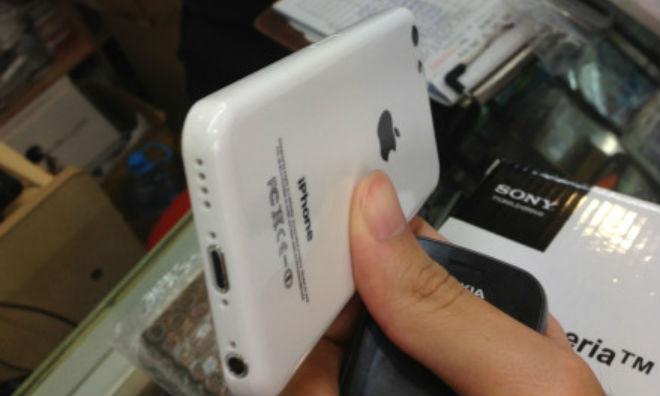 A new image has emerged claiming to show Apple's low-cost plastic iPhone in the wild, bearing the required legal notices from the FCC and other agencies.
The new image appeared on Chinese site Weibo (via iPhone5skopen) on Friday, and it shows a back view of the supposed "iPhone Lite" in the hand of the photographer. The object seen in the image bears what look like notices and markings from the FCC and assorted other certifications.
Previous views of the supposed Apple device have shown the casing only with the word iPhone, but not with any certification markings.
Given Apple's notorious secrecy and the infrequency of its products appearing in the wild ahead of release, it is impossible to tell whether the object shown in the image is indeed an Apple product. The object does appear to conform to previous views of what is widely expected to be Apple's low-cost iPhone. It could, however, be a 3D-printed mockup or simply an empty rear casing.
Notably, the font in which "iPhone" is rendered on the back appears thicker than it has in previous appearances of the supposed low-cost case. Otherwise, the case appears to be identical to the previous "leaks."
The "iPhone Lite" is expected to feature a polycarbonate casing instead of the premium-build metal casings which have come to typify Apple's bestselling device. It would be the first polycarbonate model Apple has produced since the iPhone 3GS, and its cheaper construction could enable Apple to better market its wares to consumers in developing markets, where most smartphone market growth is occurring now.
Should the low-cost iPhone actually debut alongside the iPhone 5's successor this fall, the latest rumor has Apple abandoning the iPhone 5 in order to offer simply the "5S" and "lite." This would mark a departure from standard procedure for the Cupertino company, which typically keeps the last two models of iPhone in circulation in order to offer low-cost alternatives.
Last week, leaked documents emerged that claimed that the iPhone lite was already in the engineering verification testing stages prior to release. The documents also contained some specifications on the device, claiming that it would have 1 gigabyte of DDR RAM.