Earnings preview: Apple's Sept. quarter results are all about iPhone for Wall Street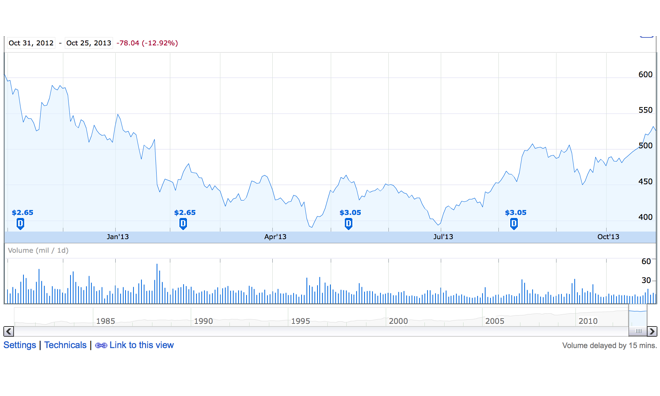 AppleInsider may earn an affiliate commission on purchases made through links on our site.
This afternoon after markets close, Apple is set to announce its earnings for the recently concluded September quarter. But analysts are mostly interested in any comments the company may have about improving iPhone 5s production, as well as sales of the iPhone 5c.
Apple's two new iPhone models launched with just over a week left in the September quarter. Even with that small window of availability, the devices will still have an effect on the quarter, as Apple managed to sell 9 million units in their first three days of availability.
In terms of overall financials, analysts polled by Thomson Reuters expect on average that Apple will report earnings per share of $7.93, on revenue of $36.84 billion for the quarter. That would represent 2.4 percent year over year growth in sales.Wall Street expects sales of 31 million iPhones, 14.5 million iPads, and 4.6 million Macs for the quarter.
For actual unit sales, Wall Street expects Apple to have sold 31 million iPhones in the September quarter, according to 20 buy-side investor expectations polled by Gene Munster of Piper Jaffray. iPad sales are expected to be at 14.5 million, and Mac sales at 4.6 million, with gross margins around 37 percent.
Apple already revised its guidance following the iPhone launch in late September, saying to investors that it expects gross margins of between 36 and 37 percent. With expectations recently revised, investors will be focusing on iPhone 5c demand for mid-range and international markets, as well as potential easing of iPhone 5s constraints, analyst Brian Marshall of ISI Group believes.
Looking ahead to the current December quarter, Munster believes that Apple will provide gross margin guidance at between 37 and 38 percent, which would be an increase of 50 basis points from September. That would represent the first sequential increase in gross margin for the company in the last six quarters.
Apple's December quarter will represent the first full three-month span for iPhone 5s and iPhone 5c sales. It will also include the debut of the new iPad Air and iPad mini with Retina display, both of which analysts expect will help improve Apple's margins.
Apple is set to report its September quarter results after markets close this afternoon. A conference call with analysts and members of the press will follow at 2 p.m. Pacific, 5 p.m. Eastern. AppleInsider will have full, live coverage.