Apple wants Beats Music, but likely to keep Beats hardware alive after deal - report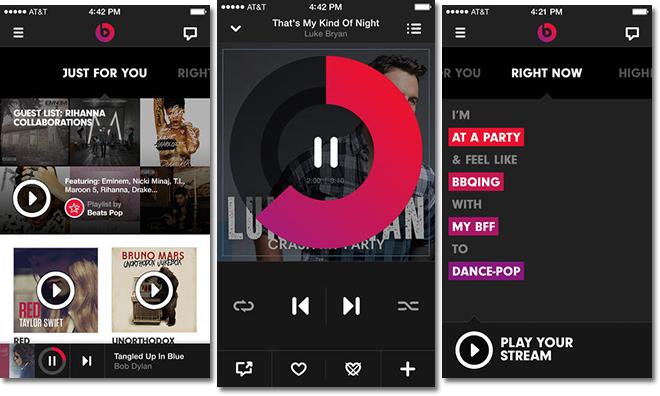 Apple's alleged $3.2 billion bid for Beats Electronics was provoked by the latter's impressive Beats Music subscription service, a Monday report said, while the iPhone maker will also look to help "improve the quality of design" in future Beats headphones.
Apple's interest is said to have been piqued by the rate at which Beats Music was converting free users to paid subscribers, and the multi-billion dollar price tag was made more palatable by the already close relationship between Apple executives and Beats CEO Jimmy Iovine, according to Bloomberg.
Cupertino, Calif.-based Apple is under pressure as sales of digital music downloads suffer thanks to the increasing popularity of music subscription services. Apple's own iTunes Radio streaming service, designed to boost sales of individual tracks, has been portrayed as "underwhelming" with just 1 to 2 percent of listeners making purchases.
Beats Music, meanwhile, is thought to have less than 300,000 paying subscribers but has been well received by consumers and critics for its design and functionality. In addition to a Spotify-like system that allows users to call up any song in the catalog, the service also sports a highly-praised recommendation algorithm.
A deal for Beats is likely to include a position in Apple's senior leadership for Iovine, who former MySpace executive Jason Hirschhorn called one of "Apple's first friends in the music business." Iovine is exceptionally well connected in the music industry and helped launch the iPod and iTunes store alongside late Apple CEO Steve Jobs, herding record labels toward deals with Apple and helping secure product placement for the iPod.
Apple's interest in Beats was first reported last week, with many pundits and Apple watchers writing off the rumors as false thanks to the non-obvious synergy between the two companies. An increasing number of outlets have chimed in with confirmations and corroboration, however, and some say the deal — which would be by far the largest in Apple's history — could be formally announced as soon as this week.