Apple on pace to sell record 39M iPhones in June quarter, survey finds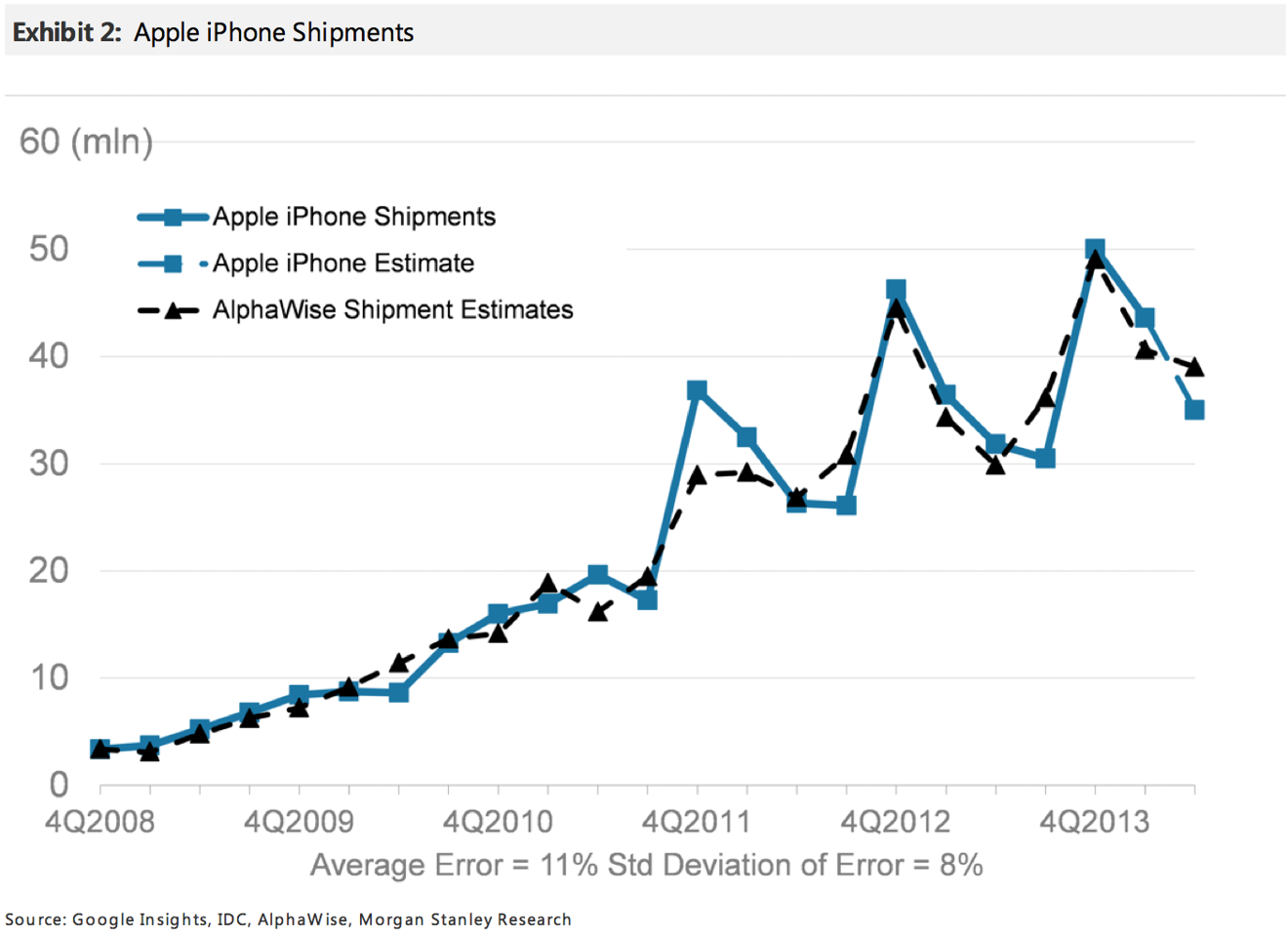 Continued strong demand for Apple's iPhone has the hot selling handset on pace to set yet another record in the current June quarter, the latest data from Morgan Stanley's AlphaWise survey has found.
Analyst Katy Huberty on Tuesday revealed the results of the latest AlphaWise Smartphone Tracker in a research note to investors, a copy of which was provided to AppleInsider. The data through the end of May suggests that there is demand among consumers for 39 million iPhone units in the June quarter.
Apple's previous June-quarter record came a year ago, when it shipped 31.2 million iPhones in the three-month span. That compared to 26 million units in the June 2012 quarter.
Morgan Stanley's AlphaWise surveys have been a good indicator of how much market demand there is for Apple's iPhone over the last year. The survey has outperformed Wall Street's consensus estimates in four of the last five quarters.
Notably, last quarter the survey signaled stronger than expected demand for the iPhone, driven by international expansion and carrier promotions. While market watchers expected sales of 38 million iPhones, the AlphaWise tracker pegged demand at 40.6 million units, which was closer to Apple's actual shipments of 43.7 million units.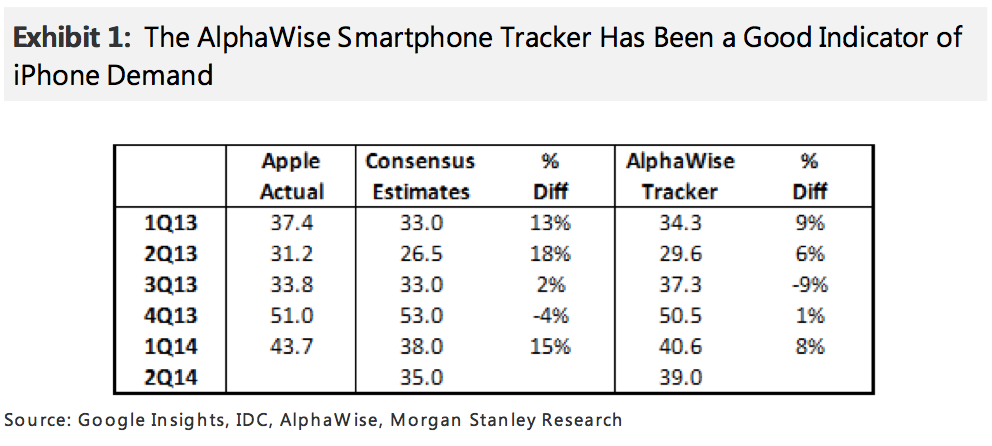 For the current June quarter, Wall Street consensus is at 35 million iPhone units. But the latest data from Morgan Stanley suggests that demand is higher, and Apple could easily exceed those expectations.
Huberty said that iPhone unit upside could add $2.8 billion to the company's revenue for the quarter, an 8 percent bump from her predictions. She noted that supply chain build for the quarter is at 33 million units, but the supply chain tends to lag behind market demand as production ramps down near the end of a product cycle.
"Similar to the March quarter, we believe promotions from Apple, retailers and carriers are driving strong demand," Huberty wrote. She noted that Apple launched an 8-gigabyte iPhone 5c in mid-March, and that it also started promoting a trade-in program at U.S. stores in early May.
And while Apple is soaring, the latest AlphaWise figures suggest rival Samsung may be slumping. It shows that demand for the company's Galaxy handsets is down 1 percent year over year to 41 million units, with the slowdown said to be primarily from lower-priced handsets and not the latest flagship Galaxy S5.
Like most others on Wall Street, Huberty is particularly excited for Apple's next iPhone product cycle, which is expected to kick off this September, a year after the launch of the iPhone 5s. Survey data captured by Morgan Stanley suggests that if Apple were to launch a new iPhone with a larger display, as is expected, that the company would see a strong upgrade cycle from existing iPhone owners.