Apple Watch availability expands to Australian, European authorized retailers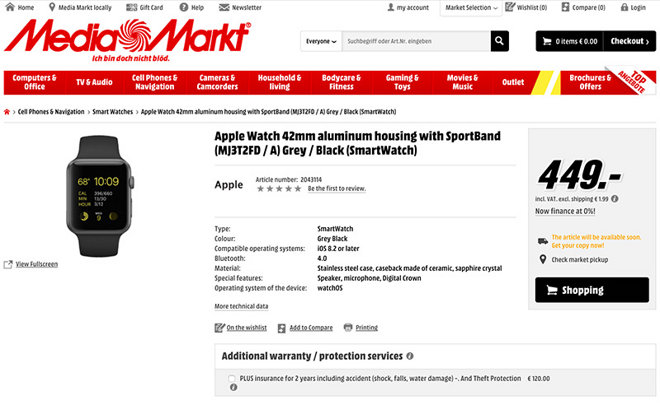 AppleInsider may earn an affiliate commission on purchases made through links on our site.
As part of a continued effort to extend Apple Watch sales beyond Apple Stores and into retail chains, Apple will soon supply stock to select authorized retailers in Australia, Germany and the UK.
In Germany, aluminum Sport and stainless steel Apple Watch models are showing up for purchase on the online storefronts of Media Markt and Saturn, while Mac reseller Gravis is expected to gain access later in September, reports iFun.de. It appears both Media Markt and Saturn have yet to receive stock from Apple's supply chain, as their respective online ordering system fails to provide estimated delivery dates.
A separate report from MacRumors notes Australian retailer The Good Guys is also selling Watch at brick-and-mortar locations and claims UK's Stormfront will start sales next week.
The retail rollout is in line with a reseller push in North America that started with U.S. and Canadian Best Buy stores last month.
Apple Watch initially debuted in nine countries — the U.S., Australia, Canada, China, France, Germany, Hong Kong, Japan and the UK — but saw demand grossly outstrip launch supply. Apple Stores began selling units in June by reservation only.
Most recently, Apple expanded Watch availability to UK outlets John Lewis and Curry's this month, while Belgium is scheduled to get the device on Sept. 19.