Only 5% of Mac users at IBM need help desk support, compared to 40% of PC users

IBM's internal deployment of Mac hardware has been a resounding success, the company announced this week, with rapid adoption and very little need for employee technical support.
IBM took part in this week's JAMF Nation User Conference in Minneapolis, where the company explained how it began to integrate Apple's Mac platform into the traditionally Windows-centric organization.
Just 5% of Mac equipped employees call IBM's internal help desk for assistance, versus 40% of PC users.
Speaking to more than a thousand Apple IT administrators was Fletcher Previn, vice president of Workplace-as-a-Service at IBM. Big Blue began offering employees the ability to use a Mac at work starting on June 1, and adoption has been a tremendous success.
Previn revealed that IBM is now deploying 1,900 Macs per week, and there are currently 130,000 iOS and Mac devices at use within the company. All of these devices are supported by just 24 help desk staff members.
Further, Previn revealed that just 5 percent of Mac users call IBM's internal help desk for assistance, compared to 40 percent of PC users.
Previn said these statistics show how simple it is for IBM staff to use the Mac, and how good of a job the team has done to make for a seamless experience in setting up a new Mac in the workplace.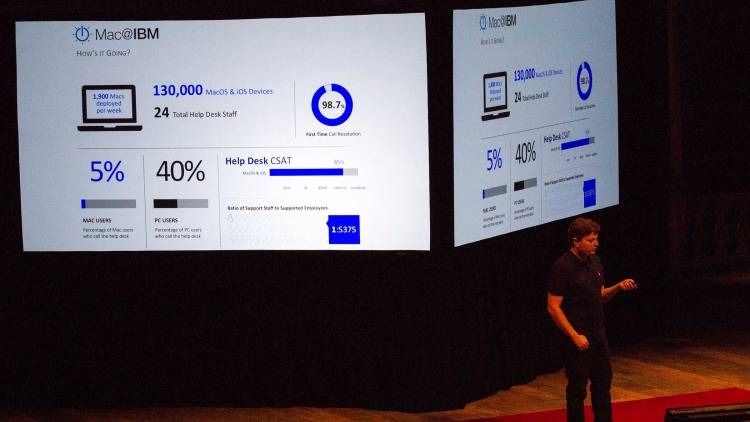 IBM's deployment allows for employees to receive a shrink-wrapped, brand new Mac and quickly and easily set it up on their own. Using Apple's Device Enrollment Program and JAMF Software's Casper Suite, users set up and install IT-approved apps, software and configurations.
JAMF Software's Self Service allows IBM and its employees a simple method for installing licensed software. In an example given by Previn, the employee simply needs to click install for Microsoft Office, and IT will handle the licensing on the backend without exposing any of it to the user.
Finally, regarding the higher upfront cost of buying a Mac, Previn said that IBM's adoption of Apple hardware is actually a financial benefit to the company in the long run.
Macs require less management and setup effort than PCs, he said, saving IT personnel valuable time. And fewer employees are needed to support Macs than traditional PCs, he said.
"Every Mac that we buy is making and saving IBM money," Previn said.

IBM officials said in July that they plan to deploy some 50,000 MacBooks to employees by the end of 2015. Final adoption numbers at the company are expected to be between 150,000 and 200,000 units.
Apple and IBM surprised the tech world last year by announcing a partnership in enterprise solutions dubbed "IBM MobileFirst for iOS," an initiative incorporating custom software and analytics services with iOS hardware. That proved to be just the start of a growing partnership between the two former rivals, leading to this year's deployment of Macs within the IBM ranks.
The companies also revealed in June their work on an experimental educational product called the Student Achievement App, which looks to provide teachers with real-time student data analytics. A prototype version of the service is slated for completion soon, with pilot programs scheduled to roll out at four schools in 2016.
And in August, IBM announced a program designed to help large enterprises incorporate Macs within their existing IT infrastructures. IBM's MobileFirst Managed Mobility Services utilize the company's own experiences from its Mac@IBM program.