Microsoft woos Mac owners with $300 Windows 10 'Trade Up' promotion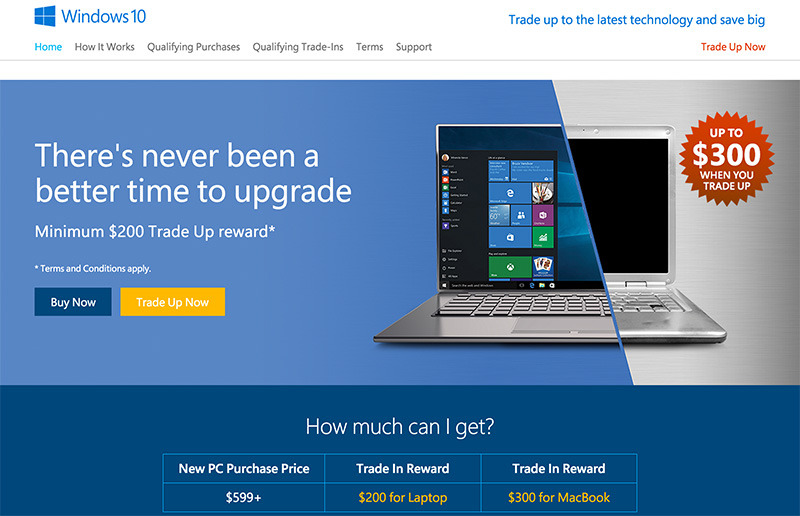 Microsoft on Thursday debuted a limited-time, in-store incentive program offering customers in the market for a new (non-Surface) computer running Windows 10 up to $200 when they turn over an old PC, or up to $300 for a used MacBook or iMac.
According to Microsoft's terms, buyers are eligible to receive Easy Trade Up rewards on new Windows 10 PC purchases costing $599 or more. Qualifying trade-ins include old Windows all-in-ones, laptops or two-in-ones, as well as MacBooks and iMacs, that are at most six years old.
According to VentureBeat, Microsoft is dishing out an extra $100 for Apple hardware to offset comparatively high resale values, though the Redmond, Wash., tech giant likely has ulterior motives. The company has for years relied on incentives to swell hardware launch numbers and, perhaps more importantly, wrest Mac owners away from Apple's sticky ecosystem.
For example, Microsoft Stores last year were willing to pay up to $650 in store credit for select MacBook Air models with the purchase of a Surface Pro 3, while a 2013 iPad trade-in deal offered a $200 gift card with the sale of a Surface Pro or Surface RT.
The Windows 10 promotion does not apply to the latest Surface Pro 4 or all-new Surface Book laptop, at least for the moment. Initial interest is apparently high enough to let sales continue without a stimulus plan, as Microsoft said yesterday that it sold out of Surface Book launch supply one week after preorders went live.
The latest Windows 10 incentive runs until Oct. 20 and is available at Microsoft Stores in Brazil, Canada, France, Germany, India, Taiwan, the UK and the U.S. Full country-by-country details, including a rundown of the claims process, are posted on Microsoft's website.