Google mimics Apple Watch with conveniently swappable 'Mode' Android Wear bands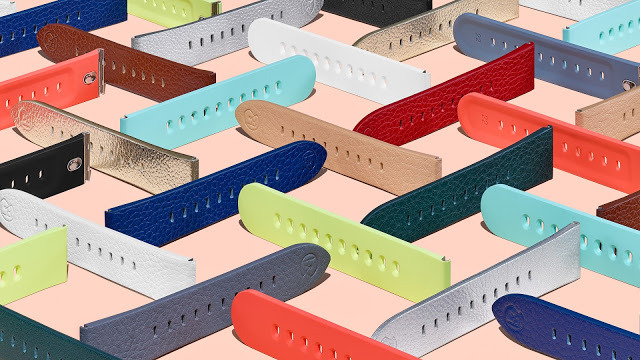 AppleInsider is supported by its audience and may earn commission as an Amazon Associate and affiliate partner on qualifying purchases. These affiliate partnerships do not influence our editorial content.
Taking a page from the simple customization of the Apple Watch, Google on Tuesday announced it is launching a new lineup of Android Wear bands that can be easily replaced to give a wearable device a fresh look.
The new "Mode" snap-and-swap watch bands for Android Wear were designed in partnership with b&nd by Hadley Roma. Like with the Apple Watch, the bands can be removed by pressing a button, then sliding the band out to be replaced.
Mode bands come in fourth different widths that can fit most Android Wear watches, and they'll also work on mechanical watches too. The first lineup includes a variety of colors available in either leather or silicone.
Swappable bands have been a defining feature of the Apple Watch since it launched a year ago. Apple has steadily expanded its lineup of first-party bands and now offers a huge collection of options that allow users to make the Apple Watch their own.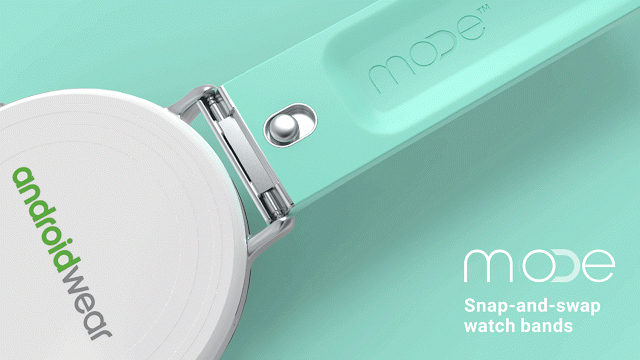 The Mode mechanism design is available for other accessory makers to design their own bands for Android Wear devices. And the first-party bands are now available to purchase through the Google Store, Amazon and Best Buy.
Though Android Wear was first out of the gate, Apple Watch is believed to be the market leader in the wrist-worn smart device space. Exact sales figures for the Apple Watch have not been disclosed by Apple, but analyst estimates peg year-one sales at about 14 million units — twice that of what the first-generation iPhone sold after its launch in 2007.
Apple has debuted new Apple Watch bands periodically for the last year, representing different seasons of styles. Most recently, in March, it debuted a series of woven nylon styles, as well as new color options. It also slashed the entry price of its Watch to $299.
Apple is expected to launch a new second-generation Apple Watch later this year, though the timetable for review remains uncertain. Reports have suggested the external design will remain largely unchanged, though internally the company is rumored to add an LTE radio for data on the go, as well as a faster second-generation "S2" chip.