Energous, Dialog Semiconductor launch small RF charging circuit, possibly destined for 'iPhone 8'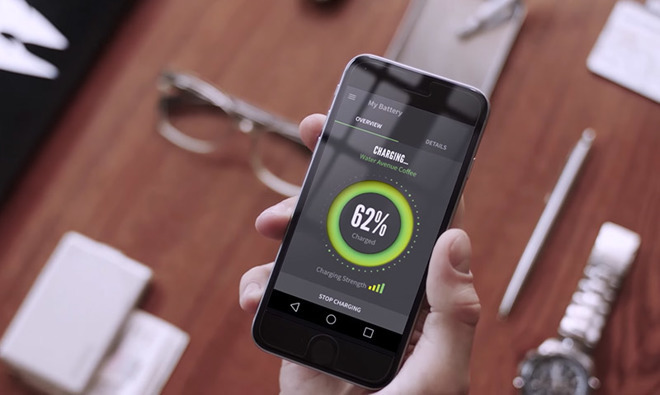 Dialog Semiconductor and Energous have launched a new wireless charging component that is cheaper and takes up less space than previous iterations, a part that could help Apple incorporate over-the-air power in a future iPhone or iPad.
The DA4100 RF-Transmit integrated circuit (IC) is a simplified implementation of Energous' WattUp wireless power transmission system, according to Energous and Dialog Semiconductor. The 7mm by 7mm IC combines the ARM Cortex-M0+, an RF transmitter, and power management functions, with the small size potentially making it attractive to device producers due to taking up minimal space on a circuit board.
The WattUp platform uses small antennas to transfer power, instead of relying on a system of inductive charging coils. This change in transmission technology greatly increases the distance devices can be from the power transmitter, allowing users to place the charging smartphones and tablets a few feet away, rather than placing them on a special mat or using a specific magnetic connector, as used by existing systems.
The chipset is now sampling to customers. It is not known when large-scale production of the circuitry will begin.
During the 2017 Consumer Electronics Show, Energous claimed it would demonstrate a new version of its over-the-air wireless charging technology, offering a range of up to 18 feet, potentially allowing for devices to be charged from across the room, possibly while they are being used.
The new component is the first in a partnership between the two manufacturers inked in November, where all of Energous' technology will be sold under the Dialog brand, with sales also going through Dialog. In return Dialog provided Energous with $10 million in investment, as well as providing access to Dialog's sales and distribution channels.
"We partnered with Energous because we see the potential of their technology to revolutionize the wireless charging landscape, and we believe this new IC will demonstrate how our partnership can transform device charging," said Dialog senior vice president of corporate development and strategy Mark Tyndall.
Apple is considered to be the largest customer of Dialog, believed to account for more than 70 percent of orders from the company. This sizable Apple-derived revenue strongly suggests that Apple may have an interest in acquiring the components for future devices, which has previously fueled rumors of wireless charging being introduced an upcoming iPhone refresh.
In a recent quarterly conference call, Energous revealed "most, if not all, of Energous' early adopters are existing Dialog customers." Energous has also name-checked Apple in a regulatory filing, and noted in March 2015 that it had a development and licensing agreement with a "tier one" consumer electronics company.
Energous is not the only company potentially supplying wireless charging components for the "iPhone 8." Earlier this month, a supply chain report from China claimed Lite-On Semiconductor had acquired "half of the orders for GPP bridge rectifiers that will be used in the wireless charger for the upcoming iPhones."