Why Apple is unlikely to ditch Touch ID for facial recognition with 'iPhone 8'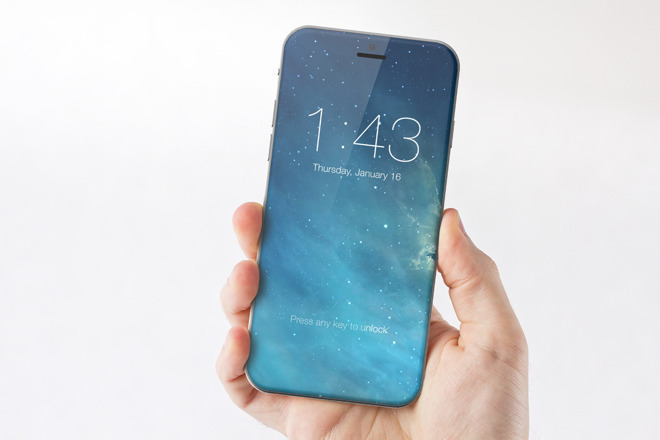 Apple is rumored to integrate face-scanning cameras in its upcoming "iPhone 8" handset this fall, sparking speculation that facial recognition technology will replace the company's Touch ID authentication system. AppleInsider explains why such a move is unlikely, at least this year.
For 2017, Apple is widely rumored to launch a high-end iPhone that comes packing a litany of exotic technologies, including an OLED display, wireless charging, glass-sandwich design, in-screen Touch ID and more. The device is expected to sell as a standalone model priced above "iPhone 7s" and "iPhone 7s Plus" refreshes.
As Apple's traditional fall launch timeline approaches, analysts and industry insiders are coming out of the woodwork to offer their predictions on what advanced technology Apple plans to incorporate in the next-generation handset. Being the 10th anniversary of iPhone's initial release in 2007, expectations are high, now bordering on mythical.
Most recently, KGI analyst Ming-Chi Kuo last month said checks with supply chain sources suggest Apple is looking to integrate a "revolutionary" front-facing camera system capable of 3D sensing. By adding an infrared transmitter and receiver to the usual FaceTime camera, the company will be able to conduct accurate depth mapping functions for 3D modeling, perfect for creating gaming avatars and capturing 3D selfies.
Though Kuo did not explicitly say the camera system would be used for bio-recognition — face detection — operations, the analyst in January said Apple is developing facial and iris recognition technologies in hopes of one day replacing Touch ID. Whether those systems will be ready in time for inclusion in "iPhone 8" remains unclear, but a 3D FaceTime camera is a huge step toward that goal.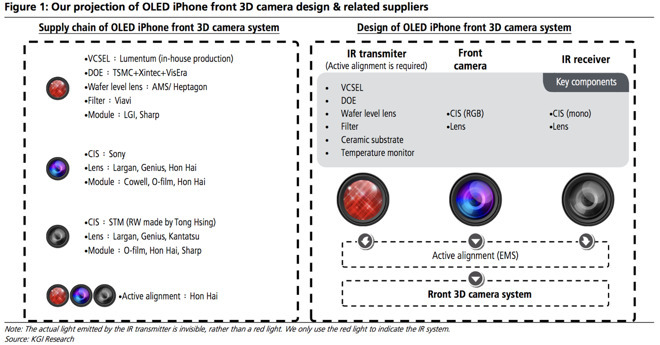 Since Kuo's February note hit media outlets, analysts and pundits have glommed on to the idea of a face-detecting iPhone. A hands-off, no-touch security solution like facial recognition is preferable to contact technology like fingerprint sensors, which require user interaction. A slew of hurdles stand in the way of implementation, however, ranging from software design, hardware certification and the creation of a verification database, among other backend assets.
Even if a 3D camera is unveiled as part of "iPhone 8's" arsenal of new features, it is unlikely to serve as a complete replacement of Touch ID.
State of the art
As it stands, facial recognition in its current form is simply not as secure as fingerprint-based authentication methods. It boils down to 2D imaging versus 3D imaging — 2D is used for fingerprint scanning, while facial recognition is now in the realm of 3D.
At the heart of modern 3D imaging is depth mapping, a technology that creates a topographic model of an object or environment using specialized equipment. For example, light detection and ranging (LIDAR) uses pulses of laser light, time-of-flight calculations, positioning equipment and other assets to generate highly accurate 3D scene composites.
Alternative methods replace lasers with patterned infrared light, while others rely on known optical distortions combined with complex computational algorithms. A variation of the latter technique is used to accomplish Portrait Mode on iPhone 7 Plus.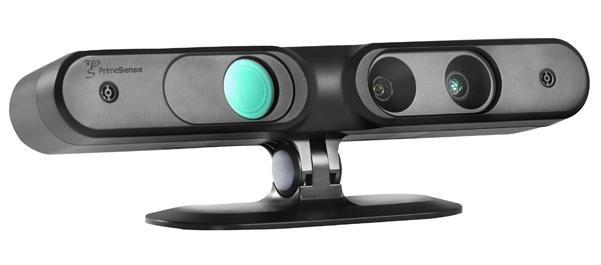 Previously reserved for military or industrial applications, depth mapping is finding its way into the commercial market thanks to component amortization, miniaturization and development by tech companies, Apple included. PrimeSense, the Israeli company purchased by Apple in 2013, developed patterned light technology that made its way into Microsoft's Xbox Kinect sensor, for example.
Depth mapping for mobile devices is coming along nicely, but companies have yet to demonstrate a system that functions as accurately as, and with the consistency of, Touch ID.
Investments and patents
Beyond technical challenges, Apple has a significant stake in its Touch ID solution. All fingerprint sensors used in iPhones, iPads and now MacBook Pro computers are based on technology developed by AuthenTec, a security technology company specializing in fingerprint sensing hardware and supporting software, which Apple purchased for $356 million in 2012.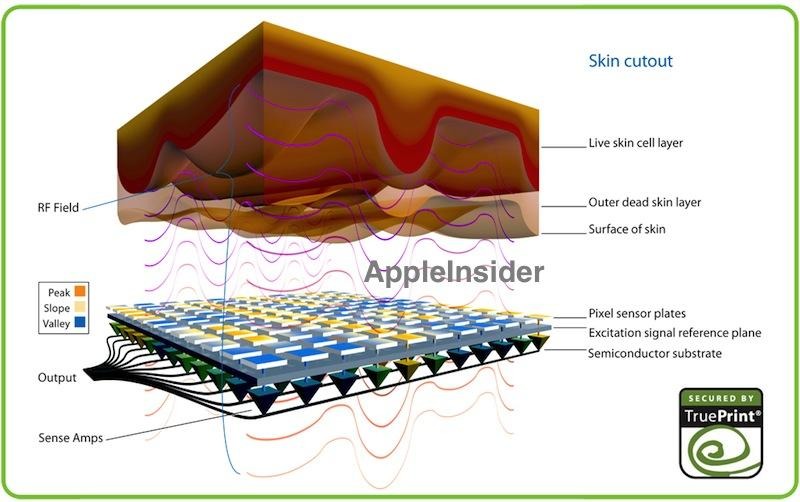 More recent Apple buys hint at where the company is headed. In February, nearly seven years after Apple bought Swedish facial recognition firm Polar Rose, the company reportedly acquired Israeli firm RealFace for $2 million. Last year, Apple snapped up facial recognition and expression analysis firm Emotient, following the 2015 buy of motion capture specialist Faceshift.
The acquisitions, along with the individual hires of computer vision and machine learning experts, strongly hint at work on face-based bio-recognition systems.
That Apple is working on next-gen Touch ID technology, and perhaps a replacement, is clear. The company already owns a trove of patents covering advanced fingerprint reading methods, from minor tweaks to existing capacitive techniques to ultrasonic sensing.
In-screen or under-screen fingerprint scanners are rumored for inclusion in "iPhone 8." Perhaps not coincidentally, Apple has IP for that, too.
As explained in a recent patent grant, in-screen systems place a sensing component beneath, or within, a smartphone's display. The invention was reassigned to Apple from LuxVue, a micro-LED maker the company purchased in 2014.
In some cases, transmission and reception components are disposed below the cover glass, touch film, LCD, polarizer, filter, backlight and any other layers that comprise the display stack. Apple's iPhone 6s and 7 models incorporate a large capacitive sensing array to facilitate Force Touch, for example. Other methods integrate those same sensors into one or more layers, like infrared diodes disposed throughout an RGB micro-LED array.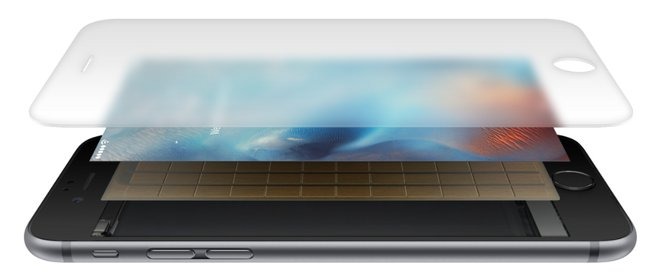 The goal is to create a fingerprint sensing system that requires no single anchor point like a home button, meaning a host smartphone can employe a true, unbroken edge-to-edge display. There are pitfalls to such designs, however, including the problem of indicating where a user needs to place their finger for authentication. Apple is already looking into these problems, as evidenced by an invention that allows for an iPhone's entire screen to serve as its fingerprint sensor.
Maybe next time
With Apple still investing significant man hours in the investigation of future Touch ID iterations — fingerprint patents are still being churned out on a regular basis — it seems the company is loath to abandon the technology altogether. That said, Apple is also pouring assets into the development of facial recognition solutions (1, 2, 3, 4, 5), and more recently capital into small specialist firms. A two-pronged approach is not unusual for a tech company, especially one as large as Apple.
Considering Apple's continued work on Touch ID, and the lack of an accurate and reliable commercial facial recognition system, it is likely that a near-future iPhone will incorporate a hybrid bio-recognition solution. Taking Kuo's analysis into account, it seems that "iPhone 8" will relocate Touch ID beneath the screen, while keeping 3D imaging as a secondary feature. It is possible that the supposed 3D FaceTime camera might not be used for authentication at all, instead serving as a method of gesture input.
In any case, Apple is highly unlikely to abandon Touch ID for untested in-house facial recognition technology on what is to be its flagship product. Circumstantial evidence suggests the company is moving in the direction of face-based authentication, but the technology is simply not mature enough to stand on its own. For now.