iDevices debuts HomeKit-compatible Instant Switch wireless wall switch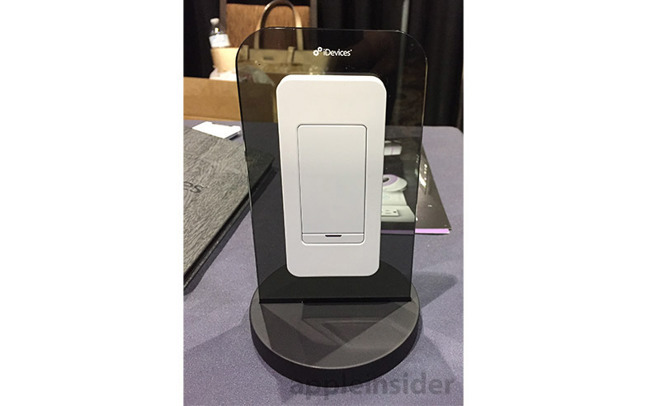 Smarthome accessory maker iDevices expanded to its range of HomeKit-connected hardware on Friday with Instant Switch, an easy to mount wall switch that connects to and controls most iDevices products.
Originally promised to launch last year, Instant Switch is iDevices' take on installation free smart accessory switches that have gained in popularity over the past year.
Similar in function to Logitech POP and Philips Hue Dimmer Switch, Instant Switch is a hassle-free solution for controlling iDevices power and lighting products. With HomeKit integration, users can control Instant Switch via Siri and include the device in house-wide scenes. Amazon Alexa support is also included.
Using Bluetooth, the battery-powered Instant Switch pairs with iDevices products like the Switch WiFi Smart Plug or Socket light bulb adapter to provide remote control from almost anywhere in a user's home. Along with basic on/off control for plugs and adapters, Instant Switch can connect to the iDevices Wall Switch or Dimmer Switch, both hardwired solutions, to automatically create a 3- or 4-way control configuration.
Unfortunately, Instant Switch does not support the iDevices Thermostat, though that model can be directly controlled from the Home app and included in HomeKit scenes.
Boasting a sleek flat panel design, Instant Switch can be mounted to a wall with the included 3M Command Strip, offering the aesthetic of a traditional residential electrical switch box cover. Users can customize their installation by swapping out the faceplate with any standard two-screw panel that accommodates standard rocker switches. A built-in level helps with installation.
As a semi-permanent device, Instant Switch comes with a pre-installed battery said to last for two years under normal use conditions.