The Smartphone Endgame: Who wins once shipment volumes peak?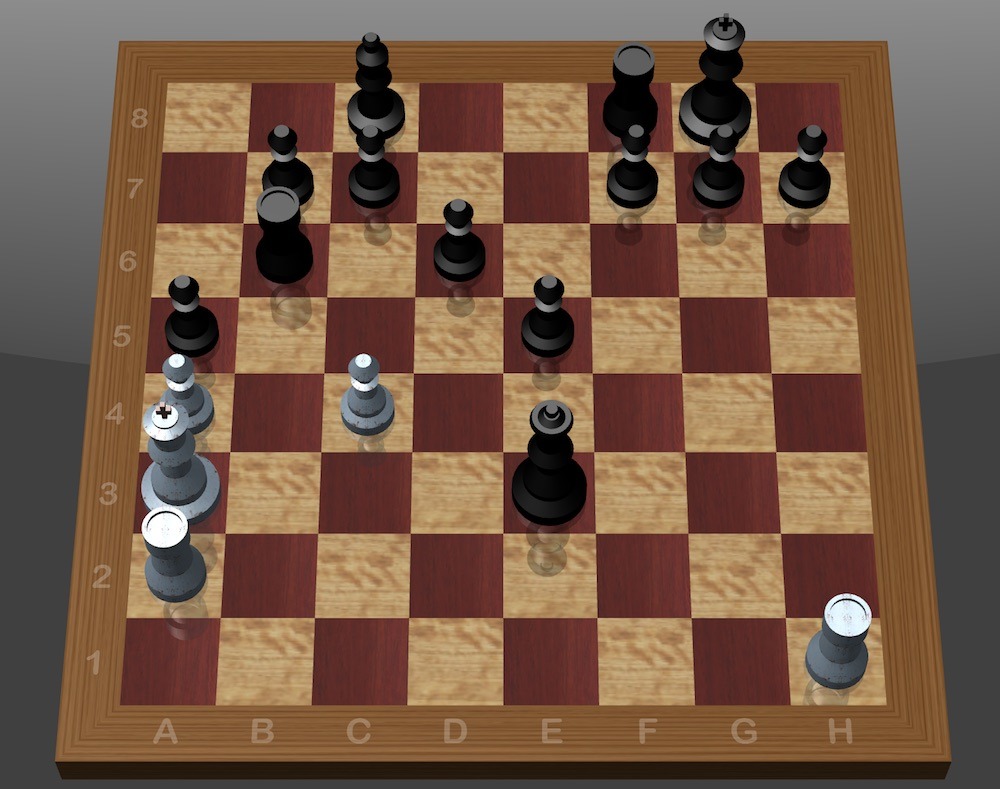 For decades, market research firms have been confidently asserting that the "winners" in PCs, tablets, smartphones and other consumer electronics are not firms that are profitable or even sustainable, but merely those shipping the largest volumes at any given time. This has enabled them to crown a successive line of failed players, then rapidly move on to a new "winner," often within the same year. The bigger problem for this sort of flawgic is that the game itself is changing.
Look at some Oppo research
It was a year ago that China's Oppo brand "topped China's smartphone market," as Jon Russell breathlessly reported for Tech Crunch. Based on figures from IDC, the story followed that Oppo's use of "aggressive advertising campaigns and offline sales channels" was enabling it to report impressive percentages of growth in China.
In 2015, Oppo had turned in an annual unit shipments growth rate of 67 percent. Last year, Oppo reached first place in IDC's shipment estimates for China, with 78.4 million units, resulting in incredible 122 percent annual growth.
Writing of Oppo as "most definitely one to watch," Russell noted that the firm's "approach is similar to the tactics that have worked for Samsung," an interesting use of present perfect tense. Those tactics did indeed once work for Samsung, but they are not working so well today.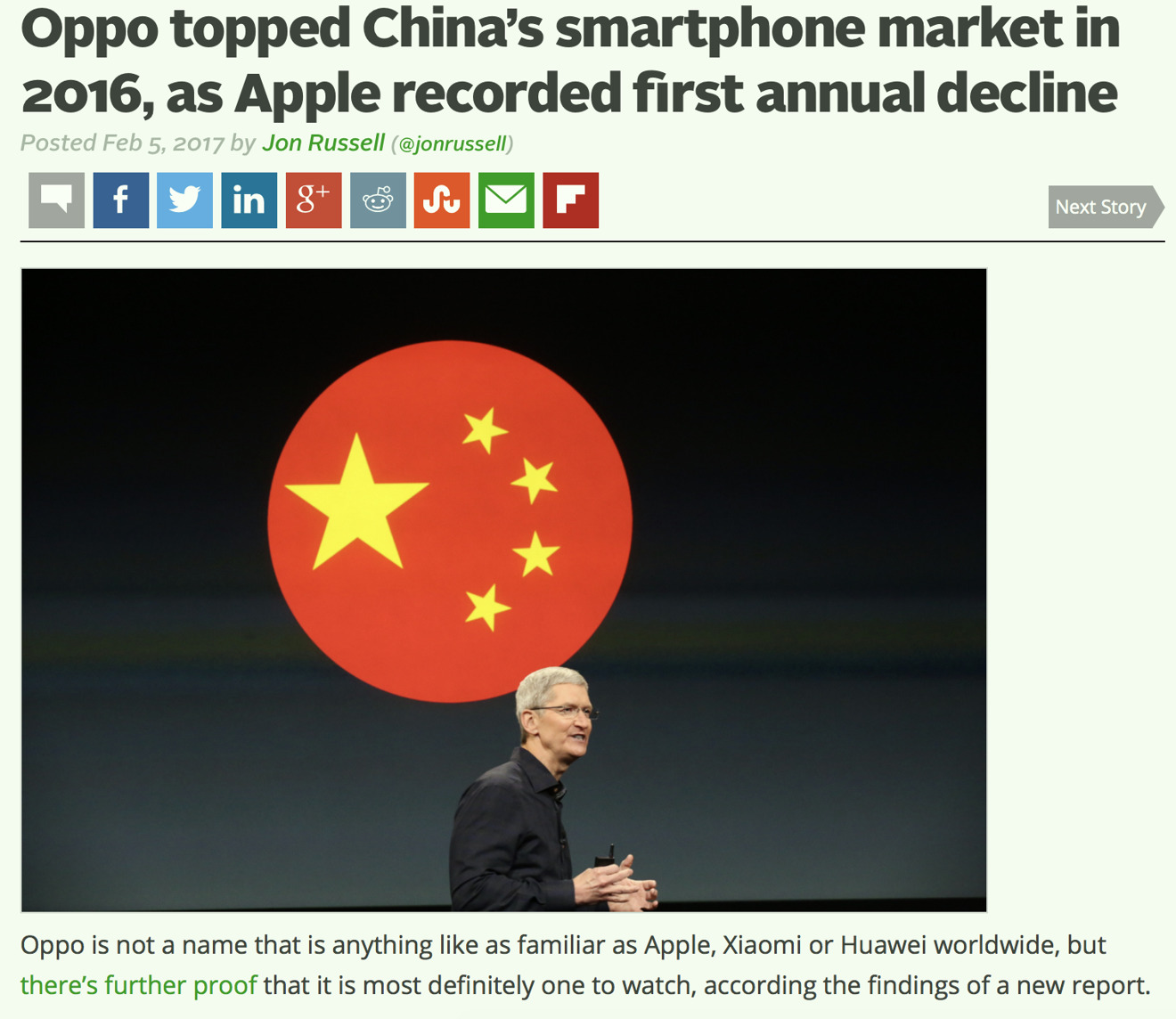 Russell did not elaborate on the fact that Samsung's phone sales had once grown rapidly, only to hit a wall in 2014 that it has never improved upon. If Oppo followed Samsung's playbook, might it also experience a Peak Galaxy of its own, where shipment volumes plateau without sustainable profitability, and with no functional ecosystem to drive meaningful accessory sales or services?
A year ago, even as Russell wrote that Oppo was following tactics that had "worked for Samsung," he also noted four sentences later that Samsung wasn't even among IDC's top five brands in China anymore. A year later, Samsung still isn't among China's top smartphone sellers. Notably, Oppo also isn't in the lead anymore either. In fact, according to IDC, Oppo's shipment growth has stalled. The golden age for Oppo has come to an end
Strategy Analytics offered an even more stark appraisal of Oppo in China. "The golden age for Oppo has come to an end in Q4 2017," stated analyst Yiwen Wu this week.
"After the strong growth over past eight quarters in a row, the Chinese vendor's shipment annual growth rate dropped to zero this quarter. It maintained the 4th position in global smartphone market by volume, but the distance with the 5th player Xiaomi has further narrowed down. Oppo is facing strong headwinds in 2018, from saturated home market, fierce competition in overseas markets, and intrinsic problems embedded in the business model."
Ouch! At least Oppo had a brilliant run for two years.
A temporary win is a long term loss
How much money did Oppo bank up during those fat eight quarters of winning? Almost nothing. While market research groups crowed about "market share" and pure shipment volumes of various Chinese brands, the reality was that the large numbers of phones they shipped were literally busywork.
Last March, Strategy Analytics reported that out of the $53.7 billion in operating profits generated by the entire global smartphone market in 2016, Apple accounted for $44.9 billion, or 79 percent. Samsung shipped more phone units that year than Apple, but it only earned an estimated $8.3 billion— less than a fifth of Apple's iPhone business.
What about the "top" Chinese firms that pumped out so many devices within that country? Both Huawei and Oppo earned less than $1 billion each across the entire year, even while achieving those spikes of unit growth. In fact, the top four Chinese brands together amounted to less than five percent of global smartphone profits, despite shipping so many units collectively in the world's largest market for smartphones.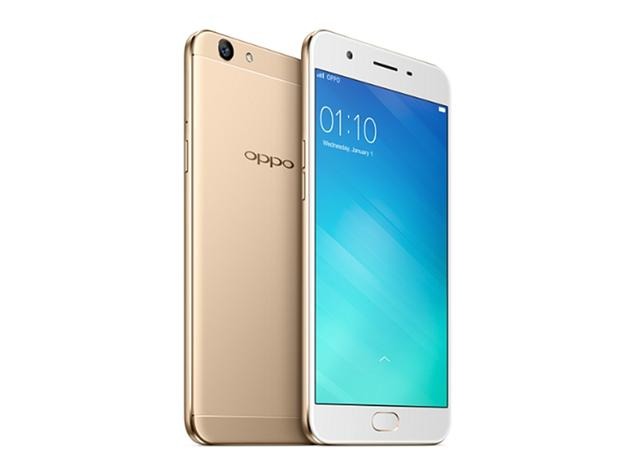 How excited would you be if you were named 'employee of the year' twice in a row, while a fellow employee earned more than 45 times your salary while working smarter, not harder? Would you feel like a winner, or would you feel like you needed a new strategy, with less pats on the back and more money in the bank?
Now imagine its 2018, and you're not even employee of the year anymore, and you're still not making enough money to pay rent, let alone plan for the future in a very competitive market. How do you feel about your life now? Feel like a "winner," coasting on your past performance headlines and dusty employee of the year plaques?
An even better question: does IDC, Strategy Analytics, Tech Crunch and virtually every other tech journalist and researcher on the planet really think that the key to winning in smartphones is to be hailed as turning in the most shipments and the greatest percentage of shipment growth for a limited period of time, while earning virtually nothing to show for it?
The Wrong Street Journal
Apparently they do. A shockingly ignorant post by Newley Purnell for the Wall Street Journal this week claimed, "Apple's market share is stagnant or declining in Asia, paving the way for other smartphone makers."
Yet if Apple is earning virtually all of the available profits while its rivals promote— at their own expense— short term, loss leader introductions to the value of smartphones in emerging regions, who really is paving what for whom?
Does anyone recall who it was that shipped millions of phones to businesses and consumers in the U.S. at low prices and slim margins for the years before iPhones appeared? Where are Blackberry, Nokia and Microsoft today? Who is making use of the roads they paved? Hint: the company is now selling iPhones at an ASP of nearly $800.
While charting "Fallen Apple" market share across a variety of emerging markets in Asia, Purnell never thought to compare the actual financial performance of any of the companies mentioned, only the price of their devices and the percentage of new shipments delivered by each brand. What a nutty way for an ostensibly capitalist newspaper to report on commercial activity.
Remarkably, she did note that "Apple's high-price phones helped its revenues grow 11 percent last quarter in the Asia-Pacific region, even though its market share has been stagnant or declining in most Asian markets," before sharing a few anecdotes about individuals who decided not to buy iPhones, on the record for her story about how doomed Apple was in every respect apart from its actual financial performance.
Chinese makers are pushing their phones into emerging countries because unit growth in China has run into a new wall. Yet the demographics of emerging nations are just as price conscious as much of China has been, during the years where Xiaomi, Oppo, Vivo and Huawei shipped lots of phones (outside of Apple's domination in sales to affluent users in urban areas) and made nearly nothing doing this.
Apple not only brought in the majority of smartphone profits (as it has for years) but actually collected more than half of all smartphone revenues in the holiday quarter, globally. And yet the WSJ is telling us Apple is failing because of unit shipments? How asinine.
The game changer
When Apple introduced iPod in 2001 and iPhone in 2007, both devices were priced higher than what was typical for most MP3 players and smartphones. However, 2010's iPad introduced a tablet priced about half of what other tablets had been sold for. In all three cases, it wasn't the price or the price differential that mattered so much as the value to buyers that Apple was offering for the price it was asking.
Microsoft had previously tried to sell Windows Mobile devices for $1000 or more, but couldn't find buyers. When iPhone appeared, Microsoft's chief executive Steve Ballmer was pitching the $150 Motorola Q, and he laughed at the price of the original iPhone. He stopped laughing. And shortly afterward, Microsoft was back to trying to sell a premium priced Zune, Windows Phones and Surface tablets. None of them have sold in commercially relevant volumes, a problem Apple has not experienced.
In parallel, after failing to sell iPhone-priced Androids and expensive Honeycomb tablets throughout 2011, Google and its Android partners began to maintain that the "right price" for smartphones and tablets was less than $300. By 2012, the search giant was regularly announcing that Apple's prices for iPhones and iPads were greedy and virtually immoral while introducing an Asus-built Nexus 7 tablet for as little as $199 and the LG-built Nexus 4 phone starting at $299.
After a couple years of accumulating enthusiastic critical praise for its loss-leader pricing— but no profits nor any functional installed base of users— Google returned with an HTC-built iPad mini clone priced at a premium $399 and a new lineup of Pixel phones priced like (or higher than) an iPhone. Google has since given up on tablets and its two generations of Pixel phones have sold worse than Microsoft's failed Windows Phones.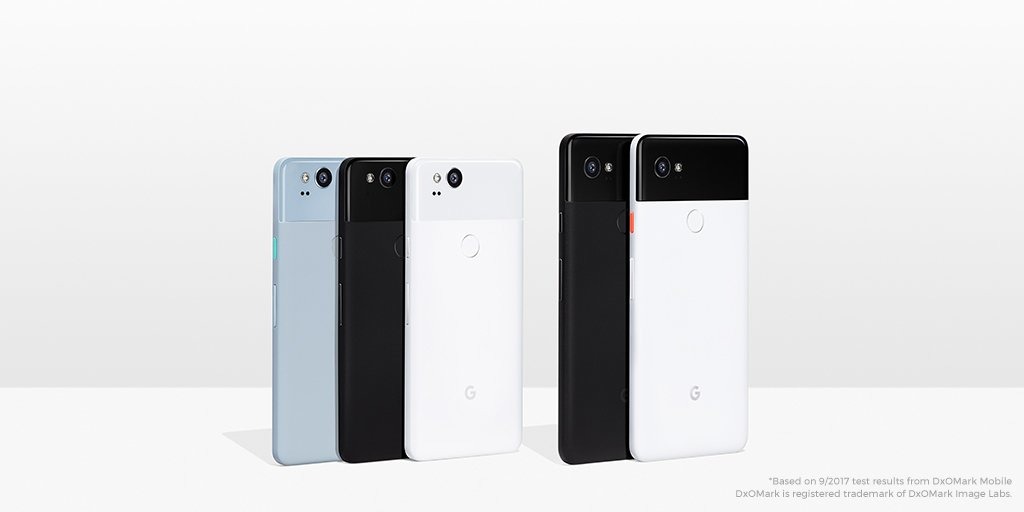 How is it that Microsoft, Windows, Google, Android and all their partners (much of which overlap) are unable to sell devices at a sustainable profit at any price, while Apple makes money selling products at both higher (iPhone X) and lower prices (AirPods) than its competitors are offering? It's not simply a volume play, because China has had 300 vendors selling smartphone products, with some selling in the tens of millions of units— and they're dropping like flies while earning virtually nothing.
Apple's chief executive Tim Cook keeps referencing Apple's secret, which he references as "customer sat." In every call with analysts, he directs attention to this metric even as he is quizzed about prices and market share. Perhaps he does this thoughtfully. What if he's being honest?
What if the key to selling products at any price is actually to delight customers, and not to merely deliver a placeholder in huge volumes, with a search field, billboard and a microphone or camera that can be used as a feedback loop for delivering advertising? What if Apple is right, and Amazon, Google, Facebook are wrong?
What if the company that has delivered growth and technical advancement for solid decades— while achieving incredible profitability not just in affluent Western nations (like Amazon, Google, Facebook) but also in emerging countries and behind the firewall of Red China— maybe knows what it's doing better than bloggers who forget what they've written even as they're writing their hit pieces denigrating the company?
And the changing game
It's easy to look back and see Apple's past performance. The company absolutely obliterated every other rival phone platform that existed when iPhone appeared. It has held off new attacks from what were at the time larger PC and phone makers, and kept its phone and tablet rivals stuck in a silo of low-end, profitless business segments. Apple is also facing the reality that there are not massive new markets left to sell phones in
However, Apple is also facing the reality that there are not massive new markets left to sell phones in. Will it fare any better as the game changes from conquering new territory to a new endgame where winners are not just shipping new equipment to first time buyers of smartphones or 4G networks, but servicing and defending their existing customers?
Again, Apple's focus on customer sat suggests this will be the case. Most buyers of Oppo phones in China don't immediately choose to buy another one. Apple's satisfaction rates on iPhones, iPad, Macs, AirPods and Apple Watch are resulting in continued, repeat purchases. In the U.S., this has resulted in a population where more than half of the installed base is now using iPhones, despite so many cheap Android options, including many that are offered for free.
Ecosystems sprouting from the smartphone
As the game shifted away from selling smartphones to basic feature phone users, and toward replacement of smartphones with new models, Apple has consistently introduced compelling new models to maintain sales— compelling enough to incrementally upgrade its prices even as the ASP of Androids and other phones have collapsed.
Equally important is Apple's ecosystem, which rewards users with slick integration between their iPhone and Mac, leading to Continuity with Apple Watch, then AirPods and now HomePod, where users on different phones can add songs to the Now Playing queue.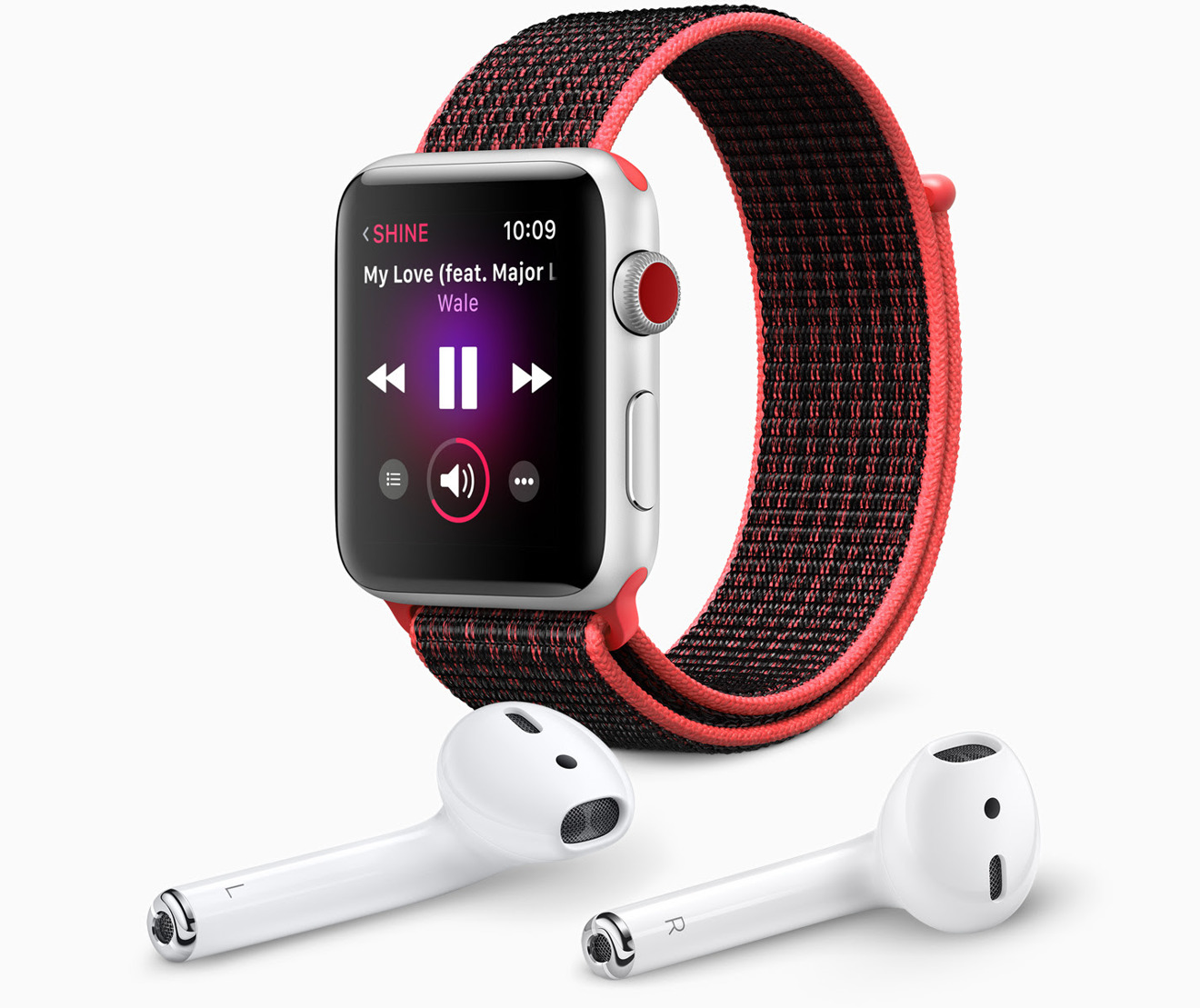 That's a quick overview of Apple's work over the past four years, even as tech journalists and media analysts where breathlessly recounting a string of companies that were racing to outpace each other in unit shipments to gain a temporary crown in market share.
What good is it for Oppo that it grew the fastest in Chinese shipments for the two years ending in 2017? All those phones are now aging, and their buyers will begin returning to the market, where statistically only a quarter will by another Oppo.
Meanwhile, those buyers are now growing older and more financially independent, and have seen for the last two years how well Apple has tended its own ecosystem, even as Google has let Android stagnate, while promoting new features that only appear on its own Pixel phones that ship in inconsequential numbers in a few markets.
At the same time, Oppo and other Chinese makers have been taking their direction from Apple, racing to copy Touch ID, then trying to introduce functional dual cameras, then seeking to copy its 3D facial recognition and deliver something capable of AR and Animoji.
Some makers have tried to release their own sport bands, but none have delivered anything that can compete against Apple Watch as an attractive, compelling device that ropes in users and turns them into evangelists. AirPods have become a status symbol; take a look at how many young people are casually wearing them in their online photos on Instagram or Tindr or Grindr or WhatsApp.
Apple's Platforms of Continuity
While Apple has been ridiculed for failing to reinvent something on the scale of iPhone, the company has delivered a string of new product introductions that have steamrolled the status quo in watches, wireless earphones and car automation. In many cases, Apple sells products that haven't outsold every other competing vendor: Apple TV is outnumbered by devices running Roku, the same way iPhones don't account for the majority of phone sales.
However, the strategic position of Apple's various products create platforms of Continuity-linked devices that create network effects that sustain their incremental advancement in ways that would not work among standalone products. Additionally, it creates an environment that can incubate fledgling new products like HomePod, which would be effectively impossible for an independent company to successfully introduce without the support of connected ecosystems like HomeKit and Apple Music.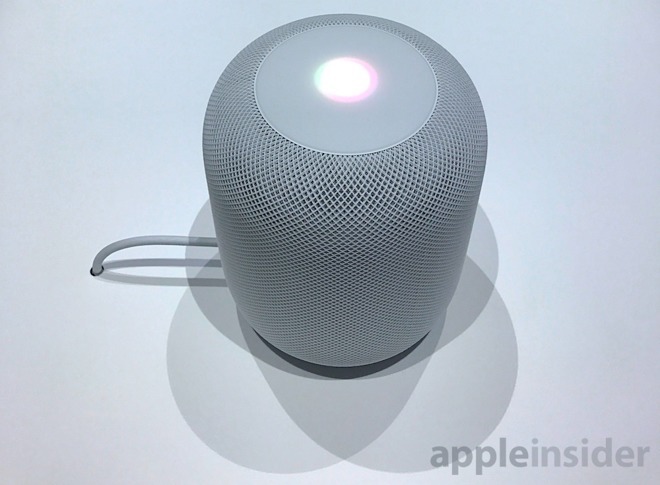 Amazon, which has sold several million Alexa powered speakers since introducing Echo in 2014, is very much in the same position as Oppo: its shipments are water under the bridge that did not result in substantial operating profits and do not guarantee that valuable demographics of buyers will continue to remain on its platform. Amazon has no phone platform, it's tablet sales are loss leaders and it doesn't have a substantial apps or consumer services business. The point of Alexa is to sell online orders.
Some pundits are hailing Alexa as a critically important installed base, but without any connection to devices that really excite users, it's hard to see how essentially an automated jokes and trivia hotline on speakerphone will compete against a platform that delivers exceptionally simple, great sounding audio.
That's particularly the case when you compare how far Apple has advanced iPad in comparison to how little progress Amazon has made with its Fire tablets over the same period.
It's almost as if the broad desperation to portray the most successful tech company as a struggling loser is also resulting in equally desperate efforts to crown middling busywork as a pinnacle of achievement, at least for the time being.