Apple Music expected to grow 40% annually for next three years, drive Services growth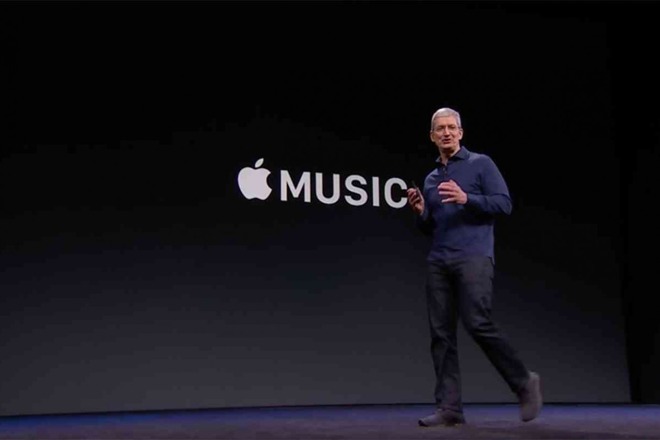 AppleInsider may earn an affiliate commission on purchases made through links on our site.
An analyst predicts that Apple Music's dramatic growth over the next three years will be another major factor driving services revenue upward, but may push down overall margins.
The figures were predicted in a note to investors, written by Ben Schachter of Macquarie Capital, and read by AppleInsider. Schachter believes that Apple Music margin is around 15 percent, mostly because of the rates it pays artists. Spotify claims 24 percent, but is still facing lawsuits about compensation, so this may drop in the same time period.
Apple Music subscriber numbers alone are up by 10 million subscribers since September, hitting 40 million at the beginning of April. Schacther's numbers are a near-linear extension of that growth, and it appears that the analyst is predicting the same subscription rate, and not any dramatic increase in growth rate to speak of.
But, Apple's future moves in services, and possibly tied to Apple Music subscriptions, include a number of video efforts, with a suspected growth of video content budgeting swelling 54 percent every year through 2022 up to $1 billion in total. Any video on demand service anchored by these videos is expected to have a head start with about 75 million likely subscribers including those already subscribed to Apple Music according to recent predictions on the matter.
Apple's services revenue growth went mostly un-noticed until Apple CEO Tim Cook said in 2016 that he predicted that the segment alone would be the size of a Fortune 100 company before the end of 2017. Apple hit that goal on August 1, 2017, catapulting into 97th place ahead of Facebook's entire business.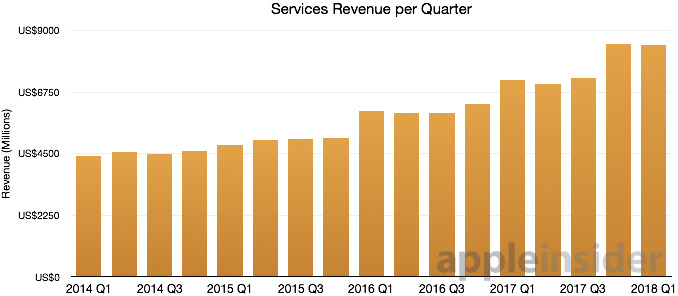 The latest report about Apple Music's contribution to Apple's revenue comes on the heels of a new discussion about Apple's App Store versus its competitors as well. Recent U.S. data from Sensor Tower claims that Apple's U.S. App Store customers generated $58 per user, versus Google Play's $38.
In its most recent quarter, Apple posted $8.5 billion in revenue in its services category, up 13 percent year over year.
Main competitor Spotify's IPO paperwork revealed it has 71 million paying users. In 2017, the service recorded 159 million monthly active users mostly on the free tier, who streamed 40.3 billion hours of content, U.S. Securities and Exchange Commission filings show.