UBS cuts AAPL target price by $15 over low iPhone XR demand, component order cuts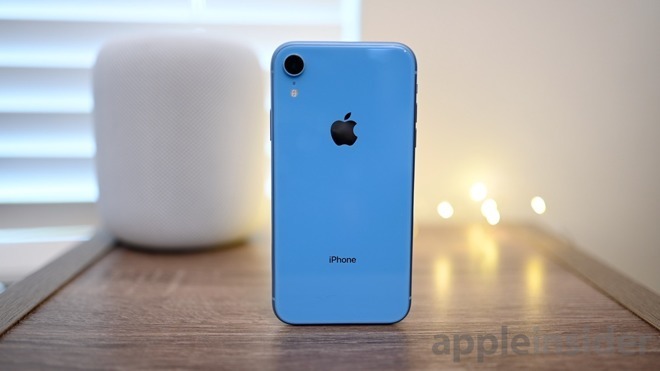 UBS has cut its price target for Apple by $15 to $225 after revising its estimates, citing reported supply chain cuts and potentially tough market conditions for iPhone XR forecasts caused by the dollar appreciating against currencies in other key markets.
Recent reported reductions in iPhone production have apparently been observed by UBS, a note from analyst Timothy Arcuri seen by AppleInsiderclaims, which has led to the firm reducing its estimates for iPhone production. Originally set at around 63 million units for the new iPhone models, the cut of between 6 million and 7 million units is noted by Arcuri to be less severe as what the supply chain reports would imply.
The sales estimate reduction is being applied evenly to UBS' expectations for the iPhone XS Max and iPhone XR. The cut in total is slightly offset by an increase of sales of older iPhone models by a few million, keeping sales figures relatively high, but cutting earnings down.
The company's overall iPhone units estimate for the current quarter are down from 75 million to 73.5 million, down 3 percent from the same period last year, and with the average selling price (ASP) of $825 a minor reduction from a previous prediction of $832. Shipments in the following two quarters are also expected to be below previous expectations by the firm, with the 46.7 million and 37.5 million respective shipments down from original expectations of 53.3 million and 41.7 million, as well as representing year-on-year contractions of 11 percent and 9 percent.
On the iPhone XR forecast cuts, Arcuri suggests it is more a placeholder with "additional downside risk on a rolling basis." The first calendar quarter of 2019's unit predictions were hit harder due to the "likelihood that we hear news of more cuts in coming weeks."
New expectations for iPhone XR shipments are 28 million for the current quarter, down 1 million from earlier forecasts, while the first and second quarters now expect 13 million and 12 million units shipped, down from 17 million and 15 million respectively. This represents a cut of 8 million units across all three quarters.
Part of this is suggested to be due to the belief Apple "Continues to face FX headwinds," namely the US dollar continuing to be high relative to some other global currencies. For China, the exchange rate and news from the supply chain "suggests many consumers are opting for high-end models with similar specs from local competitors rather than the iPhone XR," writes Arcuri.
Due to the possibility of increased cuts, UBS has cut its price-earnings multiples and a lower expected earnings per share, which in turn brings the AAPL target down from $240 to $225. Despite the $15 target cut, Arcuri claims the value is still enough to justify classifying it as a "Buy" rather than downgrading the shares.