Everything new with Messages in iOS 13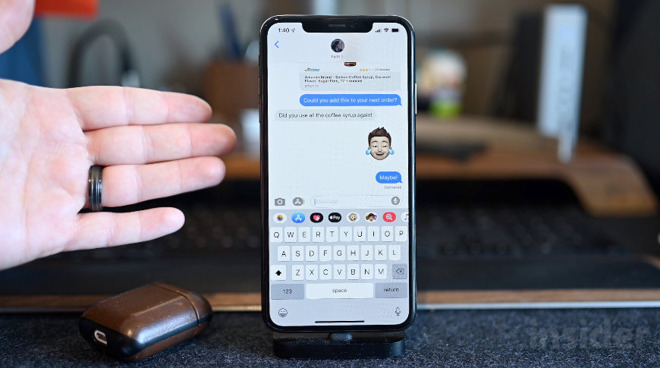 AppleInsider may earn an affiliate commission on purchases made through links on our site.
Messages is one of the most used apps on iOS, making it no surprise that Apple invested quite a bit of time in making it all the more powerful with iOS 13. Here is everything that has changed with the Messages app.
Check out our hands on video to see all the changes for yourself.
Profiles
Profiles are new with iOS 13 and the Messages app. It allows you to set your first and last name, as well as an image for yourself that is automatically shared when someone adds your contact information. This can apply to everyone or just those who you have saved as contacts. That way all your contacts always have a great image and proper name attributed to them.
You can choose a picture from your camera roll or you can create your own Memoji character instead. The background color of your character can also be changed when going that route.
Animoji and Memoji
Animoji is receiving three new characters with the latest update — cow, octopus, and mouse. Starting with iOS 13, there will be over 20 Memoji to choose from.
Memoji characters now have several new categories and accessories that they be outfitted with. Such designs as eye shadow, lipstick, piercings, teeth, earrings, and hats. AirPods can also be added to the characters.
Once done, Messages in iOS 13 will automatically create a series of stickers based on that character that can easily be dragged into conversation. This also works with all the Animoji characters and the sticker sheet lives under a new icon in the app toolbar of the Messages app.
Updated search
Search has long been a pain point with Message. It has a reputation for being slow and next to useless. That changes with iOS 13. Search is now incredibly full featured. When the search bar is opened many suggestions appear such as photos, links, locations, or documents.
When searching, you can search through your whole back catalog of texts or you can choose individual conversations.'
Similarly, the info pane within the Message app also got a slight revamp and will show suggested information — documents, photos, videos, locations, etc — when opened that can be quickly accessed.
Helpful features
Apple has improved some convenience features as well, starting with "Announce messages with Siri." This does just as it sounds. Whenever a message comes in and AirPods are being used, Siri will inform the user a message has come in and by who. It can work for everyone or just contacts and will even be sent without confirmation.
There is also a new QuickPath keyboard that allows you to type by swiping a finger around the keyboard, making contact with each letter of the word. This style has always been popular and it is great to see Apple adding their own version of it.
When sharing photos, machine learning helps present sharing suggestions right from within iMessage. Just a swipe up shows all the suggested albums or images to share.
Small tweaks
There are many other changes to Messages as well.
Dual-SIM support is now working with Messages, as well as FaceTime. The new note button has a blue, circular background. When using TapBack, there is a new sound and Taptic feedback. The delete button is smaller when editing text history. The "edit" button from the main Messages screen is now gone and instead an ellipsis to the right houses the edit functionality as well as the profile creation.
Other small features include the newer design for the toggle bar for known and unknown senders, seeing when a message is sent via Siri, and the in-message App Store shows how many app updates there are. Dark Mode, a new feature in iOS 13 system-wide, also looks great in Messages.
More to come
We will continue to test out iOS 13 as we get closer to release this fall alongside iPadOS, macOS 10.15 Catalina, watchOS 6, and tvOS 13.
Check out our other features regarding Apple's new updates: