US denies Apple tariff relief on remaining five Mac Pro parts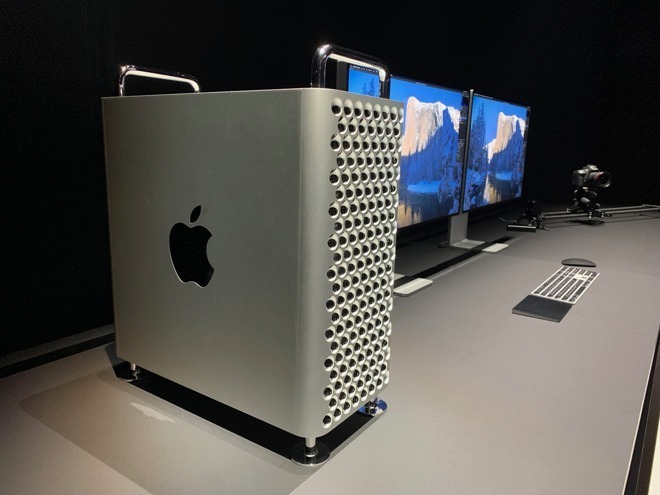 AppleInsider is supported by its audience and may earn commission as an Amazon Associate and affiliate partner on qualifying purchases. These affiliate partnerships do not influence our editorial content.
After the U.S. Trade Representative's office granted in part Apple's request for tariff exemptions on Chinese-made Mac Pro parts earlier in September, a move that helped inform a decision to assemble the computer domestically, the government body on Monday denied identical appeals on five remaining components.
The determination denies relief from a 25% tax levied on the 2019 Mac Pro's cooling system, an input/output circuit board, power supply, power cable, chassis wheels and processor cooling system, reports Bloomberg.
According to USTR documents filed today, Apple's requests "failed to show that the imposition of additional duties on the particular product would cause severe economic harm to [Apple] or other U.S. interests."
The Cupertino tech giant was awaiting word on the final five line items after receiving waivers for 10 components on Sept. 20. The initial grant extended tariff relief to a variety of parts including complete circuit boards, a machined aluminum enclosure and accessories like Magic Mouse and Magic Trackpad.
Apple initially filed the requests for exclusion in July hoping to avoid a 25% tariff — due to rise to 30% on Oct. 15 — the Trump administration levied on computer parts imported from China as part of an ongoing trade war.
Trump balked at reports detailing Apple's exemption bid and said the company would not receive the waivers it requested. He later implied the company would be prompted to build a manufacturing plant in Texas, an unsubstantiated statement that countered reports claiming Apple had tapped supply partner Quanta Computer to manufacture the current-generation Mac Pro in China.
Apple is building a $1 billion campus in Austin, but the facility is expected to serve research and development, operations, cloud computing and other areas not related to manufacturing.
"In terms of the exclusions, we've been making the Mac Pro in the U.S. and we want to continue to do that, so we're working and investing currently in capacity to do so, because we want to continue to be here," he said.
Three days after receiving positive news on its trade request earlier this month, Apple announced plans to assemble the professional desktop at an existing facility in Austin, Texas, where the outgoing cylindrical Mac Pro has been produced since 2013.
Trump stayed mum on the subject until Monday, when he lauded the company's decision to assemble Mac Pro in Texas.
"Great news! @Apple announced that it is building its new Mac Pro in Texas. This means hundreds of American jobs in Austin and for suppliers across the Country. Congratulations to the Apple team and their workers!" he said in a tweet that included a link to a Fox News story published last week.
Unveiled at the Worldwide Developers Conference in June, the all-new Mac Pro boasts a bevy of high-end technology catering to media and content creation professionals. The Mac flagship carries a starting price of $5,999, while an equally high-tech 6K monitor, dubbed Apple Pro Display XDR, is priced at $4,999. Both are slated to ship this fall.