What to expect from Apple's Q4 2019 earnings report on October 30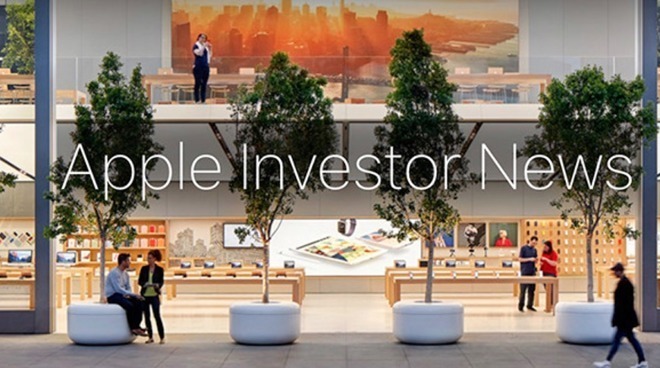 AppleInsider is supported by its audience and may earn commission as an Amazon Associate and affiliate partner on qualifying purchases. These affiliate partnerships do not influence our editorial content.
Apple's September-quarter financial results will be announced by the company on Wednesday, with both the fiscal performance and the initial sales of the iPhone 11 expected to be the main topics of conversation by industry commentators. Here's what analysts observing the company expect Apple will reveal during the conference call and the all-important filing.
Apple's forecast in the third-quarter results has the company reaching revenue of between $61 billion and $64 billion in the fourth quarter, with a gross margin between 37.5% and 38.5%. Apple also advised the operating expenses for the period are likely to fall into the $8.7 billion to $8.8 billion range.
The results are largely expected to be in line with the record-breaking results of the fourth quarter of 2018, which saw Apple report revenue of $62.9 billion, operating expenses of $7.97 billion, and a gross margin of 38.29%.
Apple's product launches for the quarter included updates to the MacBook Air and MacBook Pro lines in July, as well as a large number of items that arrived during its September event, including the Apple Watch Series 5, the iPhone 11, iPhone 11 Pro, iPhone 11 Pro Max, and the new 10.2-inch seventh-generation iPad. While the iPhones did launch during the quarter on September 20, the short window of availability naturally limits its impact on the quarter's results, though it will still remain the biggest-earning product category for the company.
As Apple's current policy is to provide revenue for product categories without unit figures, analysts will rely on sales figures from other sources to try and determine statistics like the product mix and average selling price for the iPhone. The conference calls are typically the biggest opportunity for Apple to provide extra detail on its sales, and it is likely to offer some indicator for its new iPhone range's sales at this early stage.
Apple's various Services businesses will also play into the conference call, as while the established Apple News+ subscription and the new Apple Arcade may provide a negligible level of revenue at this early point of their product lifecycles compared to iPhone sales, analysts will be keen to discuss how Apple will further the continually-growing arm of its empire. It is likely analysts will also press Apple for more details about future plans for Apple TV+, which will launch only two days after the financial results on November 1.
AppleInsider will offer full coverage of the earnings call on Wednesday, October 30, starting at 2 p.m. Pacific, 5 p.m. Eastern.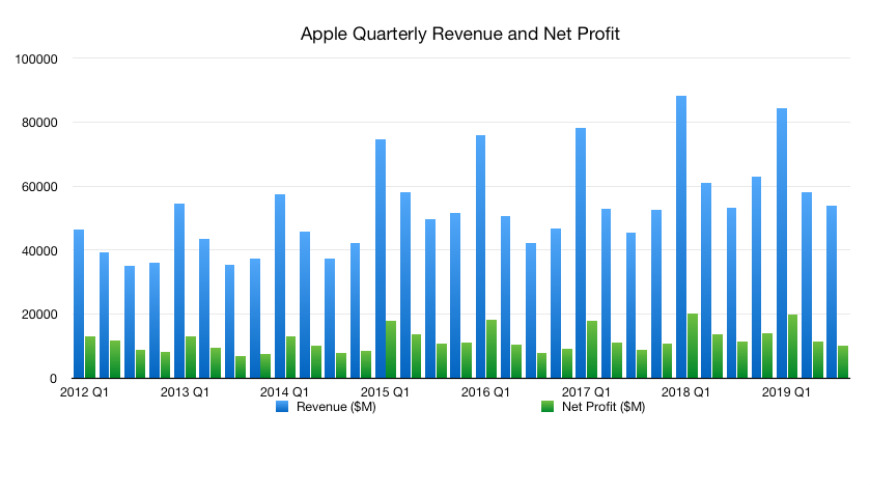 Cowen and Company
One of the earliest investor guidance issuances among analysts, Cowen believes Apple will produce 69 million iPhones in the fourth quarter, up from an earlier prediction of 63 million. "The iPhone 11 product cycle... [is] off to a solid start," the company advised in a note to investors. "Third-party data suggests the recent price cut to the XR model and newly launched 11 are seeing health demand," the note said, with continued expansion of the iPhone trade-in program and 0% financing options expected to "play a part in improving affordability."
For September's results, Cowen believes Apple will report $62.5 billion in revenue with an earnings per share of $2.80. Revenue for iPhone will be $31.9 billion on a unit sell-in of 42.5 million, with Services revenues of $12.1 billion, and a gross margin of 38.0%.
On the subject of Services, Cowen admits it "seems like a black box to many investors, but it appears that as long as the Services revenue grows and gross margins hold up, investors seem to be fine with it." The upcoming launch of Apple TV+ "supports longer-term Services growth."
JP Morgan
Apple is expected by JP Morgan to earn $62.7 billion in revenue, with iPhone sales contributing $31.6 billion, iPad $4.2 billion, Mac $8.1 billion, Services 12.2 billion, and Wearables, Home and Accessories $6.5 billion. The gross margin is tipped to hit 37.6%, with Product and Services gross margins of 31.1% and 64.5% respectively, while the EPS is thought to be at $2.84.
Shipments of iPhones are suspected to be at 44.5 million units for the quarter, with Apple "pleasantly surprising investors" with its change in pricing strategy and iPhone 11 "successfully driving volume upside to expectations." The same investors are "primed for a robust iPhone product cycle followed by a stronger 2020 (led by 5G replacement cycle) in combination with a re-acceleration of Services revenues led by the launch of new services."
Services growth is thought to be "roughly mid-teens year-on-year," led by the App Store cycling past recent headwinds like China's gaming approvals pause for early 2019, as well as the ramp of new services like Apple TV+ and Apple Arcade on top of the strong adoption of existing services like Apple Music and Apple Pay.
Zacks Investment Research
Sales for the quarter will be down 1% year-on-year to $62.42 billion, Zacks Investment Research suggests, with an earnings per share of $2.84 down 2% from the same quarter last year. The firm's own consensus estimate puts Apple marginally more favorably at $62.69 billion in revenue, but with a lower earnings per share of $2.83.
For the following December quarter, Apple will regain growth and see sales of $86.18 billion for Q1, and an earnings per share of $4.53, effectively representing year-on-year growth of 2% in sales and 8% for the EPS.
Thomson Reuters
Instead of relying on its own in-house team of analysts to come up with a forecast, Thomson Reuters instead calculates an average based on the estimates and forecasts of multiple analysts. The approach does help temper the results, as the outlier figures do not make the results swing too far from the rest of the pack. In effect, the compiled results are a good indicator of what Wall Street is generally expecting from Apple.
The September quarter's revenue estimate is $62.91 based on figures from 33 analysts, with a range between $61.07 billion and $64.58 billion, and an anticipated year-on-year change of just 0.02%. For the earnings per share, the average from 35 analysts is $2.84, with a range of $2.72 at the low end and $2.95 at the high.