Apple's iPad extends global market lead thanks to affordable 10.2-inch model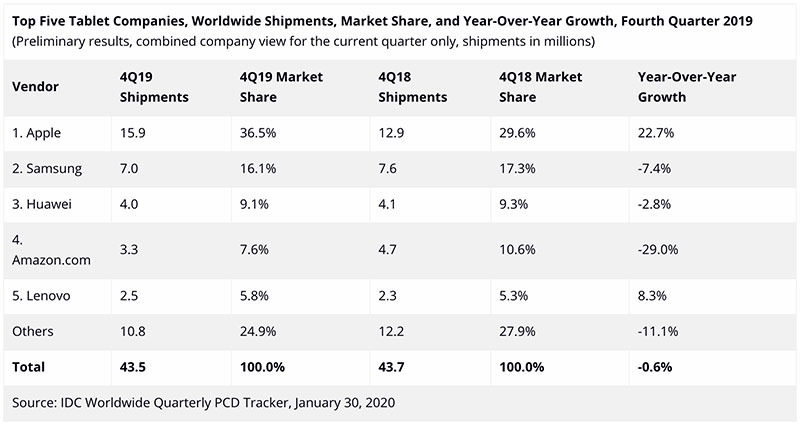 Apple extended its lead over the global tablet sector in the fourth quarter of 2019, according to fresh statistics from research firm IDC, with the company gobbling up 36.5% of the market on strong demand for the new 10.2-inch iPad.
Apple's latest 10.2-inch iPad variant, released in September as an affordable alternative to iPad Pro, accounted for 65% of 15.9 million total iPad shipments during the three months ending in December, IDC estimates.
The tech giant maintained its dominant position during the important holiday quarter with a 36.5% marketshare, up 22.7% from 12.9 million shipments and a 29.6% share notched in the year ago quarter. Full-year metrics reveal similar results, with Apple taking 34.6% of the market on shipments of 49.9 million iPads, up 15.2% from a 43.3% marketshare on 43.3 million units shipped in 2018.
Apple's success comes as the wider industry contracts. Slate tablet shipments fell 79.3% to hit an all-time low during the last quarter of 2019, while full-year tablet shipments shrunk 1.5% year-over-year.
Samsung trailed Apple in quarter four with 7 million units shipped for a 16.1% share of the market, down 7.4% from 7.6 million shipments and a 17.3% marketshare in the same period last year. The Korean tech titan shipped 21.7 million units across 2019, down 7.2% from the year prior.
Huawei and Amazon placed third and fourth, respectively, on shipments of 4 million and 3.3 million units. While Huawei experienced a slight 2.8% slowdown in growth year-over-year, Amazon suffered a massive 29% downturn over the same period. Despite dismal holiday sales, Amazon was the only company aside from Apple to exhibit growth during a tough 2019.
Lenovo rounded out the top five with 2.5 million units shipped to capture 5.8% of the market during quarter four, up 8.3% year-over-year. Whole year sales dipped 4.3% from 8.8 million to 8.5 million, consistent with industry trends.
Apple is expected to release refreshed iPad Pro iterations in the first half of 2020, with rumors suggesting the platform will introduce an all-new rear-facing 3D sensor to bolster augmented reality applications.