Everything known about the 2020 'iPhone SE'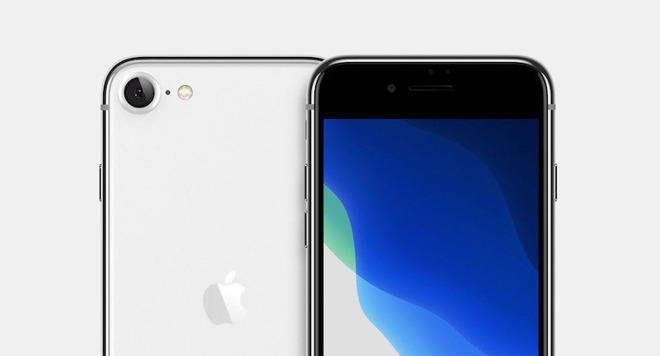 AppleInsider may earn an affiliate commission on purchases made through links on our site.
The launch of the so-called 2020 "iPhone SE," largely expected to be an updated iPhone 8-style device, is imminent. Here's what's been discovered about the subject of rumors for the last three years.
While rumors about a low-cost iPhone refresh have been circulating for years, it now appears that Apple will debut the device in early 2020 — and probably very soon. Here's everything that's been discovered about the upcoming 4.7-inch iPhone.
The 'iPhone SE 2' at a glance
According to the latest rumors and leaks, here are some key points about the "iPhone SE."
The same footprint as the 4.7-inch iPhone 8 footprint
Latest-generation A13 chip and 3GB of RAM
64, 128 and 256GB storage variants
Retain a Home button with Touch ID
Retail as low as $399
Larger 5.5-inch "iPhone SE Plus" model at some point
'iPhone SE 2' design
Despite the now possibly confirmed "iPhone SE" moniker, the device is more likely to be a spiritual successor to the iPhone 8 instead of the popular 4-inch form factor.
At this point, that 4.7-inch footprint is so likely that case makers are already going all-in on the size. In late March, cases for an affordable iPhone 8-style device began arriving at Best Buy.
There may also be a larger version of the "iPhone SE" available, according to leaked code strings within iOS 14. That device would be akin to the iPhone 8 Plus, just with the same updated internals.
We're not currently expecting any major design overhauls like an edge-to-edge display, OLED panel or a TrueDepth Face ID sensor suite. Like last year's stable of iPads, the device will continue to rely on older tech like Touch ID and will sport aging, bezeled designs. But its price point and internal upgrades, which we'll get to below, may make it a popular choice for many consumers.
'iPhone SE 2' specifications
Apple is definitely going to give the "iPhone SE" an overhaul in terms of its internal specifications. But users should expect incremental updates, not major ones.
Back in January 2018, well-connected analyst Ming-Chi Kuo suggested that the "iPhone SE 2" would sport an A13 processor — the same as the CPU in the iPhone 11 — and 3GB of RAM.
More minor updates could include a new Liquid Crystal Polymer antenna design, which would give the refreshed device better cellular reception and performance.
Leaked code in iOS 14 also suggests that the "iPhone SE" will retain a Touch ID fingerprint sensor, though it may support the so-called CarKey feature for locking, unlocking and starting compatible vehicles.
The latest information indicates that the 2020 "iPhone SE" will be available in 64GB, 128GB and 256GB storage configurations and will launch in white, black and PRODUCT(RED) variants.
All of this is to say that the new "iPhone SE" will an entry-level device that will lower the barrier of entry for Apple's latest advancements in silicon, making it an attractive choice for users who have been holding out on upgrading from older iPhones for reasons of price or familiarity.
iPhone SE availability
Rumors about the updated device's launch date have shifted drastically over the years. In summer 2017, reports suggested that a second-generation iPhone SE could debut in early 2018, for example. Now, it appears that the 2020 "iPhone SE" will launch sometime in April 2020.
Past rumored release dates include April 3, April 5 and April 15. None of those came to fruition, so at this point, we're only comfortable saying that the "iPhone SE" will launch in the very near future. But an exact day is still up in the air.
As far as price, that's less clear. But a report from February 2020 suggests that it could start at $399, presumably for the base 64GB tier. That's about on-par with previous iterations of the iPhone SE, and cheaper than Apple's current lowest-cost iPhone, the $449 iPhone 8.
'iPhone SE 2' name
The upcoming 4.7-inch device has been given several monikers by leakers, analysts and others in the Apple blogosphere. That includes "iPhone SE 2" and "iPhone 9."
At this point, it appears that the device will simply be dubbed the "iPhone SE," according to an apparent leak from an accessory on Apple's official online storefront.
The aforementioned tipster also suggested that Apple would differentiate the new model from past iPhone SE devices by referring to it specifically as an "iPhone SE 2020."
It isn't clear if the larger model — if it exists — will be dubbed the "iPhone SE Plus."
While an "iPhone 9" and "iPhone 9 Plus" moniker may make more sense to some consumers, the device is likely aimed at filling the gap that the original iPhone SE left. From that perspective, the "iPhone SE" name, in which the SE stands for "special edition," would be in-line with Apple's past low-cost iPhone strategy.