Analysts readjust expectations on Apple's better-than-expected Q2 results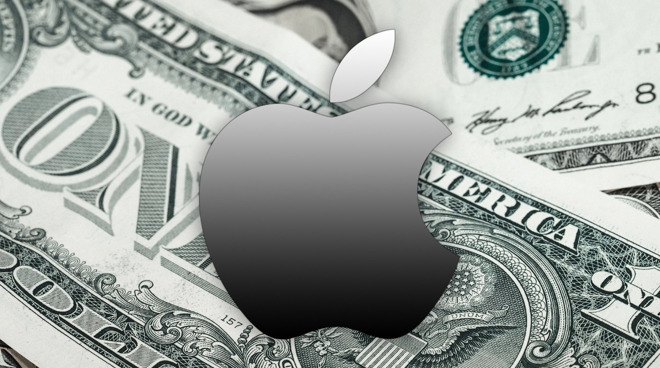 AppleInsider is supported by its audience and may earn commission as an Amazon Associate and affiliate partner on qualifying purchases. These affiliate partnerships do not influence our editorial content.
On Thursday, Apple reported quarterly earnings and growth that exceeded Wall Street expectations, leading many analysts to update their predictions for the June quarter and beyond.
The Cupertino tech giant posted quarterly earnings of $58.3 billion for Q2 2020, representing growth of 1% year-over-year even during the financial fallout from the coronavirus pandemic.
While that number puts Apple well below its original guidance of between $63 billion to $67 billion, the company did warn investors in February that it would likely miss that target due to COVID-19.
As was expected, iPhone revenues did drop during the March quarter with a yearly decrease from $31 billion in Q2 2019 to $28.96 billion in Q2 2020. Wearables and Services, on the other hand, made up the difference with better-than-expected growth.
Apple did not provide guidance for the June quarter due to the admittedly uncertain and turbulent times.
How analysts see Apple looking to the third fiscal quarter and beyond
Apple did far better in the second quarter than many analysts predicted prior to the April 30 earnings call. Here's how many investment banks and analysts are updating their forecasts in light of Apple's results.
JP Morgan
JP Morgan lead analyst Samik Chatterjee now sees Apple set to outperform the broader market based on several factors, including better-than-expected 2019 iPhone momentum; improving product revenue trends in April; underappreciated boosts to iPad and Mac due to the new work from home environment; and better than expected resilience of Services.
Chatterjee also sees an upside for Apple's 5G iPhones later in 2020, a forecast reinforced by recent product launches, new datapoints from Qualcomm, and a normalizing supply chain which could mitigate concerns of delays.
Even without guidance from Apple for the June quarter, JP Morgan is raising its estimates and its Dec. 20 price target to $350, up from the firm's previous forecast of $335.
Cowen
Because Apple reported results that were better than consensus, Cowen is bullish on the stock "from a high level." Analyst Krish Sankar says that the benefits to Services from a work from home environment, as well as predictions of improving iPhone demand, makes AAPL a "defensive stock to own."
The investment bank estimates that Apple will ship 30 million iPhones in the June quarter, which is historically a slow period for the company's smartphone business anyway. Services, as a bright spot for Apple, "keeps getting brighter."
Cowen is maintaining its Outperform rating for Apple and its 12-month price target of $335. That remains unchanged from a research note issued to investors on April 27.
Piper Sandler
Analyst Harsh Kumar of Piper Sandler has revised the investment bank's 2020 earnings per share to $12.64 on revenue of $266.1 billion, compared to the previous forecast of $12.32 on revenue of $254.7 billion, based on the company's favorable March quarter results.
Apple did not guide for the June quarter and iPhone and wearables growth is expected to decline year-over-year. Piper Sandler notes that the resiliency of Services, iPad and Mac in an era of remote work could help the company continue to "execute in the current environment."
The firm is maintaining its Overweight rating for AAPL.
Loup Ventures
What was missing from Apple's March quarter results was how the company is managing for the long-term, Gene Munster of Loup Ventures said. That approach, he theorizes, could provide Apple a stronger product roadmap and larger growth opportunities than rivals in 2021.
Despite headwinds due to coronavirus, Apple grew 1% year-over-year. Munster called that a win, but notes that Apple's business still has a ways to go before stabilizing. Loup Ventures forecasts June revenue to be down between 5% to 10%.
The firm estimates that iPad and Mac will improve on a quarterly basis, that Services will remain stable, and that Apple will release its 5G iPhone in late September — though the "breakout years" are still likely to be later in 2022 or 2024 for the 5G product cycle.
Wedbush
Analyst Daniel Ives of Wedbush said that Apple's results in the March quarter could be equated to a "major feat in a dark Category 5 storm." While Wall Street was expecting a horror show, Apple managed to post results that beat consensus on virtually every metric.
The lack of guidance for the June quarter still speaks to the uncertainty of the COVID-19 situation, however. Wedbush is maintaining its Outperform rating for Apple and its 12-month price target of $335. The firm has maintained that price target since the end of March.
Morgan Stanley
Apple remains a top pick for Morgan Stanley analyst Katy Huberty, based on increased confidence in the upcoming 5G iPhone launch and "stretched iPhone replacement cycles."
The investment bank is still confident in Apple's ability for sustainable long-term growth due to the aforementioned stretched iPhone replacement cycle, upside to Services, and a strong balance sheet that allows for innovation investments and buybacks.
"Nothing in Apple's March quarter earnings report changes our view on any of these factors," Huberty wrote. The firm has increased its 2020 revenue and earnings-per-share estimates by 4 to 5%, and has increased its 12-month price target to $326. Morgan Stanley's previous price target, issued on April 24, was $298.