Apple will reopen 100 US stores this week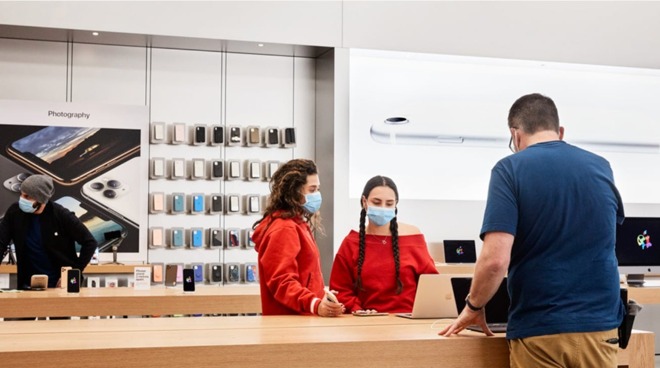 AppleInsider may earn an affiliate commission on purchases made through links on our site.
Apple has revealed it will be reopening more of its retail outlets in the United States this week, with the latest wave of Apple Store openings anticipated to include around 100 locations across the country.
Announced on Tuesday, Apple confirmed it intends to open up more stores in the US, as the company attempts to bring its retail business back up to its pre-Coronavirus levels. Stores in the US and most other countries were closed as part of a precautionary measure, to prevent the spread of COVID-19.
In the statement, Apple warns most will offer curbside or storefront service only, providing online order pick-up and Genius Bar appointments. Some will be open for walk-in customers, where they will be expected to undergo temperature checks and other precautionary measures, such as limited occupancy.
Apple encourages customers to check their local store pages for opening hours, which are likely to be different from usual business hours. The company also reminds of the existence of the Apple website for support, along with phone and chat services.
The announcement is a continuation of store openings conducted by Apple throughout May. From the week of May 11, Apple opened a selection of stores in a small number of US states, which was followed by a second wave of 25 stores.
Before the announcement, Apple had 32 stores in the United States reopened, out of a total of 271. If Apple opens 100 stores, this will bring the total up to 132, or almost half of all US-based outlets.
There are 239 stores in other countries, with 119 believed to be operational by May 28.
Apple's entire statement provided to AppleInsider and other venues is as follows:
This week we'll return to serving customers in many US locations. For customer safety and convenience, most stores will offer curbside or storefront service only, where we provide online order pick-up and Genius Bar appointments. Others will be open for walk-in customers and we encourage everyone to check their local store webpage for more information about hours at their preferred location. Customers can also visit apple.com for support by phone or chat.
We are committed to reopening our stores in a very thoughtful manner with the health and safety of our customers and teams as our top priority, and we look forward to seeing our customers again soon.
Numbers of stores reopening this week per state:
Arizona - 5 stores
California - 29 stores
Florida - 11 stores
Georgia - 6 stores
Indiana - 1 store
Kansas - 1 store
Kentucky - 2 stores
Michigan - 5 stores
Missouri - 3 stores
Nevada - 3 stores
New Mexico - 1 store
New York - 1 store
Ohio - 7 stores
Oregon - 1 store
Pennsylvania - 1 store
South Carolina - 1 store
Tennessee - 2 stores
Texas - 18 stores
Utah - 3 stores
Virginia - 2 stores
Wisconsin - 1 store
A full count of stores open in the United States, including lists of open stores, and country counts is also available.