Compared: Apple's Developer Transition Kit versus Mac mini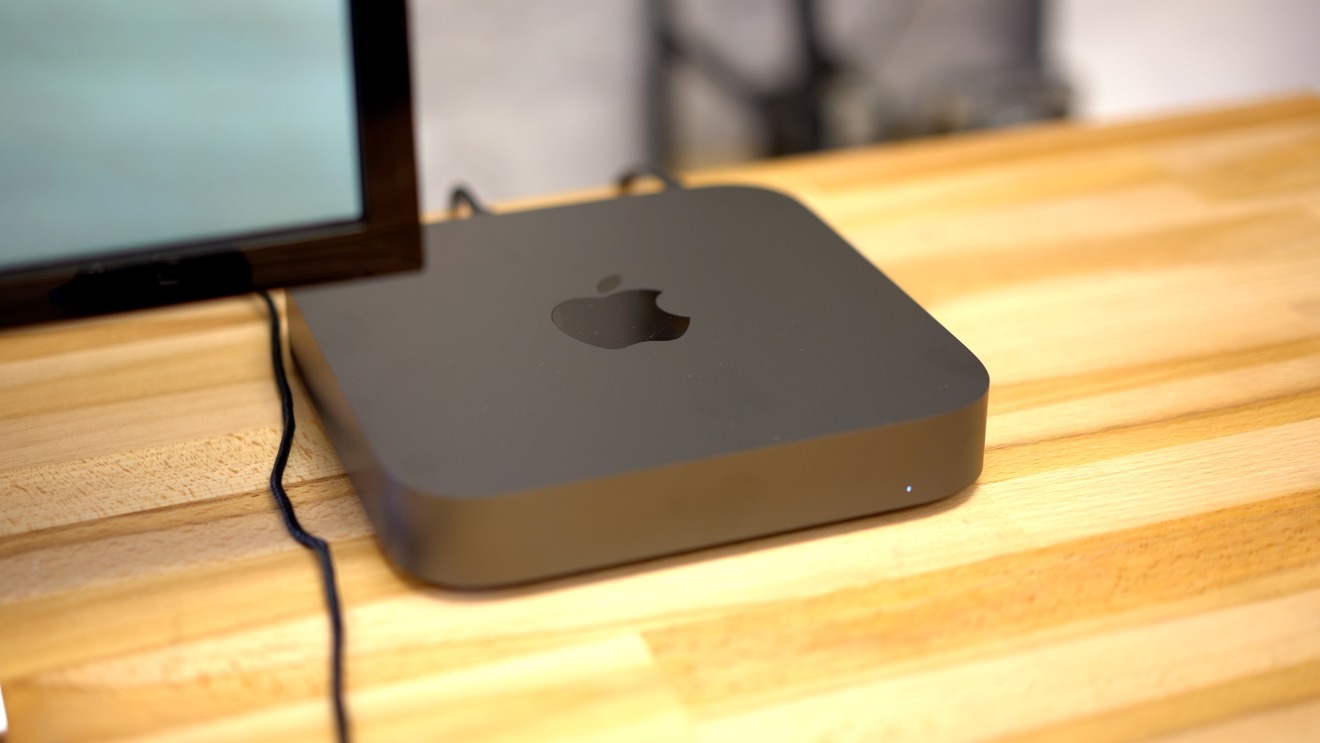 Apple revealed it would help developers producing macOS software that will run on Apple's silicon by providing them with a Developer Transition Kit, a customized version of the Mac mini running on new hardware. We look at how it stacks up against the currently-offered Mac mini.
During the WWDC 2020 keynote, Apple confirmed it was going to shift over to Apple Silicon. Though not immediate, Apple does have an aggressive timeline for the shift away from Intel processors, with the first Macs using Apple Silicon expected before the end of 2020, and a complete move over to Apple-designed ARM-based chips within two years.
To help facilitate the changeover, Apple is using technologies like Rosetta 2 to allow existing apps designed for use on Intel processors to run on ARM-based chips, like the ones Apple designs.
Furthermore, developers are also able to apply to receive the Developer Transition Kit, effectively a Mac mini that uses the system-on-chip used in the iPad Pro. Apple intends the Developer Transition Kit to be a way for developers to test out code on hardware similar to what will be ultimately provided to consumers.
Given that Apple is offering the Developer Transition Kit in a Mac mini enclosure, we're comparing it to the current-generation Mac mini. We are also comparing it with a Mac mini with the fastest processor and comparable amounts of memory and storage.
Specifications
Developer Transition Kit
Mac mini (Core i3)
Mac mini (Core i7, 16GB)
Starting Price
$500
$799

$1,499
Dimensions (inches)
7.7 x 7.7 x 1.4
7.7 x 7.7 x 1.4
7.7 x 7.7 x 1.4
Weight (pounds)
Unknown
2.9
2.9
Processor
Apple A12Z Bionic
8th-generation 3.6GHz 4-core Intel Core i3
8th-generation 3.2GHz 6-core Intel Core i7
8th-generation 3.2Ghz 6-core Intel Core i7
Graphics
-
Intel UHD Graphics 630
Intel UHD Graphics 630
RAM
16GB
8GB 2,666MHz DDR4,
Configurable to 16GB, 32GB, 64GB
16GB 2,666MHz DDR4
Storage
512GB SSD
256GB SSD,
Configurable to 512GB, 1TB, 2TB
512GB SSD
Ports
2 USB-C ports
2 USB 3 ports
HDMI 2.0
Gigabit Ethernet
4 Thunderbolt 3 ports
2 USB 3 ports
Gigabit Ethernet (10Gb capable)
HDMI 2.0
3.5mm headphone jack
4 Thunderbolt 3 ports
2 USB 3 ports
Gigabit Ethernet (10Gb capable)
HDMI 2.0
3.5mm headphone jack
Wireless Connectivity
802.11ac Wi-Fi
Bluetooth 5.0
802.11ac Wi-Fi
Bluetooth 5.0
802.11ac Wi-Fi
Bluetooth 5.0
Audio
Unknown
Built-in speaker,
HDMI 2.0 multichannel audio,
3.5mm headphone jack
Built-in speaker,
HDMI 2.0 multichannel audio,
3.5mm headphone jack
Mac mini versus Apple Silicon Developer Transition Kit - External appearance
The Mac mini enclosure is produced from recycled aluminum, and measures 7.7 inches square and 1.4 inches thick, making it compact and having a very low profile for a computer. Apple also arranges all of the ports to the rear of the Mac mini, giving it a tidy and streamlined appearance.
Apple advised during the announcement that the Developer Transition Kit would be supplied inside a Mac mini enclosure, so it will have the same dimensions and footprint. Aside from having different ports on the back, there probably won't be any external clues that it is containing unusual hardware.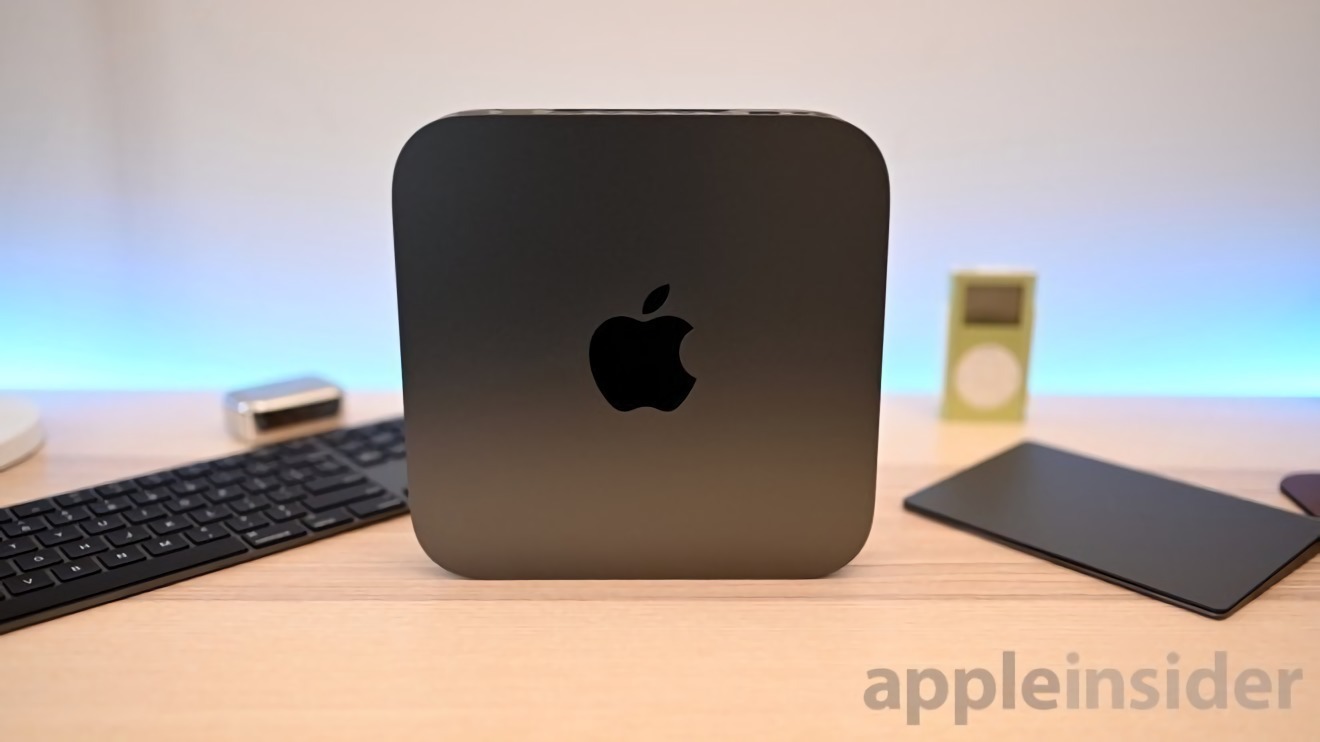 While it may appear to be the same on the outside, one thing that will probably change a bit is the weight, again due to the use of different hardware to production models. The current Mac mini weighs in at 2.9 pounds, largely made up by the enclosure, and so the Developer Transition Kit should be in the same ballpark.
Of course, as a desktop-bound Mac, this isn't much of a concern.
Mac mini versus Apple Silicon Developer Transition Kit - Processors
The current Mac mini is offered with a selection of three processors, but we will be concerned about two — the entry-level option and the high-end alternative.
At the base end of the spectrum is the 8th-generation Intel Core i3-8100B, which is a quad-core chip clocked at 3.6GHz. Unusually for a Mac, the processor doesn't include support for Turbo Boost or Hyperthreading, which limits its performance somewhat.
The higher-end Core i7-8700B does support Turbo Boost and Hyperthreading, which means its six cores can generate 12 threads, while its base 3.2GHz clock speed can be raised to 4.6GHz at most.
Apple's A12Z, as used in the 2020 iPad Pro, is an 8-core chip with a maximum clock speed of 2.49GHz. It is also in between the two Intel chips in terms of cache, bearing 8MB while the Core i3 uses 6MB and the Core i7 equipped with 12MB.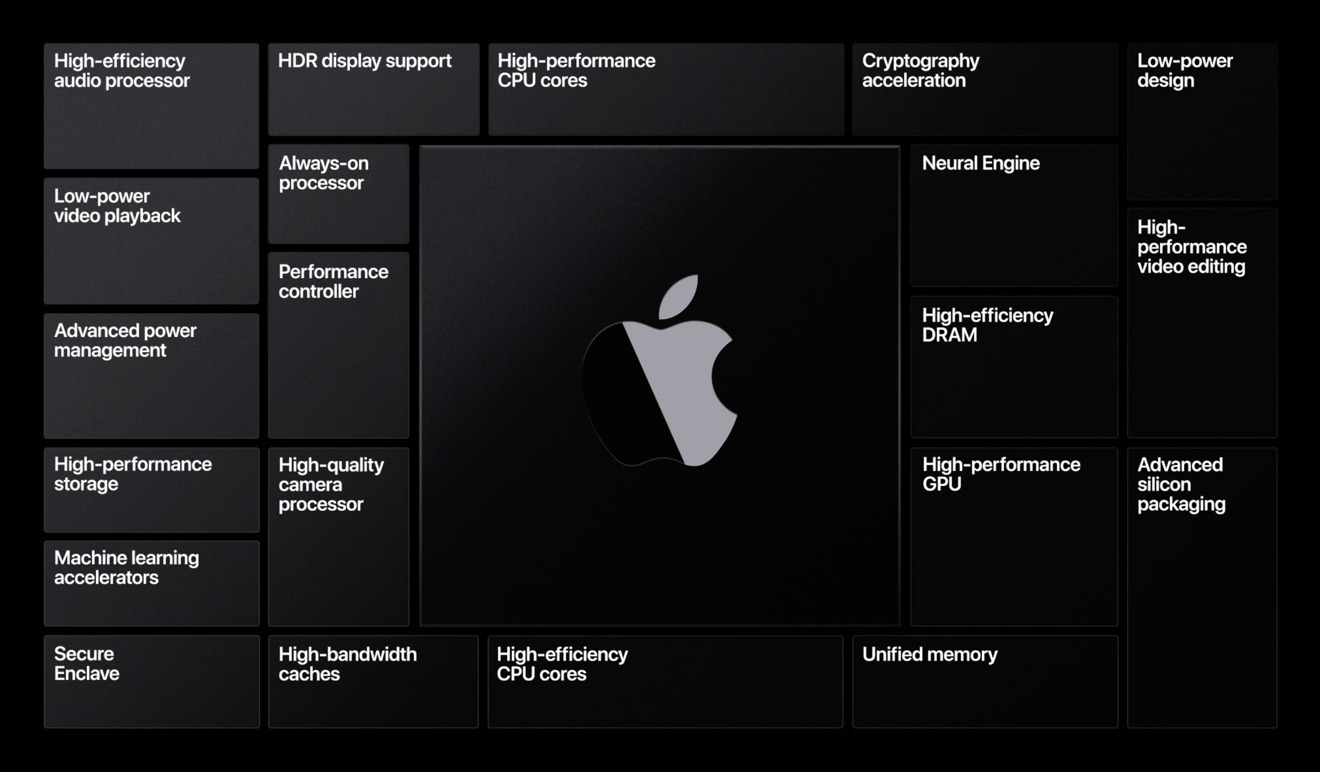 In terms of performance, the Geekbench 5 benchmark lists the Core i3 at 949 for single-core tests and 3,197 for multi-core, and the Core i7 at 1,205 and 6,024 for single and multi-core scores respectively. Benchmarks for the A12Z Bionic in the iPad Pro put it at 1,118 points for single-core tests, and 4,625 for multi-core, again putting it between the two extremes of the Mac mini's processors.
The benchmarks for the A12Z are, however, slightly skewed by the fact that it's based on iPad Pro benchmarks, and so it has to deal with a wildly different thermal situation than a Mac mini.
Due to the thin design of the iPad Pro, the A12Z has to operate with a low thermal ceiling. As there's no fan or thermal dissipation system in an iPad beyond the aluminum enclosure, the heat generated by the chip has to be mostly managed by processor speed.
The Mac mini is not subject to the same design constraints as an iPad, and has a fan installed. It also benefits from having a larger thermal mass, so there is more opportunity for the processor to operate at a higher temperature and take on bigger loads.
There are two scenarios for higher performance for the A12Z in a Mac mini enclosure. First, the A12Z in the iPad Pro could be thermally constrained, and even without a fan, it could perform better with the larger enclosure. Additionally, it's plausible that the A12Z could be clocked higher by Apple versus the iPad Pro when given more active cooling, which could lead to higher benchmark scores.
Mac mini versus Apple Silicon Developer Transition Kit - Memory
The Mac mini's base model includes 8GB of 2,666MHz DDR4 memory, which can be configured to 16GB, 32GB, or 64GB. While Apple implies it isn't upgradable, it is possible to replace the memory with new modules.
Apple's Developer Transition Kit will have 16GB of memory, but it hasn't yet stated what kind or speed. Given the nature of the Developer Transition Kit, it is highly unlikely that there will be upgradability options.
Mac mini versus Apple Silicon Developer Transition Kit - Graphics
The Mac mini utilizes the integrated graphics offered by the processors, namely Intel UHD Graphics 630. Apple doesn't state whether there's any change to the graphics processing in the Developer Transition Kit, but it is probable that the A12Z Bionic's GPU will be employed.
Geekbench Metal benchmarks indicate Intel UHD Graphics 630 scores 3,771, while the A12Z's Apple-designed 8-core GPU offers a considerably better score of 9,558 in benchmarks.
With the addition of better thermal management, the graphical performance of the A12Z processor could offer even more performance for graphical tasks, for reasons we've already discussed.
Mac mini versus Apple Silicon Developer Transition Kit - Storage
Apple includes 256GB SSD of flash storage its lowest-specification Mac mini, with upgrade options bringing it up to 512GB, 1TB, and 2TB. There is no opportunity to upgrade following a purchase, which means users are stuck with what they get from the start of ownership, short of buying a new model. Speeds vary depending on size, with better performance with the larger drives.
The Developer Transition Kit is equipped with a 512GB SSD of indeterminate speed. There's no option to configure to a different size, while again after-market upgrades are probably not going to be available, though this isn't necessarily a problem given the general nature of the device.
Mac mini versus Apple Silicon Developer Transition Kit - Upgradability
While in previous generations it was possible to switch out the storage for higher capacities or faster versions, such as from a hard drive to an SSD, there is no option to do so with the current generation. You can, however, upgrade the RAM.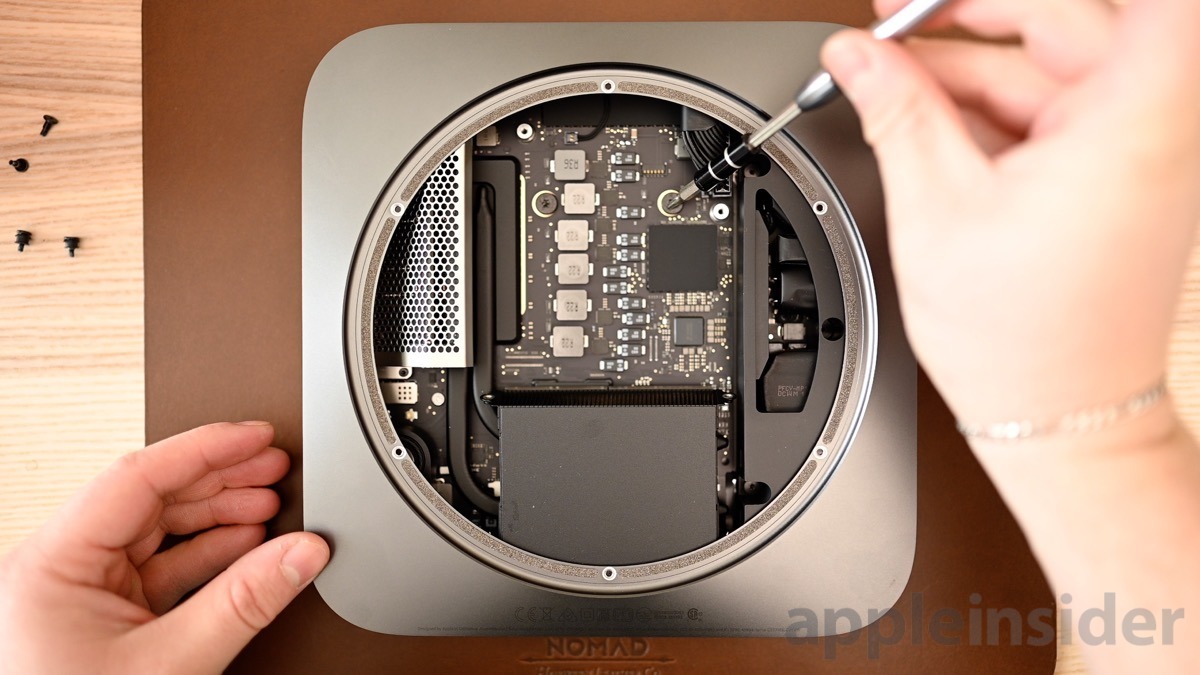 There is always the capability of taking advantage of the high-bandwidth Thunderbolt 3 ports for external upgrades, such as using an eGPU enclosure for better graphics or the use of a portable hard drive.
Apple has revealed nothing about any sort of upgradability options for the Developer Transition Kit. Given that Apple isn't even giving any alternative capacities for memory or storage, it seems extremely doubtful that there will be any tinkering potential in the hardware once it ships.
Bear in mind that it is also plausible that the Developer Transition Kit may not appear to be anything like the final shipping Apple Silicon Mac mini, if Apple goes down the route. For the transition kit used for when Apple moved to Intel, it effectively provided developers with a Pentium motherboard inside a G5 case.
Until Apple actually starts to ship the Developer Transition Kit, it is completely unknown as to what options will be available, but it is unlikely to be that close to final production hardware, if at all.
Mac mini versus Developer Transition Kit - Other specifications
In terms of wireless networking, the Developer Transition Kit and Mac mini have the same 802.11ac Wi-Fi and Bluetooth 5.0 support. Both also have gigabit ethernet, though the Mac mini can be configured to use 10-gigabit ethernet.
On the rear of the Mac mini are four Thunderbolt 3 ports, whereas the Developer Transition Kit uses two 10 gigabit per second USB 3.2 type C ports, echoing its iPad Pro origins. This will mean the Developer Transition Kit won't support Thunderbolt 3 devices at all, which may be an issue for some developers working on external hardware.
Apple continues to include HDMI 2.0 and two USB-A ports on the rear for the Developer Transition Kit, equal to that of the Mac mini.
There is no word on what audio will be available on the Developer Transition Kit, but it is likely to be similar to the Mac mini in having an internal speaker, a 3.5mm headphone jack, and external speaker support via HDMI 2.0.
Mac mini versus Developer Transition Kit - Price And ownership
The base level Mac mini, with the Core i3 processor, 8GB of memory, 256GB of storage, and Gigabit Ethernet is priced at $799. Opting for the fastest Core i7 processor and having comparable memory and storage to the Developer Transition Kit at 16GB and 512GB respectively brings the Mac mini cost up to $1,499.
Apple has said that the Developer Transition Kit will cost $500. While this seems like the Developer Transition Kit is an amazing deal, there are quite a few catches to take into account.
For a start, you have to be an active member of the Apple Developer Program, which costs $99 per year to be a part of, or $299 for the enterprise version.
In exchange for your $500, which gets you into the Universal App Quick Start Program, you gain not only exclusive access to the Developer Transition Kit, but also to beta software and tools needed to create Universal apps for Apple Silicon Macs, developer labs, private forums, development resources, and technical support.
Furthermore, you have to apply to Apple to take part in the Universal App Quick Start Program. You have to be based on one of a number of countries to be eligible, and be able to provide a brief application to Apple.

As availability is limited, Apple is also going to give priority to applicants with an existing macOS application.
Lastly, unlike the Mac mini you can buy from the online Apple Store or via retailers, you don't actually own the Developer Transition Kit. Apple explicitly states "The DTK is owned by Apple and must be returned," which means you are paying for a limited period of access, not ownership.
If you're not a developer, don't try to get an Apple Silicon Developer Transition Kit
At face value, the Developer Transition Kit is somewhat similar to a Mac mini in a large number of respects. Performance-wise, it's in the middle of the processor range, but excels at graphics processing.
The amount of memory is also adequate for the majority of normal macOS usage, and while storage isn't something to write home about, it is OK.
The key here is that the Developer Transition Kit is not really a Mac mini replacement. The whole point of the device is to enable developers to get a head start in making applications for the next generation of Macs and macOS Big Sur, by having hardware that's somewhat similar to what will ship on-hand.
Having access to that sort of hardware is essential for developers of major applications, as it can ensure that what they design and develop will actually appear as intended on Apple Silicon desktops. The lack of hardware configuration options isn't an issue here, as its intended purpose is not about performance, but app functionality.
The question of ownership is also a non-starter, as $500 for early access to developmental hardware is a very small price to pay for a seasoned developer. By the time they have to hand it back to Apple, it is almost certain that Apple will have released its first Apple Silicon devices on the market, so there will be no real sense of loss.
A consumer has no business getting hold of a Developer Transition Kit at all. Bragging rights for using the next-generation Mac processor will only go so far, and the hiccups and having to return it in the future doesn't make it any more attractive from a consumer standpoint.
It's designed for developers, and is meant purely for developers. Consumers should stand by until Apple actually ships consumer hardware, possibly even the rumored 24-inch iMac.
Given Apple's schedule, they won't have very long to wait.