Ultrasonic pings could make it easier for future iPhones to communicate locally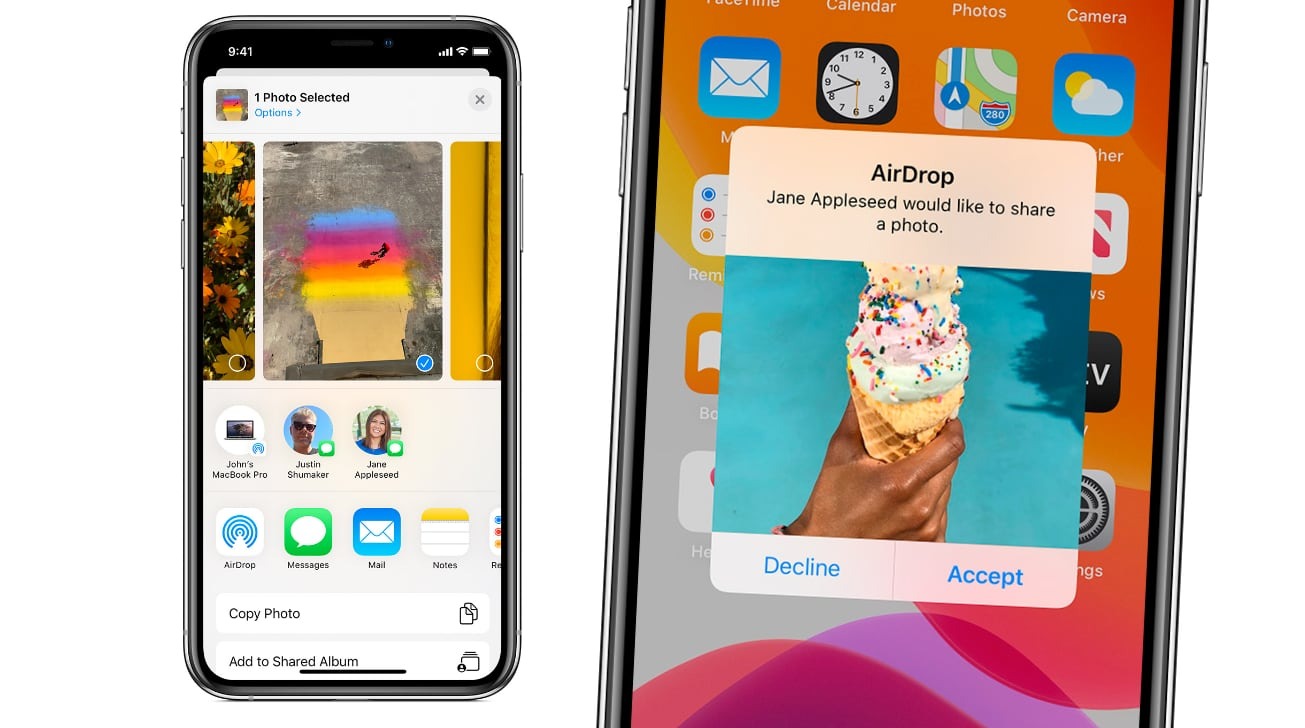 AppleInsider is supported by its audience and may earn commission as an Amazon Associate and affiliate partner on qualifying purchases. These affiliate partnerships do not influence our editorial content.
Apple is researching the use of ultrasonic ranging to determine how far away iPhones are from each other before opening up lines of communication.
Apple's AirDrop is a highly-useful tool for many users, with it able to quickly transfer files between devices and those owned by other people. The function typically works within a limited range, which can help limit such transfers to only those within a specific area.
Due to the nature of RF transmissions, it is possible for bad actors to listen in to some elements of communications between people, if they are close by enough to receive them. The potentially long ranges of signal can also mean people could try to use it for nefarious purposes without being caught, such as the reports of unsolicited image transfers in public venues in 2017.
One way to head things off is to properly ensure the intended recipient is within a specific range of the transmitting device, as it would be feasible to control the strength of transmissions to limit their range if the communications distance can be determined.
In a patent granted by the US Patent and Trademark Office on Tuesday titled "Ultrasound ranging for mobile devices," Apple proposes a mechanism that uses ultrasonic pings to find out how far apart devices are.
The proposed system uses ultrasonic transmitters and receivers on each device, used to send and receive the ultrasonic signals.
It is suggested two ultrasonic signals could be sent out by one device, which can be received by multiple ultrasonic receivers on the secondary device. By monitoring the time lapse of the signals, the recipient device can gauge how far the transmitting device is away from it.
The monitoring of the time lapse could be improved by the ultrasonic signal being encoded with a timecode for its transmission. By comparing the timecode against the actual time of receipt, the receiving device can again work out how long the signal took to travel, and therefore the distance away.
Calculating the time lapse could be further improved with synchronized clocks, with Apple suggesting an electromagnetic transmitter could perform the synchronization with proximate devices. An RF transmitter could also be used to provide more information pertinent to the distance determination, such as frequency bands or channels for communications.
By using multiple receivers, the receiving device could even determine the direction the ultrasonic signals are coming from, such as by comparing the time of receipt of each receiver for a signal. This can enable each device to create a three-dimensional map of other device positions.
The patent lists its inventors as Brian Michael King, David Amm, Scott P. Porter, and Steven P. Hotelling.
Apple files numerous patent applications on a weekly basis, but while the existence of a filing indicates areas of interest for Apple's research and development teams, it doesn't guarantee the ideas will appear in a future product or service.
Current iPhones do offer some level of range and direction-finding capabilities with the U1 chip, used for Ultra Wideband communications. While it could be used to create a secure and fast short-range network, concepts described in the patent could offer better positioning information than Ultra Wideband offers to application developers.
Ultrasonic positioning isn't limited to just smartphones. In one patent application revealed in March, ultrasonic sensors could be used in a VR or AR headset, such as Apple Glass, to provide highly accurate positioning data that could make the real-world view and digital overlays line up better.
Apple has also explored the possibility of using UWB and ultrasonic communications to improve HomeKit, using the technologies to determine locations of nearby smarthome appliances.