New Apple Watch Series 6 has blood oxygen sensor & bright new colors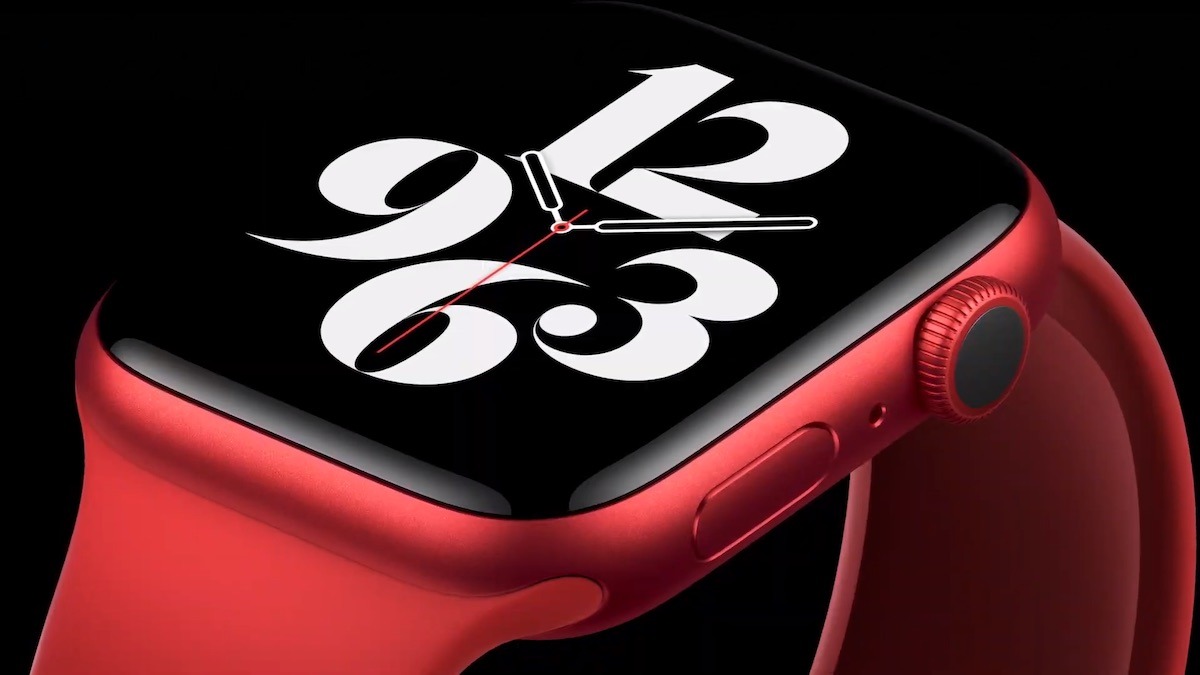 Apple on Tuesday officially announced the Apple Watch Series 6, bringing blood oxygen sensing and new case finishes to the wearable lineup.
The latest iteration of the company's flagship wearable made its debut at the company's "Time Flies" event on Sept. 15, marking the next generation of the Apple Watch after the Apple Watch Series 5 in 2019.
Major new features of the Apple Watch Series 6
Blood oxygen saturation monitoring
S6 chipset that's 20% faster than previous S5
New PRODUCT(RED) and blue case finish options
Built-in, always-on altimeter
U1 chip and Ultra Wideband support
Always-on display that's 2.5 times brighter when the wrist is down
Faster charging, able to complete a full charge cycle in 1.5 hours
Improved battery life
Blood oxygen saturation sensing
The biggest new feature of the update is the introduction of blood oxygen saturation monitoring, which will allow users to keep better tabs on their overall fitness and wellness.
It uses both red and infrared lights and related sensors to measure the light reflected back from a user's blood, allowing the system to measure how much oxygen is in it. From there, the system uses custom algorithm in a new Blood Oxygen app to offer either on-demand measurements or periodic background monitoring — including during sleep.
Blood oxygen detection, long available on competing fitness trackers, allows users to automatically monitor the saturation of oxygen in their blood. That's handy for monitoring a user's ability to breathe during vigorous exercise, or to detect conditions such as sleep apnea while in bed.
Apple also says that it's partnering with researchers at the University of California, Irvine, and Anthem to study how blood oxygen levels can be used in future health applications. Another study will research how the Apple Watch's health sensors could detect early signs of respiratory conditions such as flu or coronavirus.
Performance & Display
The Apple Watch Series 6 also features an updated Apple Silicon S6 chipset. It's a dual-core processor based on the A13 Bionic, and delivers up to 20% faster performance 20% than the previous S6 chipset.
Apple also quietly introduced the U1 chip and Ultra Wideband support to the Apple Watch Series 6, meaning that it'll integrate with future Nearby Experiences and possibly Apple AirTags.
Like the previous Apple Watch Series 5, the new model also features an always-on display. Compared to the last model, Apple says the Apple Watch Series 6 display is up to 2.5 times brighter outdoors when the wrist is down.
The Apple Watch Series 6 also features improved battery life and charging speeds. Apple says it'll complete a full charge in just an hour and a half.
Built-in Altimeter
For users who hike or work out in elevated environments, Apple has included a new built-in altimeter with the Apple Watch Series 6.
The always-on sensor provides users with real-time elevation data by using an updated barometric altimeter combined with data from GPS and nearby Wi-Fi networks.
That means vastly improved measurements of small elevation changes, down to a single foot. It can also be shown as a workout metric or on an watch face complication.
New colors and accessories
Apple announced new color options for the Apple Watch, including a PRODUCT(RED) variant and a new blue finish. On the accessory front, the company debuted a new Solo Loop and Braided Solo Loop bands that are stretchy enough that users can take them on and off without any clasps.
Price and release
Customers will be able to order the Apple Watch Series 6 starting on Tuesday. It'll start shipping out on Friday, Sept. 18.