Apple iPhone 12 models use Qualcomm's 5G X55 modem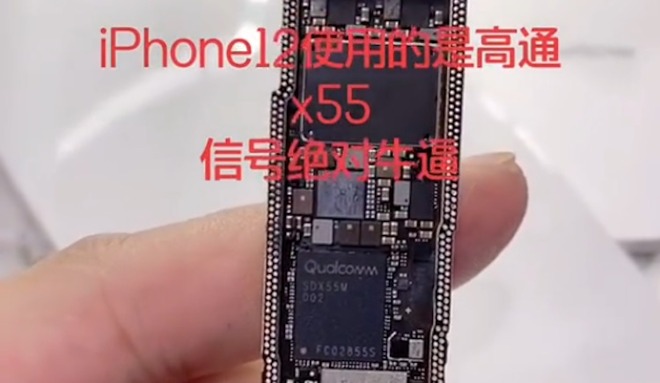 AppleInsider may earn an affiliate commission on purchases made through links on our site.
Apple's new 5G-equipped iPhone 12 models appear to sport Qualcomm's Snapdragon X55 modem, according to early teardowns of the devices.
Although the iPhone 12 doesn't officially start arriving on customer doorsteps until Oct. 23, teardown videos and internal photos of the new models have surface on Chinese social media.
One particular clip posted to Weibo appears to show an L-shaped iPhone logic board equipped with the Qualcomm 5G modem. Although the video doesn't show the iPhone being torn down, the logic boards appear identical to those seen in other confirmed teardowns.
That lines up with predictions that Apple would use the second-generation Qualcomm 5G chip in its 2020 iPhone devices. Although Qualcomm has a newer X60 chip available, that product debuted too late to be included in Apple's iPhone 12 lineup.
All four iPhone 12 and iPhone 12 Pro models support both sub-6GHz 5G and mmWave in the U.S., with models in other countries supporting only low-band 5G connectivity.
Apple settled a long-running legal dispute with Qualcomm to gain access to its 5G chip technology in 2019. Although Apple opted for Intel chips in the iPhone 11 lineup, it became clear that Intel wasn't going to be able to deliver 5G chips.
Next year's "iPhone 13" models are likely to come equipped with the X60 modems, however. That'll bring significant improvements to battery performance, chip size, and connectivity.
Apple, for its part, has already signaled that it plans to use upcoming Qualcomm chips in future iPhones until at least 2024. That's according to text within the Apple and Qualcomm settlement filing that specifically mentions the as-of-yet unannounced X65 and X70 modems.