Compared: Galaxy Buds Pro versus AirPods Pro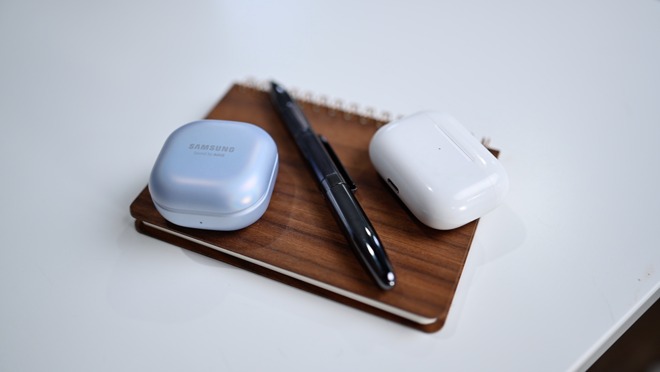 AppleInsider may earn an affiliate commission on purchases made through links on our site.
Alongside the Galaxy S21 reveal, Samsung also unveiled its latest wireless earbuds. We got our hands on a set of the Galaxy Buds Pro to compare it to Apple's AirPods Pro.
When we reviewed and compared the Galaxy Buds Live, we were underwhelmed by their performance. Call quality was subpar, the ANC underperformed, and the fit was poor. Samsung is now trying to right the ship with these new Galaxy Buds Pro.
Samsung shunned the bean-shaped design for a more traditional earbud style. The company also touts several new features, improved audio, and much more, including adopting features like Spatial Audio in the AirPods Pro.
| | AirPods Pro | Galaxy Buds Pro |
| --- | --- | --- |
| Price | $249 | $199 |
| Battery Life | 4.5 hours single charge,24 combined with case | 5 hours single charge,18 hours with case |
| Water Resistance | IPX4 | IPX7 |
| Noise Cancelling | ANC & Transparency mode | ANC & Transparency |
| 3D Audio | Spatial Audio | Samsung 360 |
| Colors | White | Phantom Black,Phantom White,Phantom Violet |
| Charging | Lightning,Qi | USB-C,Qi |
| Connectivity | Auto Switch across Apple devices | Auto Switch between Galaxy devices |
| Unique Features | H1 chip,Audio Sharing,Deep iOS integration,Adaptive EQ,Siri integration,Force Stems,Hearing Fit Test | Galaxy integration,Adjustable EQ,Bixby integration,Voice Detect,touch controls |
Audio and noise cancelling quality
Audio quality is fantastic on both. AirPods Pro has a more impactful bass, despite their smaller size. AirPods Pro also shines best in the mids. The Galaxy Buds Pro provide vocals, which are just a hair clearer than AirPods Pro.
Regarding Active Noise Cancellation, Galaxy Buds Pro blow away the poor performance of the Galaxy Buds Live. That said, Apple continues to reign supreme with its approach.
Apple offers Spatial Audio with AirPods Pro as well as AirPods Max which creates a 3D audio effect from supported sources. That includes HBO Max, Disney Plus, and Apple TV. There is an API available as well for developers to build this 3D audio into their apps and games as well. Samsung has borrowed this feature, and their implementation is dubbed 360 Audio. It is very similar to Spatial Audio but only works with the unreleased OneUI 3.1 Android update.
Samsung offers more EQ adjustments than Apple does for its earbuds. Apple allows you to adjust the EQ for the Music app specifically, but not from any other sources.
Noteworthy features
Each set of earbuds has unique features that they are all too willing to tout. Starting first with the Samsung Galaxy Buds Pro.
Galaxy Buds Pro features
Samsung has done a lot of work with its new earbuds, from the all-new design to its improved sweat resistance. The Buds Pro offers IPX7 water and sweat resistance which is enough to be submerged in water a meter deep for 30 minutes. That outlasts Apple's rating of IPX4.
We'd like to see Samsung's Voice Detect feature integrated in to the next set of AirPods Pro. With Voice Detect, the earbuds are listening for your voice and once you start talking, it automatically switches the earbuds from ANC to transparency mode. This makes it easy to have a conversation with someone without ever having to take out the earbuds or having to manually switch modes. It works great and something we miss when switching back to the AirPods Pro.
Samsung Galaxy Buds Pro can switch automatically between your other Galaxy devices, has customizable controls, adjustable EQ, tap-based controls, and quick access to Spotify. They also come in three colors, compared to Apple's one.
AirPods Pro features
Samsung's great progress on earbuds has made a big impact but AirPods Pro still has the lead in some areas, beyond noise cancellation.
It starts from the second you open the box with Apple's Fit Test that ensures you are using the correct set of ear tips when trying out your AirPods Pro. This makes a big difference and you may not be able to feel it, but the Fit Test can identify whether or not the earbuds are situated properly.
Apple also is utilizing its H1 audio chip which still doesn't have a true rival. This wireless chip allows for Apple's incredible 100-foot range that is nearly three times its competition.
That H1 chip utilizes class 1 Bluetooth audio which ensures a more robust signal strength for fewer dropouts in audio. That chip is what leads to other features such as Audio Sharing, allowing users to connect two sets of H1-enabled headphones to the same device to listen to the same music or watch a movie together.
As you wear your AirPods Pro, Apple doesn't allow you to customize the EQ on your own. But Apple is using that in-ear microphone to adjust the audio on the fly so that it is tuned best for your ears.
One of Apple's biggest strengths is its ability to integrate the earbuds so deeply into its operating systems. AirPods Pro instantly can switch between any of your Apple devices, including your Apple TV. They show their battery life in the Battery widget and Siri is even able to tell you the battery remaining. Control show in Control Center on iPhone, iPad, and Mac so you can connect or adjust the ANC mode.
Other features include the Force Stems for control, hands-free Hey Siri support, and support for the Find My app.
Which to choose??
Early Samsung earbuds were more platform-agnostic with the Galaxy Buds working just as good on iOS as Android. This time around though, the Galaxy Buds Pro performs far better on Android than on iOS.
Samsung's 360 Audio, customizable controls, adjustable EQ, the device tracking, all are tied to Android just as many of the AirPods Pro features are tied to iOS.
If you're an iPhone user, and you probably are if you're reading this, it makes much less sense to pick the Galaxy Buds Pro over the AirPods Pro. If you have an iPhone, the AirPods Pro is clearly a superior choice — and if you have a Galaxy handset, the Galaxy Buds Pro makes much more sense because of that Samsung-specific integration.
Apple's AirPods work with Samsung devices, and vice versa — but you just lose out on a good chunk of what makes either device "Pro."
Deals on Galaxy Buds Pro and AirPods Pro
Samsung's Galaxy Buds Pro normally retail for $199.99, but Samsung is offering shoppers a $50 discount for a limited time with an eligible audio trade-in. Amazon also stocks the earbuds at MSRP.
Apple AirPods Pro are on sale as well, with AppleInsider readers eligible for bonus coupon savings on the popular earphones. At press time, AirPods Pro are priced at $199, a discount of $50 off retail.