Long-time Apple retailer Fry's Electronics suddenly shuts down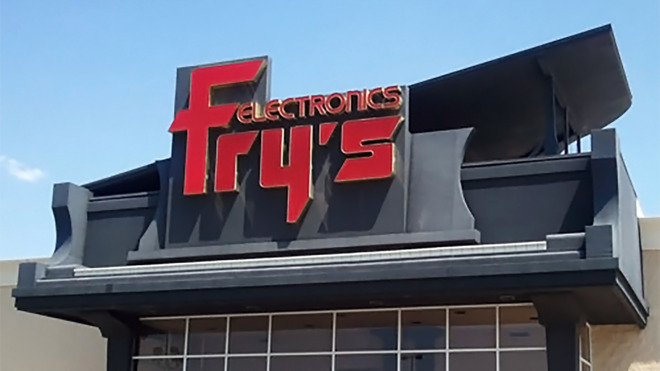 After 36 years in business, Fry's Electronics, a big-box electronics store founded during the early days of Apple, announced that it is shutting down effective immediately.
In a letter posted on the company website, the retailer attributed the closure to changes in the retail industry and challenges posed by the COVID-19 pandemic. Fry's said it would implement the shut down "through an orderly wind-down process that it believes will be in the best interests of the Company, its creditors, and other stakeholders."
Fry's had been a long-time Apple Authorized Reseller, selling Macs and eventually iPhones, iPads, and other products as Apple evolved from an innovative 1980s computer company to the $2.3 trillion consumer-technology behemoth we know today.
The first Fry's Electronics opened its doors in 1985. Three brothers, all heirs to the Fry's Supermarkets chain, joined with a fourth partner to shun the grocery industry and instead open the initial location in Northern California. Fry's physical "superstores" were enormous. The first location in Sunnyvale, California, was 20,000 sq ft, and each of the 34 stores it had at its peak reflected that sprawling blueprint.
Stores would implement themes, including an Ancient Rome-themed location in Fountain Valley, California, and an ode to Live Music in Austin, Texas.
Many big-box retailers have struggled to keep up, as Amazon and other online retailers have shifted how consumers buy electronics. Those massive storeroom floors made more sense in the days of bulky computers and TV sets, and fewer Internet-ordering options. Filling and justifying that space in the age of smartphones and flat-screens — while competing with an online behemoth of Amazon's stature - proved an uphill battle.
In the age of Amazon, fellow electronics-retail pioneer Circuit City closed its doors in 2009, RadioShack filed for bankruptcy in 2015, and Best Buy has struggled to adapt and keep afloat.
In a 2019 blog post, former Apple executive Jean-Louis Gassee described Fry's stores as "sad, pale shadows of their glorious past." Gassee, who had worked as a Fry's cashier briefly after getting fired from Apple, lamented the Palo Alto Fry's state when he visited. He saw an empty parking lot, bare and half-empty shelves, and an overall image of "sad poverty."
Fry's Electronics says it is in the process of reaching out to customers with repairs and consignment vendors to help them understand what the closure will mean for them. The company urges customers with active repairs to reach out and know it may be slow responding.