Apple rolls out exclusive monthly Apple Card offers [u]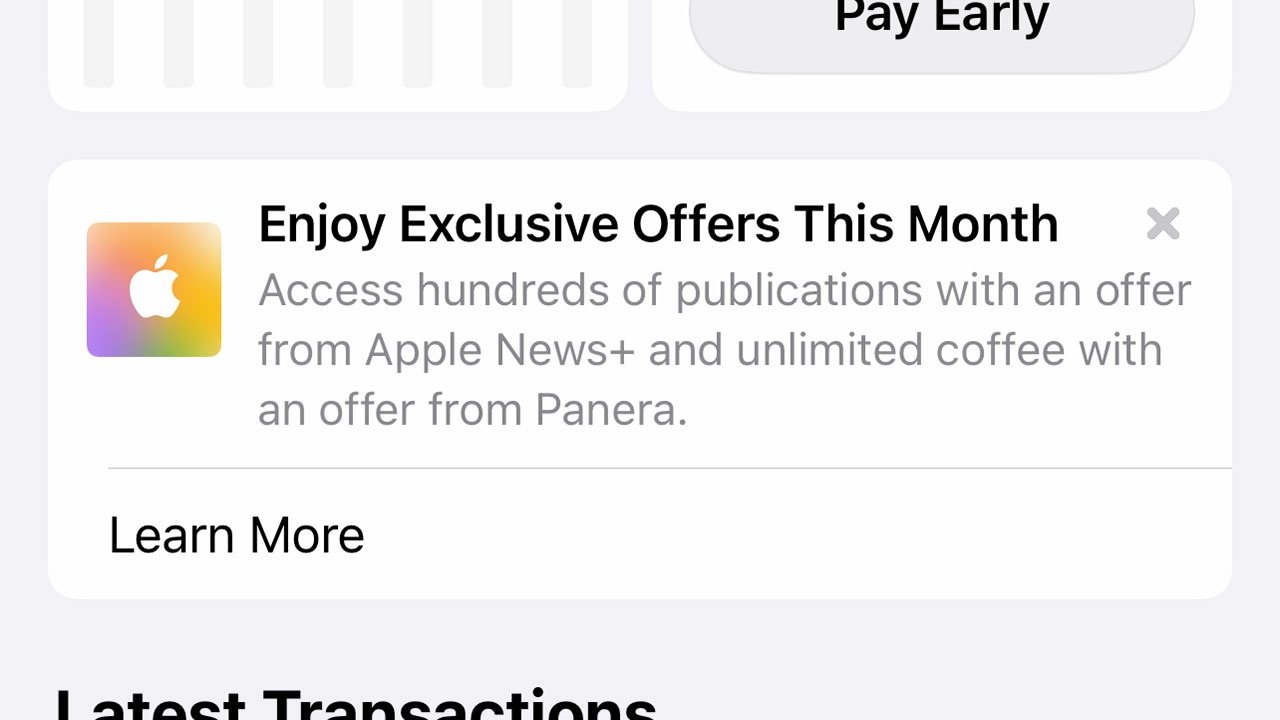 Apple on Wednesday began to feature promotional Apple Card offers in the Wallet app and a dedicated website, asking card holders to take advantage of exclusive discounts like four months of free Apple News+ service.
The new section appeared in the Wallet app of some Apple Card credit card holders today. Located below card balance, weekly activity and payment options, the promo card invites users to "enjoy exclusive offers this month."
"Access hundreds of publications with an offer form Apple News+ and unlimited coffee with an offer from Panera," the message reads.
Tapping on the "Learn More" link directs to a special Apple Card offers website that currently lists two perks including up to four months of free Apple News+ service. Apple Card holders can also get their first four months of unlimited coffee free when purchasing a MyPanera+ Coffee subscription using Apple Card with Apple Pay through a special link. Both offers end on Aug. 31.
As Apple Card is currently only available in the U.S., so too are the exclusive offers.
Apple has in the past partnered with retailers and other businesses on sign-up offers in a bid to boost Apple Card adoption, but regular monthly specials would be new to the product. Offers on first party services are also new and it remains unclear if the company plans to extend the promotion to other products like Apple Music or Apple One bundles.
The company most recently used Wallet to advertise a Daily Cash deal that afforded new card holders up to 6% cash back — double the standard rate — during the month of March.
Updated with details on Apple's Apple Card offers webpage and current deals.