Original iPad versus 2021 10.2-inch iPad - same philosophy, 11 years of refinement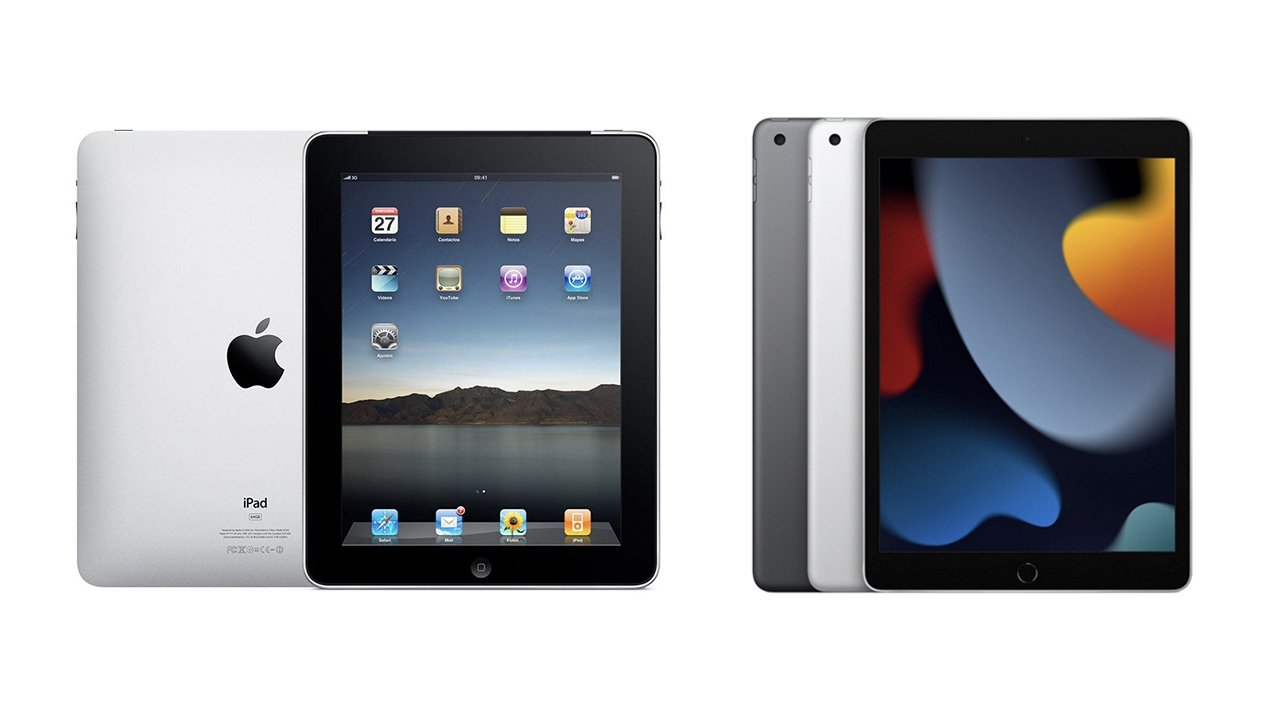 Apple has released the ninth generation of the original 10.2-inch iPad. Here's how much Steve Jobs would still recognize it — and how much has changed since he unveiled the iPad in 2010.
We've now got the iPad Pro range at the top, the iPad Air 4 in the middle, and the iPad mini 6 hovering somewhere between the two. But right at the heart of Apple's iPad range is still the device that started it all.
Call it the entry-level iPad, call it the regular one, or — as Apple just revealed — call it the most popular. Whatever name you use, whatever description Apple has for it, this particular iPad is the one that you can draw a direct line back 11 years to the original.
To see how far the iPad has come since then, let's compare the original iPad to the 2021 entry-level model.
Original iPad versus 2021 10.2-inch iPad - Specifications
Original iPad (2010)
9th-generation iPad (2021)
Price (starting)
$499
$329
Dimensions (inches)
9.56 x 7.74 x 0.50
9.8 x 6.8 x 0.29
Weight (pounds) Wi-Fi only
1.5
1.07
Weight (pounds) (Cellular)
1.6
1.09
Processor
A4 SoC
A13 Bionic with Neural Engine
Storage
16GB, 32GB, 64GB
64GB, 256GB
Display Type
9.7-inch LCD
10.2-inch Retina
Resolution
1024 x 768 at 132 ppi
2160 x 1620 at 264ppi
Connectivity
Wi-Fi 802.11a/b/g/n
Bluetooth 2.1
3G

Wi-Fi 802.11a/b/g/n/ac
Bluetooth 4.2
4G LTE w/ MIMO

Battery
Up to 10 hours
Up to 10 hours
Rear camera
None
8MP Wide camera
HDR for Photos

Rear camera video
N/A
1080p HD video recording at 25 fps or 30 fps
3x video zoom

Front camera
None
12MP Ultra Wide camera
HDR for Photos
2x zoom out

Front camera video
N/A
1080p HD video recording at 25, 30, or 60 fps
Cinematic video stabilization
Center Stage
No
Yes
Connector
30-pin
Lightning, Smart Connector
Apple Pencil support
None
First-Generation Apple Pencil
Audio
Stereo speakers

Two-speaker audio

Touch ID
No
Yes
Colors
N/A (one color)
Space Gray, Silver
Original iPad versus 2021 10.2-inch iPad - Size, weight, and design
You would still recognize the original as an iPad if you saw it. You'd think that it looked a bit blocky, that the screen looked a bit low-res compared to now, but you'd know it was an iPad.
It measured 9.57 x 7.47 x 0.50 inches and weighed 1.5 pounds. If you got a 3G cellular version, that weight bumped up to 1.6 pounds.
By comparison, Apple's 9th-generation iPad measures 9.8 x 6.8 x 0.29 inches. It weighs 1.07 pounds for the Wi-Fi only model, and 1.09 pounds for the Wi-Fi + Cellular model.
So the original looks enough like the latest iPad to be immediately recognizable, but when you pick one up, that's when you feel the difference. The original iPad was much thicker and heavier than the current generation model.
It's a really noticeable, even surprising difference. That original iPad even feels heavier than it is, it's as if the weight is concentrated into a small space.
As far as the general design, though, not a lot has changed in 11 years. The current iPad still features the signature Home button and bezels as its ancestor. Of course, the bezels have gotten a lot slimmer and the button now sports Touch ID.
Beyond the surface changes, though, there are much more apparent differences between the generations when you dig into what's inside.
Original iPad versus 2021 10.2-inch iPad - Processing power
Apple's original iPad packed an A4 chip, which was the company's first in-house-designed system on a chip. At the time, Apple called it "extremely powerful yet extremely power efficient."
The real speed of any device is down to so many things, from the physical processor speed to how well the software is made, how quickly the screen refreshes. It's hard to get any feel for that from specifications, but looking at how different all the figures are is still startling.
So that A4 had a clock rate of 1000 MHz and was based on Samsung's 40nm chip fabrication process. Unlike current Apple chips, the A4 was also 32-bit.
Then for comparison, the current 9th-generation iPad sports an A13 Bionic chip. It's a 64-bit chipset based on a 7nm chip fabrication process with a max clock rate of 2.65 GHz (2650 MHz).
That clock rate by itself is far more than twice the speed, but the different generation, the 64-bit versus 32-bit architecture, it all adds up to the current iPad being astoundingly faster than the original.
Just for completeness, you should also know that there is a bit of a difference in RAM, too.
The original iPad packed 256MB of DDR RAM. Compare that to the 9th-generation iPad, which has 3GB of LPDDR4X SDRAM. That's not just six or more times RAM, it's dramatically faster, too.
Original iPad versus 2021 10.2-inch iPad - Display
At the time, the original iPad had a cutting-edge display. It measured 9.7 inches on the diagonal and had a resolution of 1024 x 768 pixels at 132 pixels-per-inch.
In comparison, the 9th-generation iPad makes that seem dreadful. It has a 10.2-inch Retina display when measured on the diagonal, despite the device itself being smaller and lighter.
"Retina" is Apple's term for any display where the dots are sufficiently small and close together that a user with average eyesight, holding the screen at an average distance, will not be able to see the different pixels.
It's a term the company has used for countless different screen types and resolutions, but in this case, the latest iPad has a resolution of 2,160 x 1,620 at 264 ppi. It also supports Apple's True Tone display technology.
In other words, Apple's latest iPad has a display with about twice the resolution of its predecessor. The addition of True Tone technology also brings the 9th-generation iPad closer in-line with Apple's other, more premium tablets.
The 9th-generation iPad also supports the Apple Pencil, which of course didn't exist at the time of the original iPad's release.
Original iPad versus 2021 10.2-inch iPad - Cameras
There is no comparison between the cameras on these two devices, because the original iPad had no cameras at all. When you hear people complain about the low resolution of Apple FaceTime cameras, remember we started at zero.
The 9th-generation iPad, on the other hand, has two cameras. The rear-facing camera is an 8-megapixel Wide camera with HDR support and zoom up to 5x. It's not top-tier, it doesn't compare to the cameras in the iPhone 13 range, but it's better than having no rear-facing camera at all.
On the other hand, the current iPad has a 12MP front-facing camera that's pretty close to Apple's latest and greatest. Made for Zoom or FaceTime calls, the front-facing Ultra Wide camera features Retina Flash, Center Stage, and HDR.
The idea of Center Stage would've seemed like magic when the original iPad came out, because it still does today. If you move around during a video call, if someone else joins you on screen, the iPad now automatically and perfectly reframes the shot.
Back in 2010, Steve Jobs said that a third class of device, which the iPad was, had to be better at some things than either a phone or a laptop. All these years later, Center Stage is another example of exactly that.
Original iPad versus 2021 10.2-inch iPad - Other tidbits
The original iPad had Bluetooth 2.1 and Wi-Fi 802.11 a/b/g/n, with optional support for 3G cellular connectivity. More immediately visibly, it also had a 3.5mm headphone jack and a 30-pin connector.
Surprisingly, despite Apple getting rid of the headphone jack from the iPhone many years ago, there is still one on the 9th-generation iPad. That ancient 30-pin connector, though, was long ago replaced by a Lightning port.
Apple's latest 9th-generation iPad features Bluetooth 4.2, Wi-Fi 802.11a/b/g/n/ac with support for 2.4GHz and 5GHz bands, and optional 4G LTE cellular compatibility.
The 9th-generation iPad also has a Smart Connector, which allows it to interface with accessories like keyboards without requiring Bluetooth.
So the iPad has grown the ability to create more — you can type on a Magic Keyboard, you can use the Apple Pencil, and you can also take photos. All of this means that the iPad has had to grow one more specification too.
It's needed progressively more storage. Apple's original iPad came in 16GB, 32GB, or 64GB storage capacities. Now what was the top of the range, has become the base — the 9th-generation model comes in 64GB and 256GB.
Not every number has gone up, though. For all the increased storage, the faster processor, and the higher resolution, one key figure has come down.
The original iPad debuted at $499. (Adjusting for inflation, that would be about $592 today.) In comparison, the current 9th-generation iPad, starts at $329.
That's so much lower that even if you bump up the storage capacity to 256GB, the 9th-generation model's price tag remains cheaper than the original 16GB iPad.
Still solid computing power with a low barrier to entry
When you compare the original iPad to the latest 9th-generation model, the changes appear more evolutionary than revolutionary. Especially if you look at another iPad comparison, such as the original iPad mini versus the iPad mini 6.
Apple hasn't iterated on its original tablet formula much for the entry-level iPad lineup, especially when you consider the iPad Pro models have taken. But given the iPad's price point, that makes complete sense.
The 10.2-inch iPad is no longer meant to be Apple's latest and greatest. It's an affordable option that acts as a realistic way into the iOS and iPadOS ecosystem for schools, organizations, or other groups purchasing tablets in bulk.
For the price that you pay, you're getting many features that can compete with other current-generation technology. Just take the 12MP front-facing camera, which can help you look your best on FaceTime or Zoom calls.
Apple knows who the target audience is for the iPad, and always has. And for that audience, the 9th-generation model brings meaningful and significant upgrades without sacrificing on the most important factor: price.